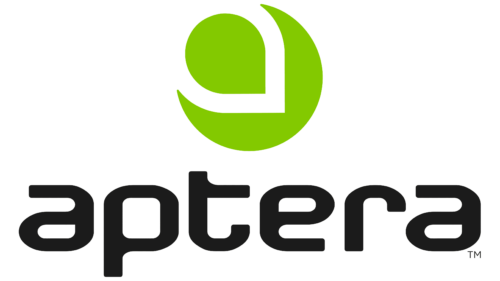 Aptera Motors Logo PNG
The Aptera Motors logo clearly connects to the realm of green energy, a field the company navigates with its solar electric vehicles. As such, the emblem prominently features the color green, used to paint a semi-circular element bearing the form of a flower. This floral depiction showcases petals (viewed from the side) and a core akin to a bud. This icon also takes on the semblance of a budding plant – a symbol of novelty and birth. To its right, the manufacturer's name appears in lowercase letters. The characters are block-like, with softly rounded corners and smooth, gentle lines.
This innovative logo reflects the company's dedication to sustainable practices and its commitment to revolutionizing the transport sector with green technology. Green is a universally recognized symbol of nature, freshness, and environmental conservation, fitting perfectly with the company's agenda.
The choice to portray a budding flower is a compelling one. It is a potent metaphor for emerging and growing new, environmentally-friendly technologies. The bud, poised to burst into full bloom, suggests the promise and potential the company sees in solar-powered vehicles, which are poised to blossom into mainstream use.
The position of the flower on the left side of the logo signifies that the company puts nature; first, a sentiment echoed in its commitment to using solar energy. The floral design also softens the logo's overall look, giving it an organic feel that further reinforces the brand's eco-friendly ethos.
The company's name, written in lowercase letters, shows a down-to-earth approach. The characters, while block-like, exhibit softened corners and smooth lines, mirroring the brand's blend of technological precision with the gracefulness of nature.
Aptera Motors: Brand overview
| | |
| --- | --- |
| Founded: | 2005 – 2011 |
| Founder: | Steve Fambro and Chris Anthony |
| Headquarters: | Carlsbad, California, United States |
With its rich history, Ansaldo STS traces its roots back to 1853 when Italian industrialist Giovanni Ansaldo established Gio. Ansaldo & C. Starting its journey as a machinery manufacturer, the firm gradually evolved into a significant producer of naval artillery, locomotives, steel, ships, and other heavy-duty equipment.
As the years progressed, Ansaldo leveraged strategic acquisitions and mergers to broaden its industry footprint, growing into a multifaceted conglomerate. The inception of the Finmeccanica Group in 1993 marked a significant turning point. This newly formed entity amalgamated numerous Italian defense and transport firms, including Ansaldo.
Fast forward to 2001, when Ansaldo's signaling and transportation solutions division was carved out and christened Ansaldo Signal. This spin-off didn't stay solo for long as it eventually merged with the Spanish transportation conglomerate STS, forming Ansaldo STS in 2006.
Ansaldo STS carved out a niche by specializing in constructing and operating signaling, supervision, and control systems for railway and mass transit networks. It extended its services globally, setting up train control systems and managing infrastructure security and ticketing solutions.
However, in 2015, Ansaldo STS lost its independent operating status when it was fully integrated into its parent company, Hitachi Rail Italy, now known as Hitachi Rail. Despite this organizational shift, the legacy of Ansaldo STS persists, with its engineering prowess continuing to flourish under the umbrella of Hitachi Rail.
Meaning and History