Armin Van Buuren Logo PNG
Armin Van Buuren logo reflects an intriguing blend of the DJ's seemingly enigmatic persona and his public profession. Encased in a black frame, the text is visually confined, suggesting a sense of boundary or constraint. Certain letters like 'A,' 'R,' and 'B' lack their inherent gaps, making them recognizable only by their overall shapes. This could suggest an element of secrecy or mystery.
Such a hint of introversion in the design appears at odds with the Dutch music producer's active public life, where he frequently engages with large audiences. It presents a compelling dichotomy that, paradoxically, makes the emblem all the more intriguing. It seems to say that beneath the spotlight and the constant public engagement lies a private world – a side known only to the artist himself.
Aside from the modified letters, the font employed in the logo is similar to Helvetica Black, which is known for its clean, modern aesthetics and excellent readability. This particular choice could indicate an underlying preference for simplicity and clarity despite the enigmatic overtones of the overall design.
The visual symbolism of this logo effectively captures the contrast inherent in Van Buuren's life and career. It reflects the juxtaposition of his public persona as a vibrant music producer and DJ with the quieter, more introspective aspects of his character.
The Armin Van Buuren emblem serves as a unique identifier for the DJ and offers an insightful representation of the artist himself. It's captivating design and thought-provoking symbolism embody his music's dynamic and multifaceted nature and persona, making it a standout emblem in the music industry.
Armin Van Buuren: Brand overview
| | |
| --- | --- |
| Founded: | 1996 – present |
| Founder: | Armin Jozef Jacobus Daniël van Buuren |
| Headquarters: | Koudekerk aan den Rijn, Netherlands |
| Website: | arminvanbuuren.com |
A distinguished figure in the global music scene, Armin Van Buuren has enticed listeners with his chart-dominating singles, critically praised albums, and fully booked international concerts. Born on December 25, 1976, this Dutch DJ and music producer has left an indelible mark on the music industry, evolving into a common name in households across the world.
By the age of 14, Van Buuren was already navigating his path toward music stardom. Equipped with his first synthesizer, he devoted hours to crafting music in the solitude of his bedroom. His brother was the catalyst who exposed him to the exhilarating realm of dance music, sparking an immediate and profound love.
In 1996, Van Buuren's career trajectory took a dramatic turn with his popular track "Blue Fear," which quickly turned into a signature club anthem, thrusting him into the limelight of the dance music universe. His success gained momentum in the following decade, with lauded album releases such as "76" in 2003 and "Shivers" in 2005.
A significant turning point in the electronic dance music landscape came in 2001 when Van Buuren launched his trailblazing radio show, "A State of Trance." Enriched with guest mixes from the biggest stars in the industry, the show earned widespread popularity and now reaches millions of trance music enthusiasts worldwide, becoming an integral part of their music experience. Over time, "A State of Trance" has grown into one of the most influential platforms in the electronic dance music world.
Van Buuren's international acclaim as a musician is complemented by his endeavors as a dedicated philanthropist and astute entrepreneur. His wide-reaching platform has facilitated his support for numerous charities and causes. At the same time, his record label, Armada Music, and flourishing merchandise and event brands have helped him carve a niche as a successful business magnate.
Armin Van Buuren has transformed the dance music landscape with his revolutionary singles, top-ranking albums, and prestigious awards. His fearless exploration and experimentation within electronic dance music have spurred a generation of artists to follow in his footsteps, thereby continuing his legacy.
Meaning and History
In terms of brand identity, he is synonymous with his state-of-the-art production and pioneering style. His name itself is a seal of quality in the EDM scene, associated with emotive and uplifting tunes that connect with audiences on a profound level. This musical identity is anchored by his persistent commitment to creativity and originality.
His brand is also intertwined with his global radio show, 'A State of Trance,' which further solidifies his brand identity as the harbinger of the trance music movement. This platform extends his musical influence and enhances his credibility as an industry leader, allowing his brand to connect with a larger audience worldwide.
The visual component of his brand, too, speaks volumes. Ranging from vibrant concert visuals to album artwork, it mirrors the energetic, uplifting nature of his music. This consistent visual narrative effectively communicates the essence of his brand, adding another layer to his identity.
The enduring appeal of Armin van Buuren is a testament to his distinct brand identity, characterized by a fusion of artistic innovation and audience engagement. His name continues to be a beacon in the EDM world, captivating millions with his trademark sound.
What is Armin van Buuren?

Armin van Buuren, born on 25th December 1976, embarked on his journey as a Dutch DJ and record producer, establishing himself as a notable figure in the electronic dance music (EDM) industry. Since his debut, he has consistently dominated the global DJ scene with his charismatic performances and unique music production skills.

With an illustrious career spanning decades, he's nurtured a reputation for pushing the boundaries of trance music, becoming a symbol of innovation and quality in the process. His music, influenced by a range of genres, has set the pace for the evolution of EDM, inspiring countless artists in the process.
2008 – 2015

2015 – today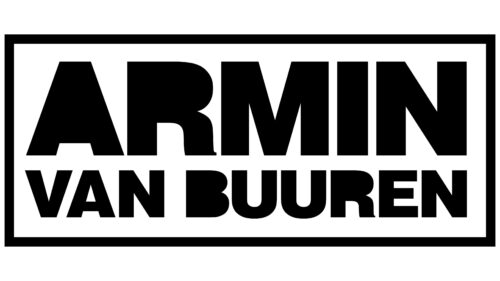 Armin Van Buuren color codes
Black

Hex color:
#000000
RGB:
0 0 0
CMYK:
0 0 0 100
Pantone:
PMS Process Black C