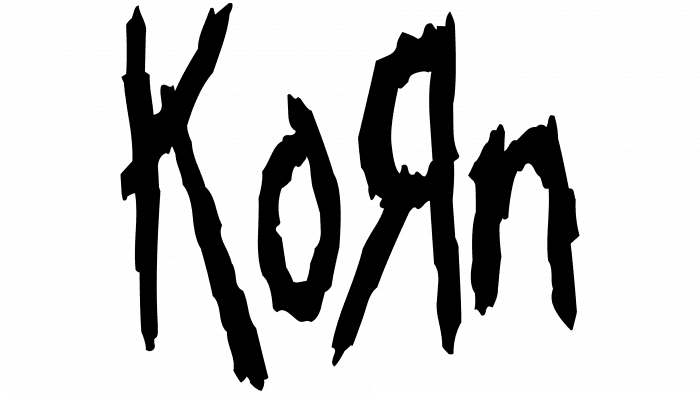 Korn Logo PNG
The jagged and shaky Korn logo doesn't look like a drawing of an insecure person. It resembles the resonant sound of a voice or the tinkling string of a guitar. It is also a symbol of aggression because musicians express vivid and sometimes destructive feelings in their work.
| | |
| --- | --- |
| Founded: | 1993-present |
| Founder: | Jonathan Davis, James Shaffer, Reginald Arvizu (on hiatus), Brian Welch, Ray Luzier |
| Headquarters: | Bakersfield, California, U.S. |
| Website: | kornofficial.com |
Korn is an American band that performs music in the genres of alternative metal and nu-metal. It was founded by members of the disbanded band L.A.P.D., who teamed up with a vocalist from Sexart in 1993. Their work with a mixture of bagpipes and rap-rock completely contradicted the fashionable acoustic-harmonic system of the 1990s. Despite this, they became famous, released over 15 albums, and received many prestigious awards.
Meaning and History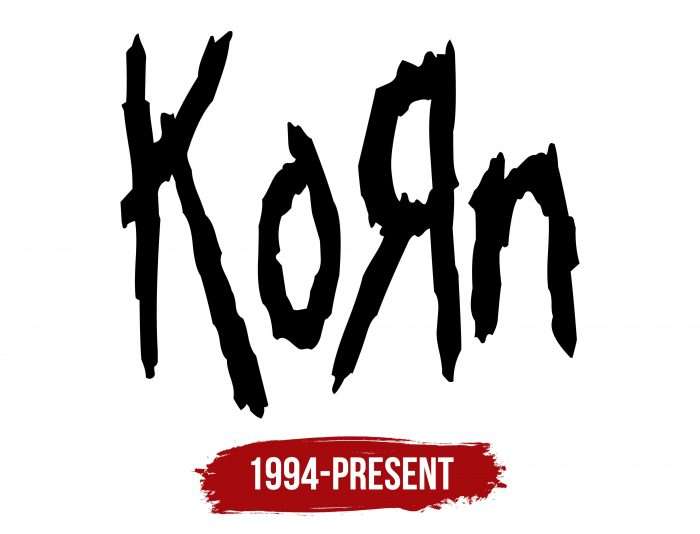 An unexpected combination in music can lead to tremendous results – even to prestigious awards and super-popularity. In the beginning, the Korn logo wasn't clear to many people. But over time, it opened up to many fans of the unusual combination of bagpipes and rock.
The musicians' original logo depicts the word "Korn," or rather, its stylized version of "KoЯn." This was not always the case: at first, the group was called Creep, until one of the fans suggested renaming it, Corn. Rhythm guitarist James Shaffer supported the idea but decided to replace the "C" with "K" and turn the "R" in the opposite direction.
What is Korn?

Korn is one of the most famous representatives of the nu-metal genre, which combines elements of hip-hop, grunge, and hard rock. This American band debuted in 1993 with a demo recording called "Neidermayer's Mind." They later gained fame for their aggressive lyrics, powerful riffs, heavy sound, and use of unconventional instruments such as bagpipes.
A similar spelling of the letter "R" is found on the Toys "I" Us, a company that sells children's products. And this is not surprising, because some members of the team once worked in it.
The inscription design was invented by vocalist Jonathan Davis, who spent no more than a minute on the first sketch. As Davis himself admitted on his Facebook page, he sketched with his left hand and used only a pencil. He got an uneven word "KoЯn" with quivering lines.
The simple yet stylish logo has become iconic after being brightened up. In the basic version of the emblem, the letters are outlined in bold in deep black. But there is also a red version – with a crimson shade scarlet.
Font and Colors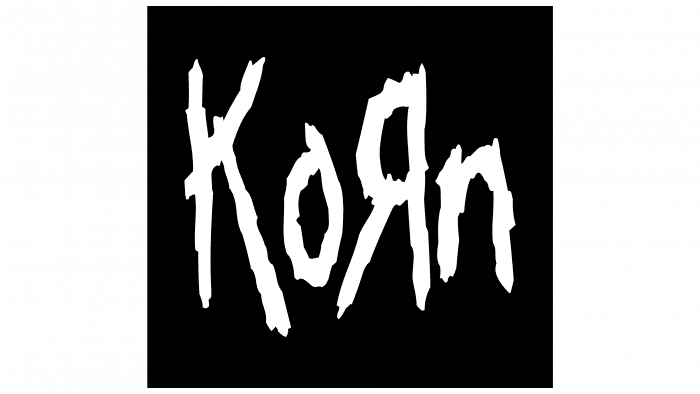 The design of the inscription "KoЯn" is individual – Davis used a typeface that did not exist at that time. Later, the Astigmatic One Eye typography institute specialists came up with the Kornucopia font with similar symbols.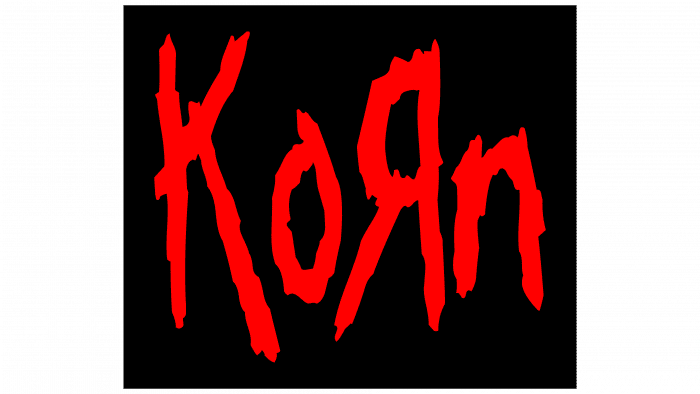 Korn color codes
Black

Hex color:
#000000
RGB:
0 0 0
CMYK:
0 0 0 100
Pantone:
PMS Process Black C