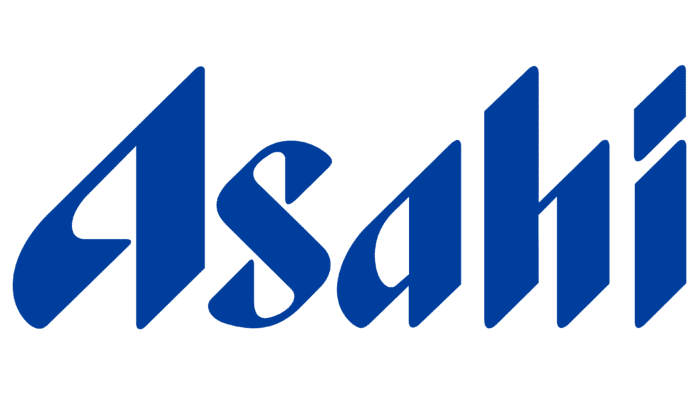 Asahi Logo PNG
The Japanese manufacturer's concept of refreshing and crystal clear drinks is reflected in its name and visual identity. "Morning Sun" presents the text logo of Asahi Breweries, symbolizing the uniqueness of oriental taste and national flavor.
| | |
| --- | --- |
| Founded: | 1889 |
| Headquarters: | Sumida, Tokyo, Japan |
| Website: | asahigroup-holdings.com |
Asahi Breweries, Ltd. – is a Japanese company that offers a wide range of alcoholic and non-alcoholic beverages. The first brewery of this company (Osaka Beer) was opened in 1889. The Asahi brand appeared a little later – in 1892 when the Meiji Reformation period lasted.
Meaning and History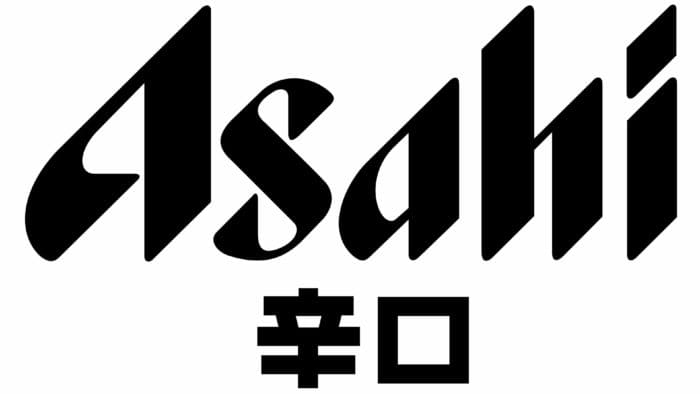 Labels on Asahi bottles have a recognizable design. And all thanks to the brand name, which is depicted on the logo. The name itself comes from Japanese and means "morning sun." The nested meaning in the brand name fits into the concept of refreshing and crystal clear drinks.
The unique wordmark was developed by the leading graphic designer Bret Syfert, known by his pseudonym Hyde's Lovelies. He is a freelance specialist who graduated from the University of the Arts London. Bret Syfert has invented not only an unusual design but also a custom Asahi font. The font itself was invented from scratch, and the designer did not rely on other font types.
What is Asahi?

Asahi is a Japanese manufacturer of alcoholic and non-alcoholic beverages, with a name that translates to "rising sun." The core of its product range consists of various types of beer, including ale, stout, porter, pilsner, and lager. Other products include bottled water, tea, and cider. The company's history began in 1889.
The logo was changed as part of a major update in the company, which affected even advertising campaigns and the taste of alcoholic beverages. The revolutionary process was the responsibility of middle management under the control of Mr. Higuchi.
Font and Colors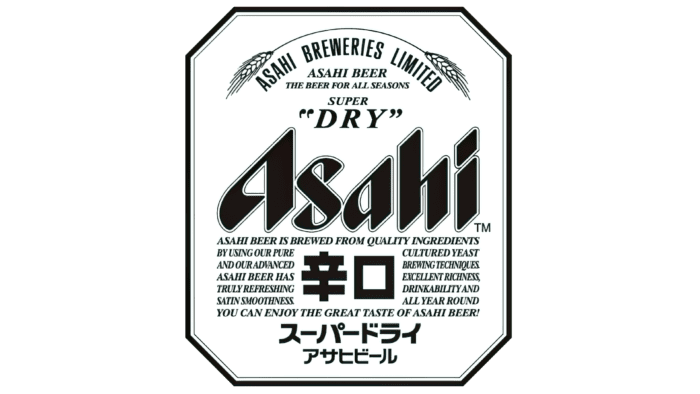 The font conveys a unique oriental flavor. The letters are aligned horizontally, but they have many diagonal lines. Because of this, it seems that the letters are at an angle of 45 degrees.
The palette of the logo often changes and depends on the type of drink. The labels contain black, white, yellow, blue, green "Asahi" inscriptions. They are originally designed and surrounded by a double contour. The inner contour is always light, and the outer contour is the same color as the brand name. In the classic version, the background is white or silver. But on bottles, the background can be absolutely any.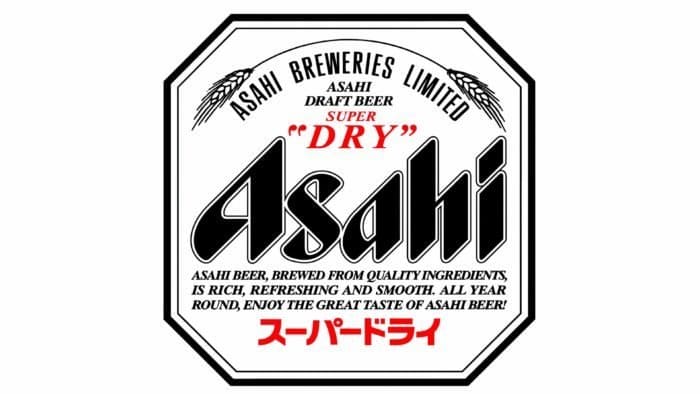 The emblem is complemented by a corporate symbol in the form of curved ears of wheat. At the bottom, there is the full name of the company ("Asahi Breweries Limited") and an advertising slogan ("The Beer For All Seasons").
In addition to the brand name, the label contains 辛口 characters. This means "dry" ("karakuchi" in Japanese), which is also written at the top of the label but in English.
Asahi color codes
Dark Powder Blue

Hex color:
#004099
RGB:
0 64 153
CMYK:
100 58 0 40
Pantone:
PMS 661 C