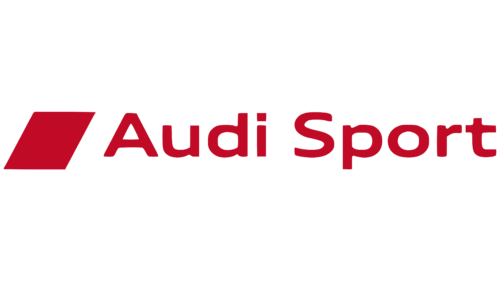 Audi Sport Logo PNG
The Audi Sport logo is a combination of expression and balance, an indicator of the well-balanced running gear of the cars. The emblem demonstrates the ability of the cars not to leave the race and successfully finish.
Audi Sport: Brand overview
| | |
| --- | --- |
| Founded: | October 1983 |
| Founder: | Volkswagen Group |
| Headquarters: | Neckarsulm, Germany |
| Website: | audi.com |
Audi Sport is a special division of the Audi car brand, specializing in high-speed models with powerful engines. Belongs to Volkswagen AG. The Audi Sport logo adorns the RS4, 5, 6, 7, RS Q3, and A8 W12 models.
The manufacturer's history began in 1983, and it inherited the racing tradition of Audi. Based on the experience of previous models tested on the tracks, masterpieces have been created from the Audi RS (1994) to the RS Q3 (2012).
Meaning and History

The company's emblem is like the manufacturer's beating heart, through the arteries of which speed runs and love pulsates.
What is Audi Sport?

Manufacturer of German sports cars based on Audi models, accessories, and auto parts. Occupies the premises of the former NSU Motorenwerke AG factory. Headquarters in the German city of Neckarsulm.
1983 – 2016

2016 – today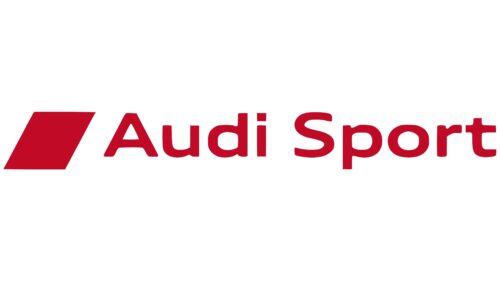 The logo is represented by a red tetrahedron with a forward inclination and a stylish inscription with even rounded letters.
The rectangle is associated with several elements:
A red flag during a race tells the competitor to stop the cars to retire due to an emergency. The appearance of an Audi Sport car on the track is such an incident. All other participants in the race can only leave the track, as they obviously lost.
Section of the road. The slope symbolizes movement. The company creates race cars for tracks.
Along the edges of the racing track are curbs of white and red rectangles. It seems that the name in the logo is a car that drives along the road, and the rectangle on the side is a curb that indicates the boundaries.
The inscription and bright colors of the logo demonstrate the unique style and attractiveness of the machines. Each model is individual and created for outstanding personalities.
Font and Colors
The color of the emblem is bright red. The shade is associated with sports, speed, and racing. It conveys the passionate attitude of manufacturers to the cause and the love of buyers for the company's brand. Emphasizes the exclusivity of models.
Lettering font Vast XL Medium. In rounded symbols are the streamlining, strength, and elegance of car bodies.
Audi Sport color codes
Safety Red

Hex color:
#c00a26
RGB:
192 10 38
CMYK:
0 95 80 25
Pantone:
PMS 185 C