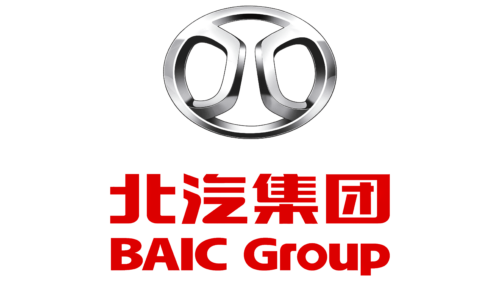 BAIC Group Logo PNG
BAIC Group: Brand overview
Founded in 1958, BAIC Group, also known as Beijing Automotive Industry Holding Co Ltd, is a state-owned Chinese automaker headquartered in Beijing. The company began its operations by manufacturing trucks and buses under the Beijing brand, becoming one of the pioneers of automobile manufacturing in China.
Over time, BAIC Group has expanded its product line to include passenger vehicles and has established partnerships with well-known global automotive brands such as Hyundai, Daimler, and DAF. BAIC Group currently produces brands such as Beijing, Senova, BJEV (Beijing Electric Vehicle), and, more recently, Arcfox, a brand dedicated exclusively to electric vehicles.
Through mergers and acquisitions, BAIC has expanded the range of vehicles it produces, thus providing a wide range of commercial and passenger vehicles. In 2021, BAIC sold more than 1.7 million vehicles thanks to its wide model range. Today, the company employs more than 130,000 people and has R&D, development, and production facilities across China, making it the 6th largest automaker.
In line with the global shift to clean transportation, BAIC Group is investing heavily in the development of electric vehicle technology, mainly through its Arcfox and BJEV brands. By continuing to develop its own brands and international alliances, BAIC Group remains a key figure in the Chinese automotive industry.
Meaning and History
1988 – today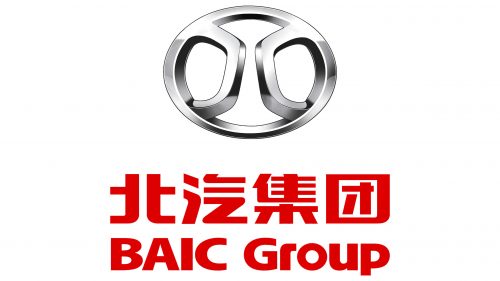 The logo has two kinds of writing: Chinese and English. As a result, the name occupies two lines aligned on the right and left edges. Despite the difference in the number of characters, both parts of the text look harmonious. This is because the designers solved the compatibility problem by increasing the size of the glyphs. Both letters and signs are smooth, uppercase, colored red. Above them is an oval with chrome elements. Due to the wide sides, shadows, and bright highlights, the oval seems volumetric.
The red color makes the text more vivid, like a cherry on top of an ice cream cone. The chrome oval is like a shiny buckle that holds everything together. It creates a futuristic feel, making you think of spaceships or cool gadgets. The 3D image makes it even more interesting as if there is some secret world hidden inside this oval.