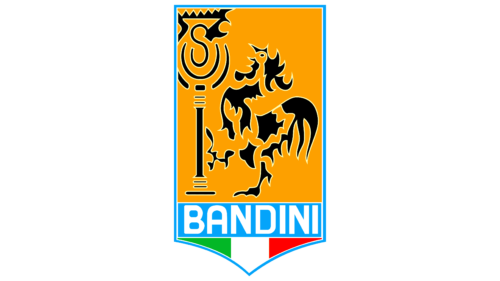 Bandini Automobili Logo PNG
The Bandini Automobili logo is an unconventional yet appealing design for an automotive industry representative. Its main focus is a rooster, an uncommon element for this sector that seemingly emerges from the negative space.
This visual illusion is achieved by an artistic technique, employing chaotic blotches to compose the image. The blotches are rendered in black, a color that starkly contrasts with the yellow background, forming a rooster's shape. The rooster is depicted as if gazing upward at a tall lantern, creating a unique scene that captivates the viewer's attention.
This narrative-rich design element is housed within a vertical rectangle, where the company's name is inscribed at the bottom. Further below, a triangle colored in the shades of the Italian flag provides the base for this unique composition.
Each element carries a symbolic value that communicates the brand's identity and values. The rooster, a symbol of courage, vigilance, and pride, represents Bandini Automobili's dedication to their craft, vigilance in maintaining high-quality standards, and pride in their accomplishments. The upward gaze of the rooster is interpreted as the company's constant striving for improvement and progress, symbolizing an aspiration for greater heights in the realm of automotive technology.
Negative space artistry infuses a creative flair to the design, expressing the brand's inclination towards innovation and unique approach in their automotive designs.
The yellow background signifies energy and positivity, aligning with the brand's dynamic and forward-thinking ethos. The prominent color display of the Italian flag shows Bandini Automobili's deep-rooted connection to its country of origin, portraying a sense of national pride and heritage.
Bandini Automobili: Brand overview
| | |
| --- | --- |
| Founded: | 1946 – 1992 |
| Founder: | Eng. H.C. Ilario Bandini |
| Headquarters: | Forlì, Italy |
| Website: | bandinicars.com |
Bandini Automobili, an Italian automaker specializing in sports cars, was established in 1946 in Forlì, Italy, by engineer Ilario Bandini. The company initially focused on crafting lightweight sports cars and racing vehicles, recognized for their sleek, aerodynamic aluminum bodies.
In its early stages, the company produced models like the 750 Sport and 1100 Sport racing roadsters, which proved victorious in various Italian motorsport competitions. The 1950s saw a shift in focus for Bandini, concentrating on producing Formula 3 open-wheel racing cars and initiating exports to the American market.
The hallmark of Bandini's sports cars lay in their agile handling capabilities and high-powered engines, with capacities reaching up to 1300cc. These vehicles, however, were produced in incredibly small quantities. The company persisted in handcrafting customized sports cars into the 1970s and 1980s, catering to a niche yet devoted clientele.
After 46 years in operation, Bandini Automobili ceased the production of its automobiles in 1992. Although the company had only produced approximately 75 distinctive vehicles throughout its lifespan, Bandini garnered recognition for its artisan-crafted Italian sports cars, fulfilling the desires of automotive enthusiasts in pursuit of the ultimate driving experience.
Meaning and History