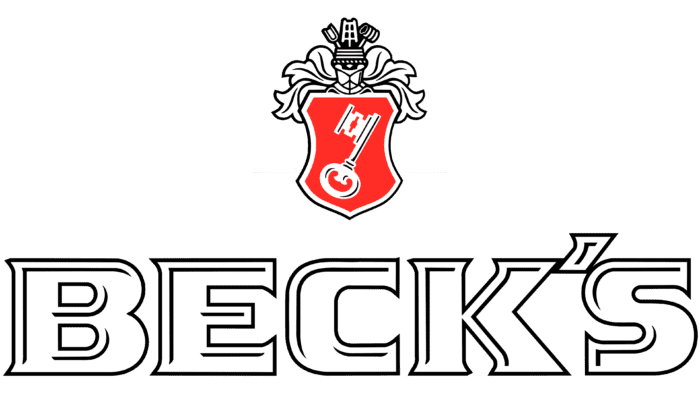 Beck's is a beer trademark that appeared in 1873. Its products are manufactured by Brauerei Beck & GmbH at factories in Bremen (Germany). Since 2001, the legendary brewery belongs to the international corporation Anheuser-Busch InBev.
Meaning and History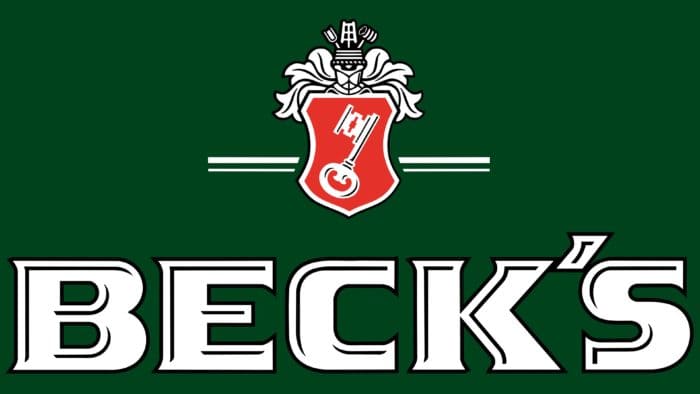 Beck's bottles and aluminum can feature the iconic logo. It reflects over 145 years of brand history. It combines traditional symbols and modern graphic elements. The central place is occupied by the inscription "Beck's," executed in large print. The letters are white, bold, with short serifs. The dark shadows make them appear to be engraved right on the label.
The brand name is on a black rectangular ribbon that wraps around an oval heraldic shield. Above it is the company's trademark: a white key inside a small figured shield. This is a reference to the famous Bremen Key, the city's coat of arms. There is a warning label next to it: "Trademark Registered."
In the lower half, there are two round medals and the inscriptions "Bier," "Beer," "Bremen 1874", "Philadelphia 1876". The oval is surrounded by a wide red ring with the manufacturer's name (Brauerei Beck & Co) and the place of manufacture (Bremen Germany). All elements are outlined with a double gray outline with two more phrases: "Brewed and bottled by" and "Product of Germany."
The main element of the brand's visual identity is the key to the brand name. The main symbol of Bremen's city is located on a red backing in the center of a makeshift double-edged shield. It has a complex shape – it is narrowed in the middle and has a small depression at the top. Also, the top two corners are truncated, and the bottom three are pointed.
The central element is a white key with black stripes. It is antique in design, which indicates the manufacturer's antiquity and the aging of the beer. On the sides of the shield, there are two abbreviated inscriptions: on the right "TM.," On the left, "REG.." The entire lower horizontal space is occupied by the large word "Beck's." The designers have designed it with serifs, strokes, and shadows, which create a 3D effect, which makes the center appear to be depressed.
Font and Colors of the Emblem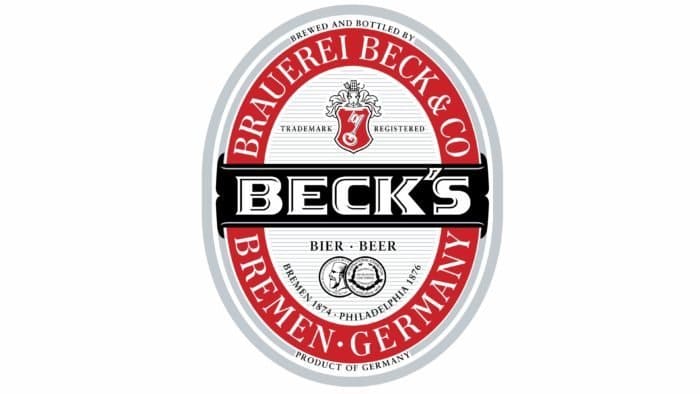 The developers chose the Serpentine Sans Serif typeface for the logo. The black outlines on the white background make the letters appear hollow. This feeling is heightened by the lines that emphasize the shadows, giving the impression that the signs' edges are raised, and the middle is deepened.
The logo palette is not multicolored – it is limited to monochrome. The emblem uses only two colors: red and black on a white background.