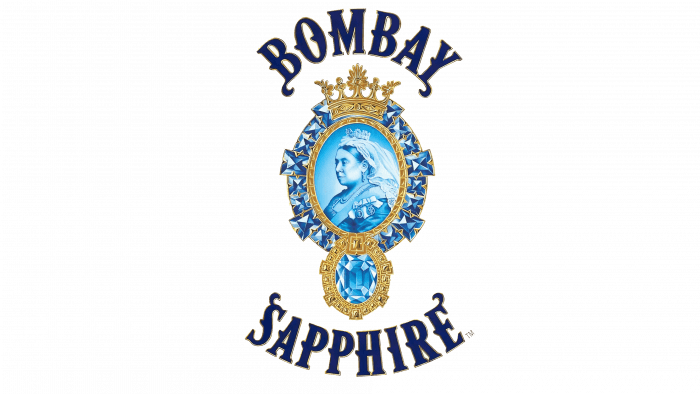 Bombay Sapphire is one of the largest gin producers. It dates back to 1960 when American businessman Allan Sorbin began to import G&J Greenall's Warrington alcohol under the Bombay Dry Gin brand. In 1987, Michel Roux, CEO of Carillon Importers, created the legendary Bombay Sapphire from the existing brand.
Meaning and History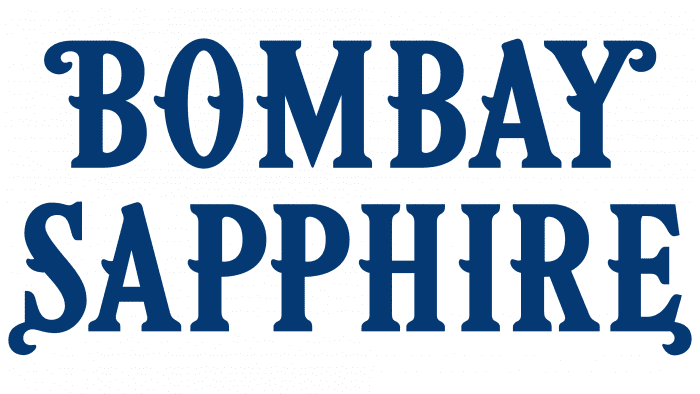 What is Bombay Sapphire?

It is a gin with a mild taste and a pleasant herbal aroma. It is produced in Great Britain according to an old recipe that was invented back in 1761. It is prepared from Scottish wheat alcohol in special distillation stills.
The manufacturer is responsible for the bottle design. In 1960, his emblem depicted Queen Victoria and the year the unique recipe was created – 1761. This is a significant date: it was then that the distiller Thomas Dakin compiled a list of botanical plants for making the drink.
Since then, the emblem has changed significantly. It bears the name Bombay Sapphire, which was inspired by the 182-carat Star of Bombay diamond. It is logical that the brand name also has the shape of a gemstone. It looks like a piece of gold-edged jewelry with an artistic portrait of Queen Victoria. Above is the crown, a traditional symbol of royal power.
The Bombay Sapphire lettering complements the graphic. The letters are stylishly designed: they have not only serifs but also small protrusions in the middle. Moreover, "B," "Y," "S," and "E" are adorned with elegant curls.
The logo immediately shows that jewels and royal coats of arms inspired the brand. The label features an oval-shaped piece of jewelry with expensive gold-cut stones. In shape, it resembles a double pendant or necklace. In the center is a portrait of Her Majesty Queen Victoria. Above her is a large golden crown. The combination of small rectangular sapphires surrounds everything. There is one large gem below. Its cut is similar to the gemstone setting above. The text portion is scattered at the top (Bombay) and below (Sapphire). It is in the form of arches with curls on the first and last letters.
Font and Colors of the Emblem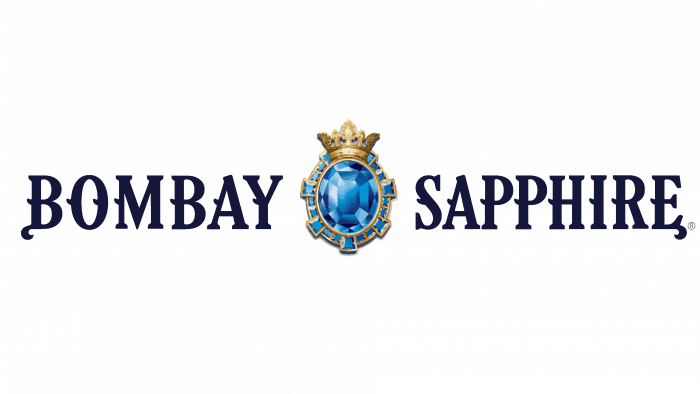 Bombay Sapphire is a unique brand with its well-recognized eclectic style that attracts buyers and famous designers. They made the inscription on the logo with a typeface of their design, which is remotely close to IFC Los Banditos or Lost Saloon. All letters are uppercase, with serifs. There is another serif in the middle of the legs of each symbol. "B," "Y," "S," and "E" look the same because they have identical curly elements.
The logo is dominated by shades of blue, blue, and gold. This palette corresponds to the brand's "diamond" concept. It reflects the premium status of dry gin and harmoniously matches the bluish glass of the bottles.