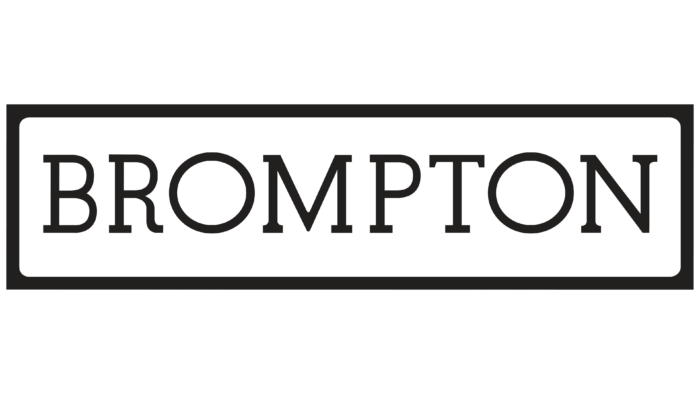 Brompton Logo PNG
| | |
| --- | --- |
| Founded: | 3 June 1976 |
| Founder: | Andrew Ritchie |
| Headquarters: | Greenford, Greater London, England, UK |
| Website: | brompton.com |
| Logo downloads: | |
Brompton is a British company that specializes in the manufacture of bicycles. It was registered in 1976 and is headquartered in London. The organization is best known for producing folding bicycles. The turnover in Brompton is about 50 million pounds. Globally speaking, it is one of the largest manufacturers in this niche.
Meaning and History

What is Brompton?

They are quality bicycles from a famous British brand which has been producing this means of transport for more than 40 years.
When it comes to visual brand recognition, it is at a high level. This was made possible through minimal changes to the logo, which has already become familiar to the target audience. The changes were made only once, and they did not concern the main image but the addition of emblems in the form of three bicycles in different positions. The main emphasis is on the retro style, which should make potential customers nostalgic for the 60s when a bicycle was the only means of transport for many.
The original Brompton logo is quite minimalistic. It's wordy lettering inside a rectangle with thick black outlines. In turn, the name is readable thanks to its balanced style and ample letter spacing. As a result, the logo looks cohesive and confident.
The clear and attractive serifs with rounded outlines should make many people think of bicycle wheels. If you abstract away from the name and try to get to the bottom of it, the logo is reminiscent of the design of the first bicycles produced at the beginning of the last century. The white and black color scheme makes the image austere, but it conveys to customers the very essence of the company's work.
More often than not, Brompton used this version of the logo. However, sometimes schematic images of three bicycles were also added to the advertising campaign. Given that the organization specialized in folding bicycles, it is not surprising that these pictures showed them in different positions. An additional image was made using black and red lines. However, when used on a black background, the lines changed to white, which looked interesting and contrasting.
Font and Colors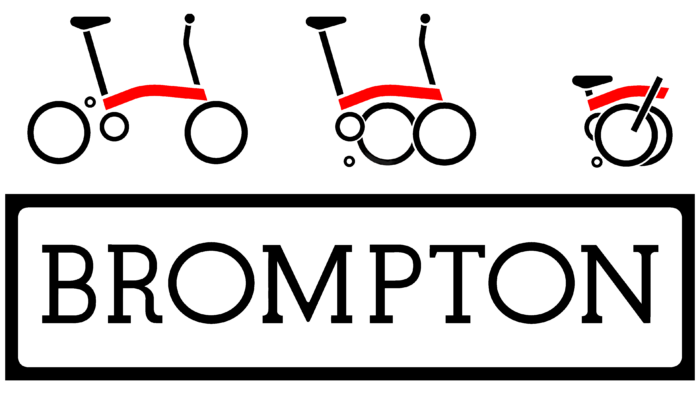 The lettering of the Brompton logo is based on classic black lettering with clear serifs that look harmonious and confident. The medium-thick lines in the lettering add elegance and make the inscription look interesting and informative in nature. If we talk about the font of the inscription, it is most similar to Gambero Regular and Full Slab SC 50 Black. Both of these fonts are done in the old style with serifs.
The logo is based on a black and white color palette. In certain cases, red lines also appear when adding schematic images of the bike. A concise range of colors shows an elegant combination that will suit any background. Thanks to this solution, the Brompton logo fits all possible textures without losing the core message directed at the target audience.
Brompton color codes
Black

Hex color:
#000000
RGB:
0 0 0
CMYK:
0 0 0 100
Pantone:
PMS Process Black C