Chiribiri Logo PNG
Chiribiri: Brand overview
The Italian company Chiribiri, founded in 1910 by Antonio Chiribiri and his employees in Turin, began its journey by manufacturing airplanes. In the early 1910s, the company operated under the Chiribiri Aircraft of Turin sign but soon found a new direction, shifting its focus to the automotive industry.
In the 1920s, Chiribiri moved into the production of lightweight bicycle cars and compact racing cars, one of the company's outstanding creations being the Monza automobile. This period was marked by Chiribiri's pioneering approach, as evidenced by the introduction of unique elements such as single-gear valve engines and the early use of front-wheel brakes.
Chiribiri's investment in performance has not gone unnoticed on the race track. The company was successful, especially in the 1923 Targa Florio endurance race. However, beneath this success was financial instability that eventually led to the company's discontinuation in 1929.
During its heyday, Chiribiri employed about 200 people and produced a total of several thousand cars. Despite its limited production, Chiribiri remained in history as a manufacturer of elegant performance-oriented automobiles.
In the end, it was Depression-era financial difficulties that caused Chiribiri to close its doors, ending nearly two decades of contributions to automotive design and racing success. Although Chiribiri was not a major player, its influence on lightweight cars and innovative designs is remembered as a unique chapter in automotive history.
Meaning and History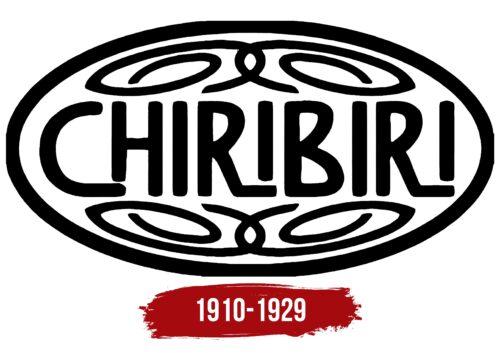 1910 – 1929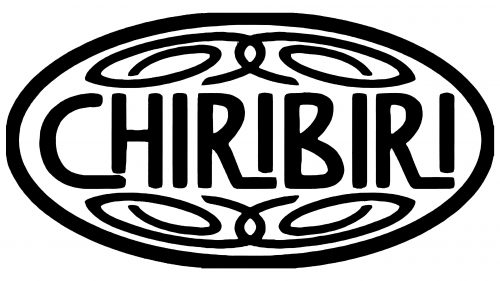 The Italian car manufacturer, which ceased operations at the beginning of the last century, used a retro-style logo. It gave the cars a special charm. The logo was based on a horizontal ellipse with intricate patterns at the top and bottom. These patterns were symmetrical and framed the brand name in the center. The letters in the name had different heights. Their peculiarity was in their different size and in the way the designers approached this issue. To compensate for the lower height of some letters, they lengthened the legs of neighboring letters. This was noticeable in the letters "C" and "R."
The logo is like a small work of art on each car. The elongated legs of the letters "C" and "R" give the logo a playful yet elegant feel, as if it were a handwritten note from a bygone era. It's just a fun detail that makes the car stand out without screaming, "Look at me!".