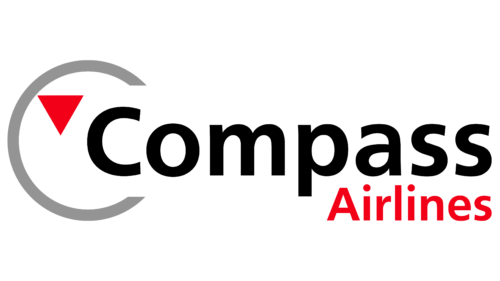 Compass Airlines Logo PNG
The Compass Airlines logo is an artful combination of shapes and colors that convey deep meaning. It consists of two levels: upper and lower. At the top, we are greeted by the word Compass, written in bold, the color of which is black. It symbolizes reliability, stability, and self-confidence – the qualities that this brand possesses.
The bottom of the logo contains the word Airlines, which is written in plain red font. Red is the color of passion, energy, and dynamism. He emphasizes that it is a dynamic and energetic company that is committed to continuous development and improvement of its services.
In front of the logo, there is a non-closed gray circle. It symbolizes the boundaries that the brand is willing to overcome in order to achieve its goals. Inside the circle is a red triangle representing the compass needle. It serves as the direction the airline takes to achieve its goals.
The emblem of Compass Airlines says that the company values reliability, stability, self-confidence, energy, and dynamism. She is ready to overcome boundaries and go only forward. Its main value is the satisfaction of the needs and desires of its customers, which is why it strives for continuous development and improvement of its services. All this is expressed in the logo, which is a clear symbol of Compass Airlines.
Compass Airlines: Brand overview
| | |
| --- | --- |
| Founded: | September 28, 2006 – April 5, 2020 |
| Founder: | Trans States Holdings |
| Headquarters: | Minneapolis−Saint Paul International Airport, Fort Snelling, Minnesota |
| Website: | compassairline.com |
Compass Airlines, an American regional airline, has its operational epicenter in Minneapolis, Minnesota. The airline has been delivering air services since its establishment in 2006 and officially started operations the following year. Initially recognized as Compass Airlines LLC, it opted for a more concise moniker, Compass Airlines.
As we enter 2023, Compass Airlines maintains a fleet of regional Embraer E175 jets. Compass Airlines ensures smooth operations across its network, with about 25 aircraft in active service. Its service map is widespread, spanning the U.S.'s Midwest, South, and East Coast regions, with strategic hubs in various cities like Minneapolis-St. Paul, Atlanta, and Washington D.C.
Over the years, the airline has carved its niche by operating regional flights for major airlines, namely American Airlines and Delta Air Lines. Compass Airlines has had a history of collaborating with other key players, such as Northwest Airlines and USAirways. These partnerships were before their respective mergers with Delta and American.
The airline's ownership rests with Trans States Holdings, which holds stakes in GoJet Airlines and Trans States Airlines. These airlines, including Compass Airlines, primarily focus on operating regional flights in the interest of significant U.S. carriers.
Ensuring the successful operation of the airline is more than 1,400 dedicated professionals. These include pilots, flight attendants, mechanics, dispatchers, and other key personnel who together uphold the reputation and smooth functioning of Compass Airlines.
Meaning and History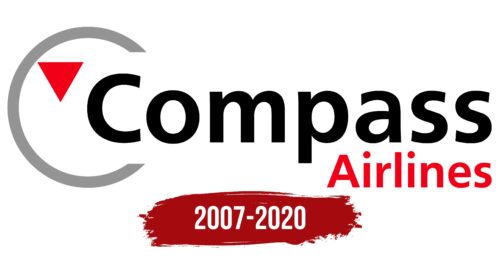 Compass Airlines color codes
Pigment Red

Hex color:
#f20018
RGB:
242 0 24
CMYK:
0 100 90 5
Pantone:
PMS Bright Red C
Spanish Gray

Hex color:
#949494
RGB:
148 148 148
CMYK:
0 0 0 42
Pantone:
PMS Cool Gray 7 C
Black

Hex color:
#000000
RGB:
0 0 0
CMYK:
0 0 0 100
Pantone:
PMS Process Black C