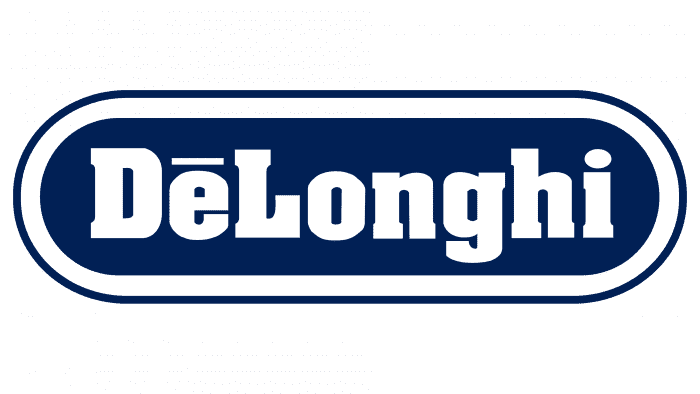 De'Longhi Logo PNG
The world-famous Italian manufacturer of household appliances is also supported by its recognizable visualization – a simple but memorable DeLonghi logo. Its simplicity and democracy, the text block's special charm, ensured the sign's constancy and immutability.
DeLonghi : Brand overview
| | |
| --- | --- |
| Founded: | 1902 |
| Founder: | Giuseppe De'Longhi, Fabio De'Longhi |
| Headquarters: | Treviso, Italy |
| Website: | delonghigroup.com |
DeLonghi is an Italian concern engaged in the production of large and small household appliances. It appeared in 1902 when Giuseppe De'Longhi invented his first heating device. He currently has many branches around the world and owns major brands.
Meaning and History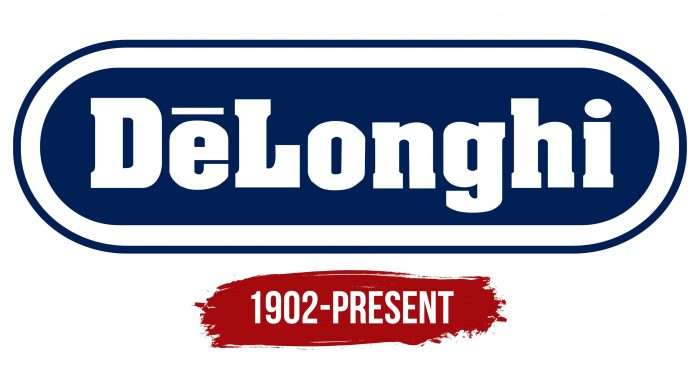 The logo of the group of companies is simple and democratic. Its central element is the word "DeLonghi." There is a long line above the letter "e." It is a diacritic mark that indicates the length of the vowels.
The clearly defined shapes give the lettering a special charm and make it recognizable. The ends of the printed characters are thickened and decorated with short serifs. The font is individual: it was developed specifically for the logo.
What is DeLonghi?

DeLonghi is an Italian company that produces a wide range of products, including air conditioners, electric kettles, toasters, microwaves, stoves, coffee makers, blenders, and other appliances for home and office use. Founded in 1902, the company has evolved from a small workshop to a globally recognized manufacturer of small household appliances.
The name of the concern is depicted inside an oval rectangle with two outlines: white and blue. The geometric shape itself is also blue. Conversely, the inscription is white. Some versions use deep black instead of the main color. This monochrome palette enhances the contrast and draws attention to the logo.
Font and Colors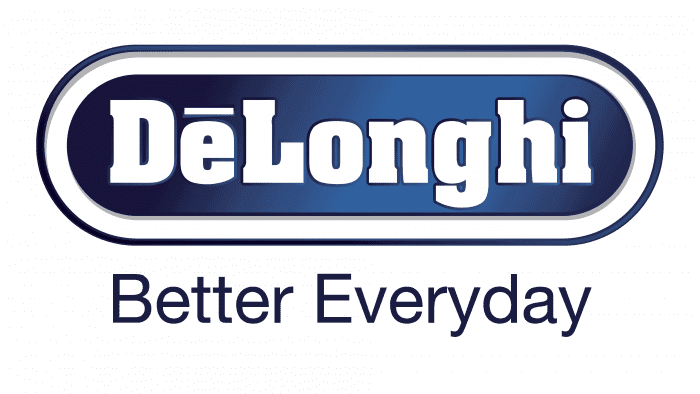 This brand's logo is notable for its constancy: since the moment of its approval, it has not changed even once; therefore, it remains the same as it was seen in 1902. It is an elongated oval located horizontally. The emblem is recognizable by the thin blue edging that forms a shadow over the white inner stripe. This makes the logo bulky.
This is followed by another oblong oval – a deep blue light with an inscription in the middle. The name of the company is executed in light wide letters with a minimum inter-character distance. To remove the dividing apostrophe, the designers placed it above the "e" in a short stripe and capitalized the next letter. The logo also features a play of shades in a gradient transition from dark blue to light blue.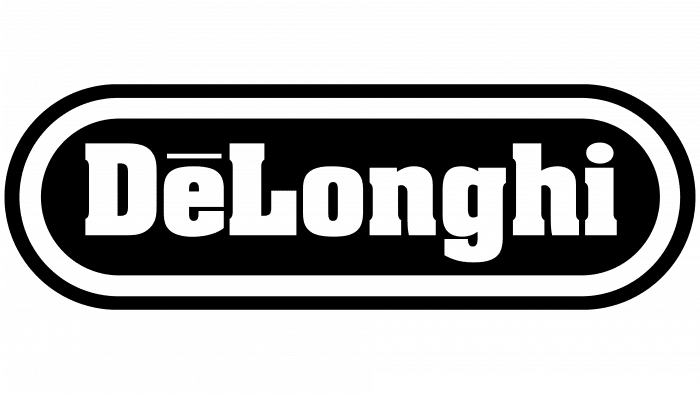 The home appliance manufacturer chose a wide serif font for its logo. The inscription is made using a combination of upper and lower case letters: "D" and "L" are uppercase, the rest are lowercase. The color scheme is traditional, proprietary: it includes several shades of blue and white.
DeLonghi color codes
Sapphire

Hex color:
#012055
RGB:
1 32 85
CMYK:
99 62 0 67
Pantone:
PMS 2766 C