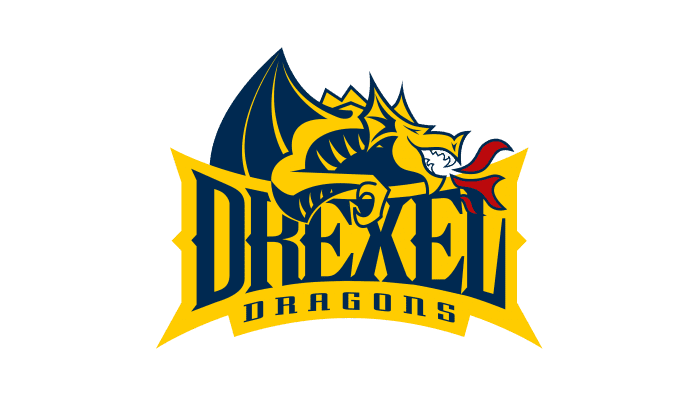 Drexel Dragons Logo PNG
Since 1985, Drexel University has been represented by athletes from school teams, the Drexel Dragons, whose logo is "terrible" and bright. The talisman of Eastern mythology accurately reflects the brand's philosophy, its name's a hidden meaning, and the desire always to reach new heights.
Drexel Dragons: Brand overview
| | |
| --- | --- |
| Founded: | 1985 |
| Headquarters: | Philadelphia, Pennsylvania, U.S. |
| Website: | drexeldragons.com |
The sports department of Drexel Dragons includes eighteen teams: nine women and as many men. They represent the private Drexel University, whose main building is located in Philadelphia. This is one of four schools in the NCAA Division I, which refused to finance baseball and volleyball.
Other sports teams successfully compete in intercollegiate competitions and participate in the Colonial Athletic Association. The sports department is called Dragons after a school mascot, a dragon named Mario V. Mascioli. Before that, he wore other nicknames: Drexelites, Engineers, and Blue & Gold.
Meaning and History


The emblem of 1985-2001 depicts a Chinese dragon, known in eastern culture as moon snakes – a yellow dragon silhouette coils inside a blue square. There is also the inscription "Drexel," made in the standard Serif font. Under the geometric figure on a white background is the second word: "University." Sans serif letters look stern and presentable.
In 2002, designers depicted on the logo of another dragon – this time winged and fire-breathing. A mythological creature breaks out at the top of the Drexel Dragons sign and releases a bright red flame from its mouth. Artists worked on the style, paying attention to detailing the picture. The font is also original: the letters have not only serifs but also triangular spikes on the left side. Colors correspond to the official blue-gold palette of the university.
What is Drexel Dragons?

Drexel Dragons is an athletic department affiliated with Drexel University, located in Philadelphia, Pennsylvania. It consists of 18 student teams that compete in NCAA Division I and are members of the Colonial Athletic Association, EIWA (wrestling), and IRA (men's rowing).
1985 – 2001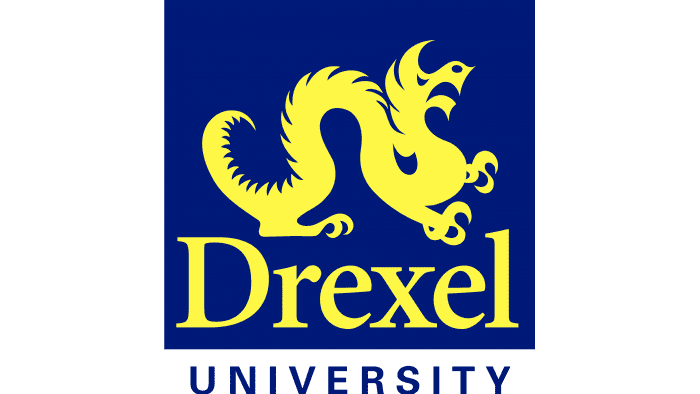 2002 – today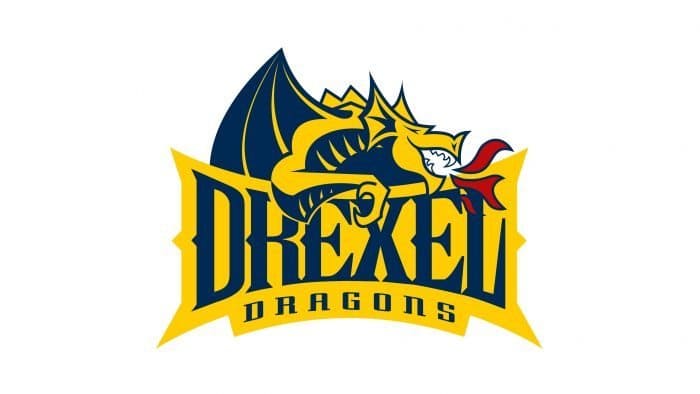 Drexel Dragons Basketball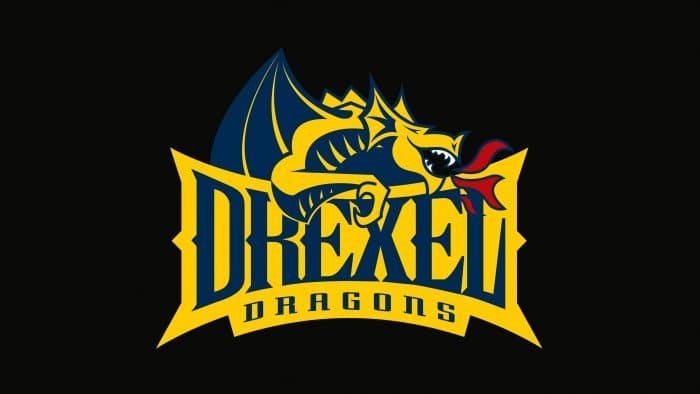 The first basketball team of Drexel University debuted in 1895. It was a promising start: the score was 26: 1 in favor of Drexel. In the future, basketball players have won more than once. In the season 2018-2019, they even set a record for the ratio of victories and defeats, which no one was able to surpass. The women's team also won prizes in tournaments. In 2013, she received the WNIT champion title.
Drexel Dragons Field hockey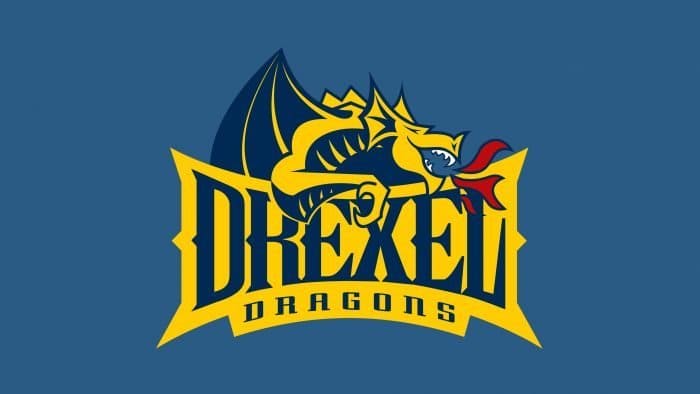 The school is funding a field hockey program. In 2012, his team showed itself well in the Colonial Athletic Association, beating the opponent with a 2: 1. No less successful was 2009, when the women's team first won the NCAA tournament competition.
Font and Colors
Drexel Dragons color codes
Oxford Blue

Hex color:
#07294d
RGB:
7 41 77
CMYK:
91 47 0 70
Pantone:
PMS 295 C
Mikado Yellow

Hex color:
#ffc600
RGB:
255 198 0
CMYK:
0 22 100 0
Pantone:
PMS 7549 C
Crimson Red

Hex color:
#9e0b0f
RGB:
158 11 15
CMYK:
0 93 91 38
Pantone:
PMS 7626 C