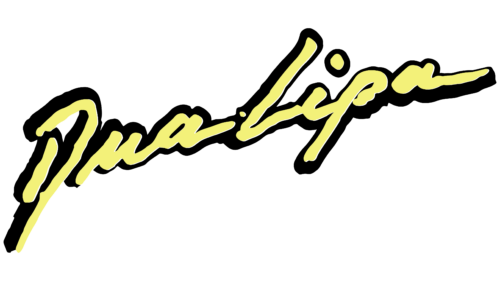 Dua Lipa Logo PNG
The Dua Lipa logo, a casually written yellow inscription of the artist's name, was revealed in November 2019, coinciding with the release of the single "Don't Start Now." This emblem's hand-drawn lettering, imbued with a vintage appeal, presents an effortlessly artistic vibe.
There is an intentional irregularity to the lines in the emblem's design. This feature gives the impression that the words have been crafted with a brush or a thick marker, adding an individual, almost rebellious quality to the design. This quality could be reflective of Dua Lipa's distinct style – raw, unapologetic, and bursting with personality.
The emblem's lettering is positioned diagonally, a unique attribute that adds to its dynamic and energetic feel. This diagonal placement could symbolize Dua Lipa's trajectory in the music industry – a rising star forging her own path. Much like her music, the logo is bold, engaging, and breaks conventional norms.
A key feature in the emblem's design is its black outline. This serves not just an aesthetic function but also a practical one. It makes the logo stand out, especially against lighter backgrounds, ensuring visibility and impact. This element could be seen as symbolic of Dua Lipa's presence in the music world – commanding attention and refusing to blend in.
The emblem's retro-inspired design can also be seen as a nod to Dua Lipa's musical influences and the nostalgic elements often found in her songs. Her music often carries an undertone of the past, blending it seamlessly with contemporary pop – much like her logo, where vintage meets modern.
The Dua Lipa emblem, with its unique hand-drawn design and distinct features, encapsulates the artist's persona. It represents her energetic and rising presence in the music industry, her bold and distinctive style, and her music's harmonious blend of the past and present.
| | |
| --- | --- |
| Founded: | 2014 – present |
| Founder: | Dua Lipa |
| Headquarters: | United Kingdom and Albania |
| Website: | dualipa.com |
Dua Lipa, a beacon of talent with British-Albanian roots, has swiftly risen to the music industry's top. Born in London on August 22, 1995, to Kosovar Albanian parents, Dua was exposed to the world of music early on, thanks to her father, Dukagjin Lipa, a rock band member of Oda.
When she was only 11, Dua Lipa's family left London to move back to Kosovo. However, the budding artist remained steadfast in her dreams, fueling her musical passion by sharing covers of popular songs on YouTube. Determined to chase her aspirations, she took a bold step at the age of 18, returning to London to carve a path in the music industry.
Once back in London, Dua began her ascent to fame, working as a hostess in a nightclub and modeling while recording her own music. Her breakthrough arrived in 2015 when she signed with Warner Music Group and released her first single, "New Love." It was her second single, "Be the One," that catapulted her into international prominence, becoming a colossal hit in Europe and Australia.
In 2017, Dua Lipa dominated the charts with her self-titled debut album, featuring chart-topping hits like "IDGAF" and "New Rules." Her album was a commercial triumph, leading her to earn a slew of awards and nominations. In 2018, she earned the distinction of being the most streamed female artist on Spotify and won the Grammy Award for Best New Artist the following year.
An artist with a heart, Dua Lipa has leveraged her stardom to advocate for social justice causes. She has championed the rights of refugees, joining forces with organizations such as UNICEF and Save the Children. In 2020, she launched her hit single "Levitating," featuring a special remix with DaBaby, with all proceeds going to the Covid-19 Solidarity Response Fund for WHO.
Dua Lipa's rise to global fame has been marked by her distinctive sound, uplifting lyrics, and dedication to social causes. As a musical sensation, her influence on the industry is undeniable and shows no signs of abating. She continues to bewitch her audience with her charisma and commitment, cementing her status as an inspiration to many.
Meaning and History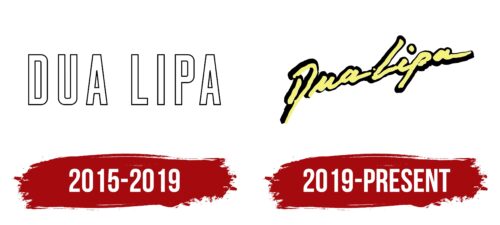 Her brand identity is a fusion of modern style, feminist empowerment, and musical versatility. Through her music, she encapsulates the experiences and aspirations of a generation, tackling themes of love, heartbreak, and personal growth. Her sound is fresh and nostalgic, drawing inspiration from diverse genres yet always maintaining a distinctive pop sensibility.
Her bold fashion choices and charismatic presence in her music videos and performances further accentuate her brand. This intersection of music and fashion has become an integral part of her persona, helping to cultivate a visually compelling and identifiable brand.
Ultimately, Dua Lipa's brand goes beyond just her music and style. It stands for self-confidence, individuality, and the power of authenticity, themes that resonate deeply with her global fan base. With her unapologetic expression of self, she inspires countless fans worldwide and continues to redefine what it means to be a pop icon in the modern era.
What is Dua Lipa?

Dua Lipa, born on August 22, 1995, is a remarkable music industry talent who is an English and Albanian singer and songwriter. Bursting onto the scene with her eponymous debut album, she quickly rose to global stardom and established herself as a prominent force in the contemporary pop music scene.

With her unique blend of synth-pop, dance-pop, and R&B, she carved out a niche for herself and managed to capture the attention of a diverse global audience. Her voice, characterized by its deep, sultry tone, combined with her knack for catchy and emotionally resonant songwriting, has propelled her to the top of the charts across the world. Songs like "New Rules" and "Don't Start Now" have become international anthems, showcasing her ability to connect with listeners on a profound level.
2015 – 2019

2019 – today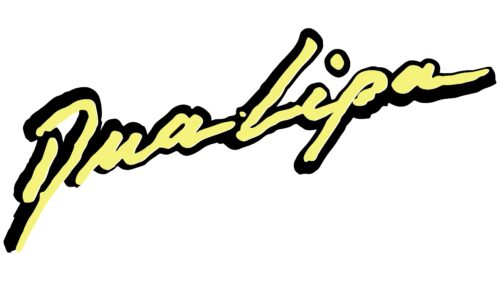 Dua Lipa color codes
Greenish Yellow

Hex color:
#f3f179
RGB:
243 241 121
CMYK:
0 1 50 5
Pantone:
PMS 393 C
Black

Hex color:
#000000
RGB:
0 0 0
CMYK:
0 0 0 100
Pantone:
PMS Process Black C