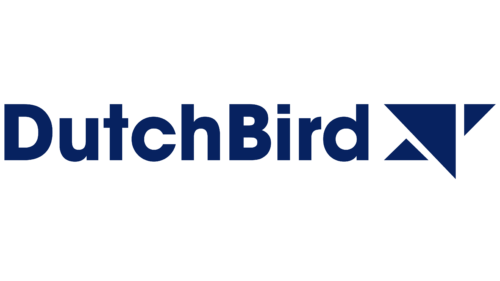 DutchBird Logo PNG
DutchBird logo, with its minimalist design, exudes confidence and reliability while creatively tying the brand name to an aviation theme. Combining a clear sans-serif font and an abstract bird illustration in dark blue makes the logo aesthetically pleasing and meaningful.
Minimalist Typography:
Font Choice: The well-readable sans-serif font for the company's name has been selected.
Bold Letters: The clear, bold lettering represents confidence and dependability, echoing the brand's professionalism.
Dark Blue Color: The dark blue color used in the name and the bird symbol carries connotations of trust, wisdom, and stability, valuable qualities for an airline.
Cubist Bird Illustration:
Shape and Style: The bird's depiction, with two small triangles for the tail and head and one large triangle for the wing, has been executed in a cubist style.
Flight Symbolism: This abstract illustration symbolizes flight, a fitting metaphor for an aviation company. The simplified form conveys efficiency and forward motion.
Composition and Balance:
Right Alignment: The bird illustration is placed to the right of the text, creating a visually balanced composition that is easy on the eyes.
Unity in Design: Integrating text and image in a single color scheme creates a cohesive look that reflects a unified brand image.
Emotional Resonance:
Encouraging Exploration: As a symbol of freedom and exploration, the abstract bird encourages thoughts of travel and discovery.
Instilling Confidence: The bold typography and coherent design can instill confidence in the audience, reassuring potential customers of quality service.
Versatility and Functionality:
Adaptability: The simplicity and clarity of the logo make it adaptable to various applications, from stationery to digital platforms.
Recognition: The distinctive cubist bird helps in brand recognition, aiding in creating a strong brand presence in the market.
Strategic Brand Communication:
Aligning with Business Values: The logo effectively communicates values essential to an airline: trust, efficiency, freedom, and exploration.
Cultural and Historical Context:
Representing Heritage: Using blue, commonly associated with Dutch art and culture, and the name "DutchBird" could also reflect national heritage.
DutchBird: Brand overview
| | |
| --- | --- |
| Founded: | 2000 – December 2004 |
| Founder: | Hans Mosselman |
| Headquarters: | Amsterdam, Netherlands |
In 2000, Hans Mosselman, a Dutch entrepreneur, founded DutchBird, a new budget airline based in Amsterdam. The airline's primary goal was to provide affordable, no-frills flights from Amsterdam to various European leisure destinations.
On November 22, 2000, DutchBird launched its operations with its maiden flight from Amsterdam to Munich. Starting its journey with a fleet of Boeing 737-300 aircraft configured entirely for economy class, the airline had a promising start.
In the subsequent two years, DutchBird progressively broadened its network across Europe, eventually serving over ten destinations at its zenith. However, the repercussions of the 9/11 attacks and escalating competition from carriers like easyJet and Ryanair posed considerable growth challenges for DutchBird.
Despite attempts at restructuring, DutchBird continued to bleed losses as a smaller competitor in the market. By December 2004, confronted with accumulating debts and dim prospects, DutchBird was compelled to discontinue its operations after a four-year run.
At its height, the airline annually transported over 500,000 passengers across its network of budget-friendly European routes. DutchBird endeavored to introduce the low-cost model to Amsterdam, but it ultimately succumbed to the fierce competition in the budget airline sector and the untenable economics of its operations.
Meaning and History