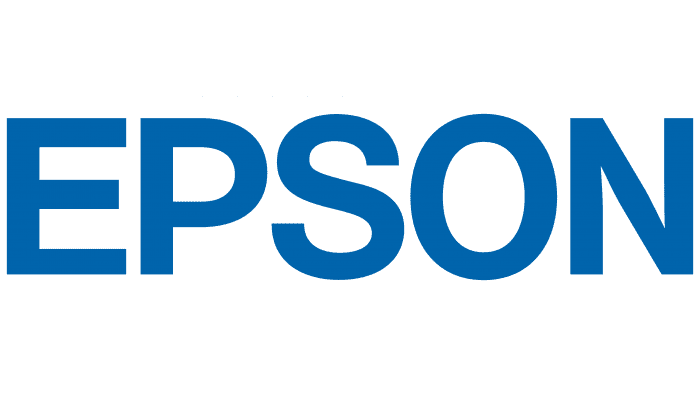 Epson Logo PNG
The Epson logo shows how serious the company is about what it does. Responsibility and strictness are embodied in a simple design without frills. This universal emblem fits all the brand's products, from printers and cartridges to watches and electronics.
Epson is a preeminent brand for printers, scanners, cartridges, projectors, and other digital equipment. The company has several subsidiaries. Part of the Seiko Group Corporation. Founded in 1942 as Daiwa Kogyo, Ltd. in the city of Suwa (Nagano, Japan).
Meaning and History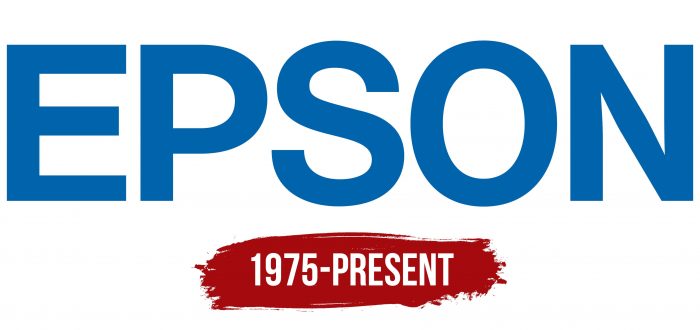 This company chose a simple logo with the word "Epson" composed of parts of the phrase "Electronic Printer Son." It appeared in connection with the release of a new family of printers. Subsequent changes to the brand name were minor and did not involve a major design change.
The original symbol contains only one word – the brand name. It is written in the corporate type Helvetica Neue – simple, straight, bold, sans-serif, vaguely reminiscent of the Roman style.
Also, there are versions with the text at the bottom of the logo – "Exceed your vision." The entry is made in uppercase letters and takes up all the space below the bottom, so it looks like the word "Epson" is located right on it.
Font and Colors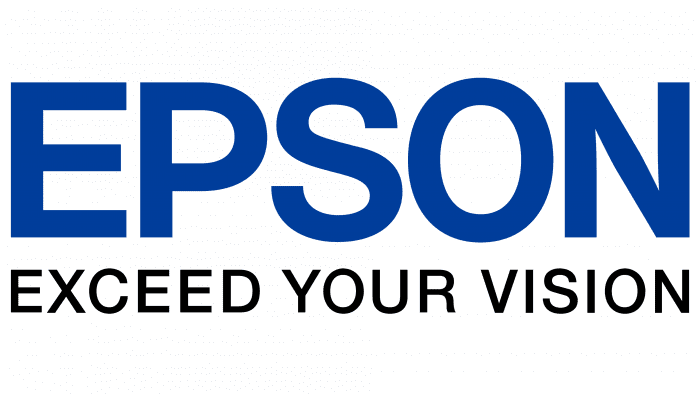 The renowned manufacturer of printer technology relies on recognition due to the impeccable quality of its products. But he had not changed his logo since 1975 – from the moment when he released the newest line of printers of the same name. Paradoxically, this fact makes the logo famous and attractive. This means that the company is so confident in its products that it does not intend to "manipulate" the logo. And it is very simple: a strict blue inscription on a white background. The text is based on the brand name – Epson. It is formed from the merger of the abbreviated forms of the phrase "Son of Electronic Printer." This is an example of how the name of a successful product line spread throughout the company.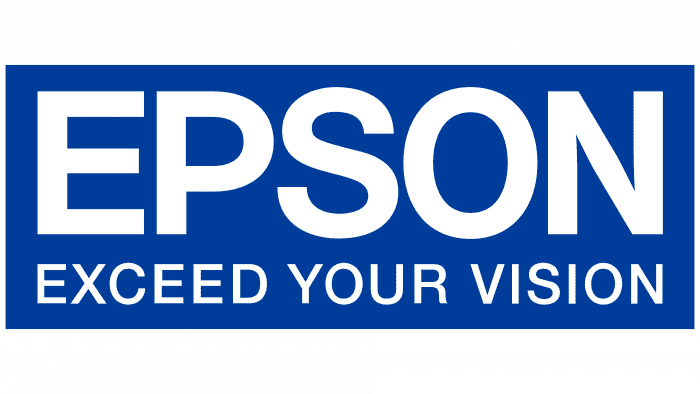 For the branding, the manufacturer chose an uncomplicated typeface – smooth, even, and sans serif. It is as close as possible to the commercial type Helvetica Neue 55 Bold.
The basic palette is blue and white. Moreover, there are two shades of blue: with a bias in lilac and blue. Also in use are logos made in gray and black tones. The background for the name, depending on the options, can be painted in any of the corporate colors.
Epson color codes
Dark Blue

Hex color:
#0163ac
RGB:
1 99 172
CMYK:
99 42 0 33
Pantone:
PMS 300 C