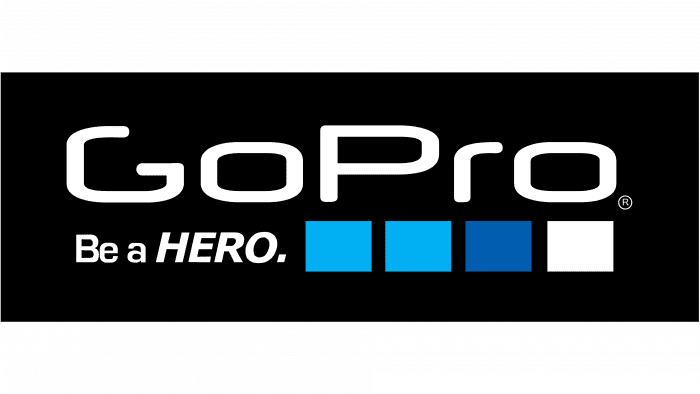 GoPro Logo PNG
High-tech cameras for live-action shooting at active actions from professional angles are recognizable by many thanks to visual identification. The GoPro logo symbolizes extreme entertainment on land, air, and water, which confirms its motto, "Be a Hero."
| | |
| --- | --- |
| Founded: | 2002 |
| Founder: | Nick Woodman |
| Headquarters: | San Mateo, California, U.S. |
| Website: | gopro.com |
GoPro is a company that represents the consumer electronics industry. It was created in 2002, but until February 2014, it was called Woodman Labs, Inc. Its range includes digital cameras, mainly action cameras, designed for shooting at high speed and in extreme conditions.
Meaning and History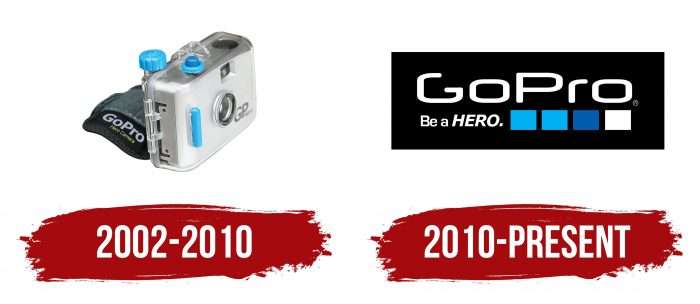 GoPro products are adorned with stylish branding. The first appeared in 2002 and was in demand until the early 2010s. In 2010, the designers developed a second logo. At first, it was only used to mark related accessories, but in 2013 it was transferred to cameras. So he became the only official symbol of the manufacturer.
What is GoPro?

GoPro is an American company operating in the field of computer technology. It manufactures action cameras with proprietary software, producing not only digital video equipment but also providing mobile applications and editing software. The brand was founded in 2002 by Nick Woodman. Its headquarters are in San Mateo, California.
2002 – 2010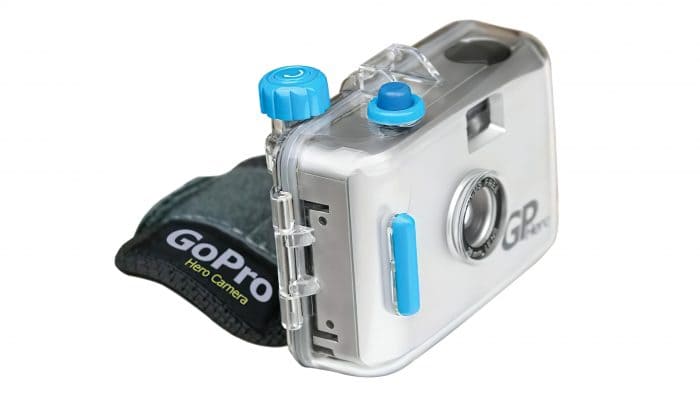 The logo has a dark background and a light inscription, placed in two tiers. At the top is the brand name – "GoPro," at the bottom is its slogan – "Hero Camera." The austere style is sustained, so both parts complement each other harmoniously. The only thing that sets them apart is the color. The first word is kept white; the second is colored mustard yellow.
2010 – today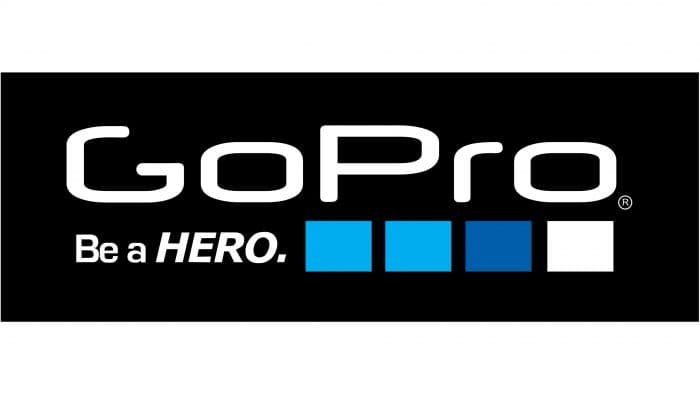 In the updated version, the designers have remade virtually everything. They changed the text's layout, used a different font, added a few elements, and wrote a new company slogan. As a result, the word "GoPro" takes up almost the entire rectangle space, and under it is the motto "Be a Hero" and four multi-colored squares. Moreover, there is a geometrically precise distinction: "Go" is located above the slogan and "Pro" – above the squares.
Font and Colors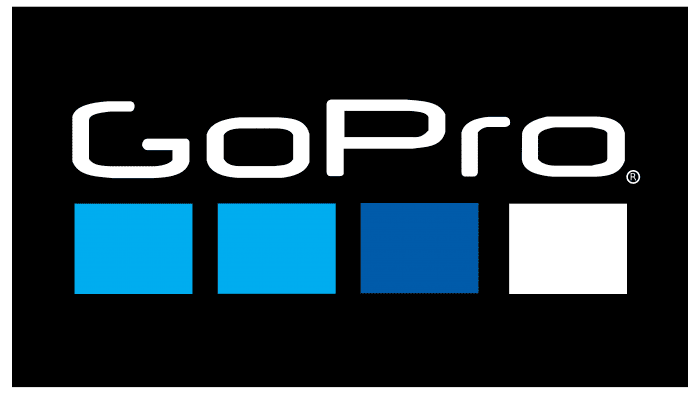 The current GoPro logo is a large black rectangle with its name, the inspirational slogan "Be a HERO," and four multi-colored squares. The previous version contained other labels: "GoPro Hero Camera" or simply "GP Hero."
The logo, adopted in 2010, consists of several symbolic elements. These are four mini-squares located within a large black rectangle. The far left denotes cycling, downhill skiing, motocross, and other terrestrial extreme entertainment. It is light blue, like the sky. The second square is dedicated to windsurfing, wakeboarding, and other water sports. It is the same color as the surf. The third, dark blue, symbolizes diving. The fourth geometric figure is as white as snow. It is a graphic embodiment of winter sports.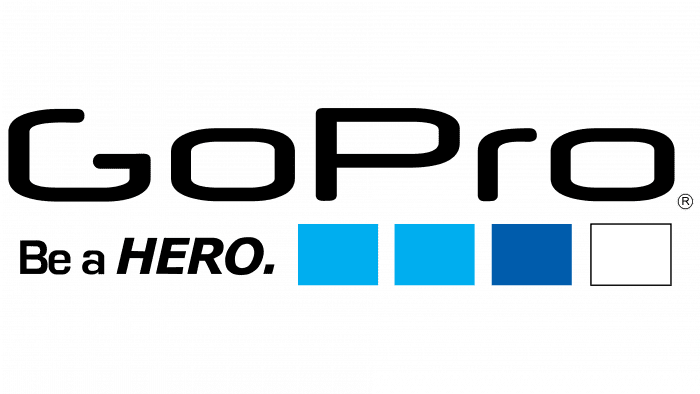 The font for the word "GoPro" resembles Neuropol, but with a modified "G." The slogan features two typefaces at once: "Be a" is written using Euro tile Bold, and "HERO" is written using Verdana Bold Italic. The palette contains four colors: white, black, medium Persian blue (# 005DAC), and a vibrant Cerulean blue (# 00AEEF).
GoPro color codes
Vibrant Cerulean Blue

Hex color:
#00aeef
RGB:
0 174 239
CMYK:
100 27 0 6
Pantone:
PMS 801 C
Medium Persian Blue

Hex color:
#005dac
RGB:
0 93 172
CMYK:
100 46 0 33
Pantone:
PMS 2945 C
Black

Hex color:
#000000
RGB:
0 0 0
CMYK:
0 0 0 100
Pantone:
PMS Process Black C