Jat Airways Logo PNG
Jat Airways: Brand overview
Jat Airways, formerly Jugoslovenski Aerotransport (JAT), has a rich history as the national flag carrier and the largest airline of Yugoslavia, Serbia, Montenegro, and then Serbia. Since its foundation in 1927 as Aeroput, the airline has played a crucial role in the development of civil aviation in the region.
Aeroput, the predecessor of JAT Airways, paved the way for the development of civil aviation, initially providing domestic flights within Yugoslavia and gradually expanding to international destinations.
As a state-owned company, Jat Airways consisted of 1,250 dedicated professionals whose unwavering dedication and hard work led the airline to success.
On August 8, 2003, Jat Airways underwent a major change and was renamed JatAirways. The modernization was aimed at meeting the changing needs of the travel market while maintaining the airline's respected heritage.
Tracing its history back to Aeroput in 1929, Jat Airways has adapted and evolved to meet the ever-changing needs of travelers.
Meaning and History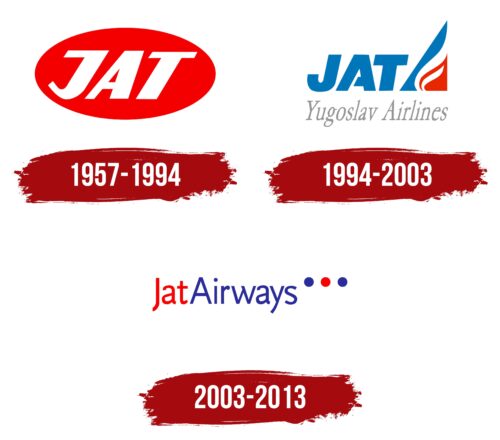 What is Jat Airways?

Jat Airways, once called JatAirways, was the national flag carrier and the largest airline of Yugoslavia and later Serbia, Montenegro, and Serbia. The company became a critical part of the national infrastructure, connecting the countries it served with the rest of the world.
1957 – 1994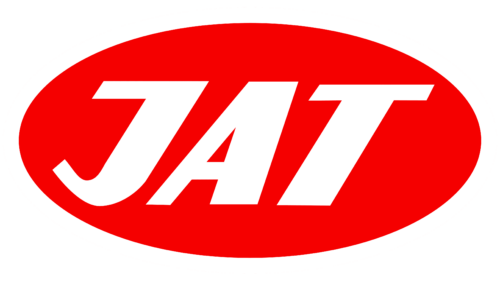 1994 – 2003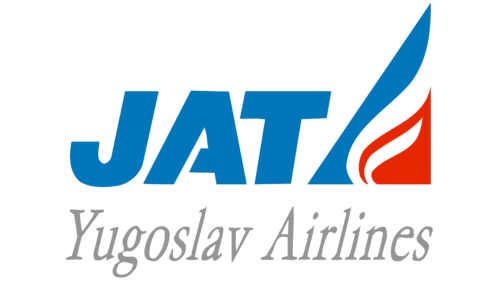 2003 – 2013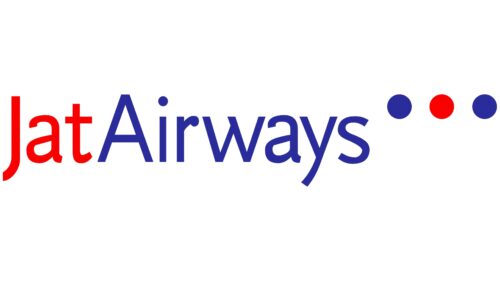 The Jat Airways logo is friendly and inviting with a unique style. It conveys professionalism and a desire to please passengers by providing a comfortable flight experience. These sentiments are reflected in the soft shades of red and blue. These colors harmoniously combine with each other, creating a joyful atmosphere. The leading part of the emblem is the airline's name, typed in vertically elongated bold, sans serif font. Only the letters "J" and "A" are typed in upper case, and the rest of the letters – in lower case. Behind the text are three large dots resembling airplane portholes.
The vertically elongated text creates a sense of upward movement, which corresponds to the concept of flight. The three large dots behind the name subtly emphasize the aviation theme and are, at the same time, an eye-catching element. This design choice reflects the airline's commitment to detail and focus on passenger satisfaction.