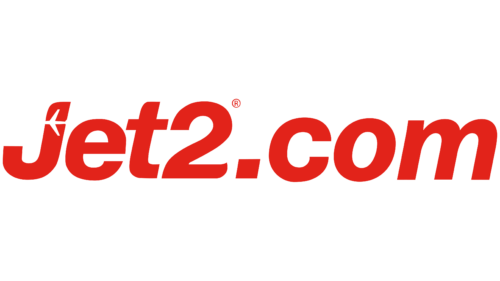 Jet2.com Logo PNG
The Jet2.com logo is not just a drawing of a plane; it's a wink that says, "Hey, vacation is closer than you think!". It's as if the white cliffs of Dover and the rainy streets of London got together and decided, "Let's send people somewhere sunny and fun!". This logo is like a ticket to adventure, but it doesn't shout about it. Rather, it's a whisper saying that the rolling hills of Scotland and bustling Manchester can be a place to play as well as a quiet retreat. It's that buzz of excitement you get when you book accommodation and think of the unlimited fish and chips or the green fields you'll soon see.
And you know what they say about British punctuality? This logo evokes the same feeling. It's reliable and clear and promises to get you where you want to go, whether it's a weekend trip or a family vacation. It's like a mini-guide who knows all the interesting places and never wastes time. Simple, attractive, and a little bit of magic is what every trip should be.
Jet2.com has been revolutionizing the travel industry in the UK since 1984. The company was originally known as Channel Express and started out as a courier service before realizing the demand for passenger flights. In 2003, the company rebranded and became Jet2.com, ushering in a new era of affordable and memorable travel for its customers.
Since its inception, Jet2.com has experienced significant growth, expanding its fleet and route network and establishing bases at airports across the UK. With a presence at major airports such as Leeds Bradford, Belfast International, Birmingham, Bristol, East Midlands, Edinburgh, Glasgow, London Stansted, Manchester, and Newcastle, Jet2.com provides travelers with access to a wide range of destinations.
Understanding the changing needs of travelers, Jet2.com has pioneered the package holiday market. With the advent of Jet2holidays, customers can conveniently book flights, accommodation, transfers, and other vacation extras in one place.
In 2023, the company surpassed TUI to become the number one tour operator in the country, cementing its position as a leading travel service provider.
Meaning and History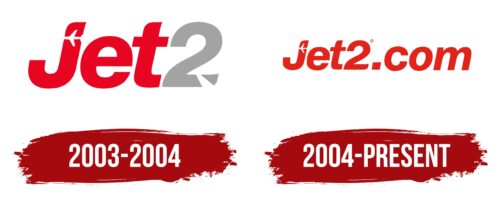 What is Jet2.com?

Jet2.com holds an important place in UK aviation as a leading low-cost airline offering scheduled and charter flights. As of 2022, the company was the third largest scheduled airline in the UK, behind giants such as easyJet and British Airways. The airline is headquartered at Leeds Bradford Airport and flies from various bases strategically located throughout the UK.
2003 – 2004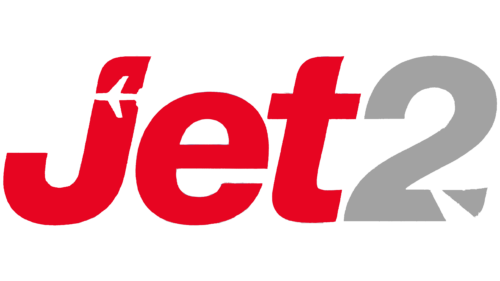 2004 – today
The logo with the red lettering "Jet2.com" belongs to one of the UK's largest airlines. Its bright appearance and dynamic typeface express a passionate love of travel. The designers used negative space to depict a miniature white silhouette of an airplane inside the letter "J." This gave the logo added meaning, making it more imaginative and appealing.
The choice of red in the logo is often associated with excitement and energy, which fits perfectly with the excitement of travel. The miniature airplane in the letter "J" is an original design solution that emphasizes the main direction of the airline's business. It gives the logo depth, transforming it from a simple text into a visual narrative. The overall design effectively conveys the essence of the airline's business, making it memorable and instantly recognizable.