La Roche-Posay Logo PNG
La Roche-Posay: Brand overview
| | |
| --- | --- |
| Founded: | 1928 |
| Founder: | René Levayer |
| Headquarters: | Paris, France |
| Website: | laroche-posay.com |
Established in 1928, the skincare company La Roche-Posay was initially a project by Dr. René Levayer, a French physician who used the selenium-rich spring water from the village of La Roche-Posay to treat various skin conditions of his patients.
In 1975, the natural spring, known for its healing and soothing properties, particularly beneficial for sensitive skin, was acquired by Jean-Noël Thorel. Thorel established the first dermatological laboratory dedicated to researching and creating skincare products using the unique spring water, laying the company's foundation as we know it today.
The efficacy of La Roche-Posay's products on sensitive and allergy-prone skin quickly earned them recognition in the dermatology sector. In the 1990s, the brand expanded outside France, establishing European subsidiaries and reaching global markets. Its products found their way into the U.S. market in 2004.
Despite being incorporated into L'Oréal's conglomerate in 1989, La Roche-Posay remained committed to its initial mission – creating skincare products specifically tailored for sensitive skin. The company has since released renowned product lines such as Effaclar, targeting acne-prone skin, and Anthelios, focusing on sun protection.
Today, La Roche-Posay's products grace the shelves in over 60 countries, endorsed by over 90,000 dermatologists. The brand remains dedicated to producing skincare products tested by dermatologists, utilizing the antioxidant-laden thermal spring water of La Roche-Posay alongside state-of-the-art skincare technology.
Meaning and History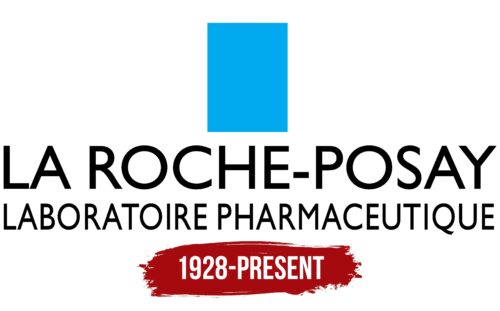 What is La Roche-Posay?

Since its establishment in 1928 by René Levayer in Paris, France, La Roche-Posay has been a pioneer in skincare. Known for offering transformative products specifically designed for sensitive skin, this globally recognized brand has been endorsed by leading dermatologists owing to its exceptional expertise and trailblazing innovations.
La Roche-Posay color codes
Spanish Sky Blue

Hex color:
#01aaee
RGB:
1 170 238
CMYK:
100 29 0 7
Pantone:
PMS 801 C
Black

Hex color:
#000000
RGB:
0 0 0
CMYK:
0 0 0 100
Pantone:
PMS Process Black C