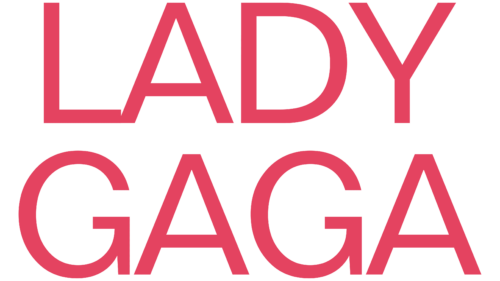 Lady Gaga Logo PNG
Lady Gaga: Brand overview
Appearing on the music scene in the mid-2000s, Lady Gaga, born Stefani Joanne Angelina Germanotta on March 28, 1986, has carved a permanent niche for herself in the industry. Her distinctive performance style, polished in the raucous nightclubs of New York City, soon led to an ardent following in the independent music scene.
2008 marked a turning point in Lady Gaga's career: she signed with Interscope Records, which allowed her to release her debut album, The Fame, in 2009. Featuring chart-topping hits such as "Poker Face," "Just Dance," and "Paparazzi," the album quickly garnered worldwide attention and placed Gaga in the annals of pop culture.
The boldness and audacity of Lady Gaga's music, fashion, and performances resonated with her listeners, gaining her a loyal following. Her second album, "The Fame Monster," released the following year, created a sensation with the likes of "Bad Romance" and "Telephone," further cementing her popularity.
Lady Gaga's journey from debut single to Oscar-nominated performance is a testament to her formidable presence on the music scene. With 12 Grammy Awards, an Oscar nomination, and an MTV Video Music Award for her iconic "Bad Romance" music video, Gaga has sold over 150 million records, placing her among the best-selling artists in music history. Her career epitomized her immense talent and unwavering dedication to her work.
In addition to her musical successes, Lady Gaga has also dabbled in acting, playing notable roles in acclaimed productions such as A Star Is Born (2018) and American Horror Story (2015-2016). In addition to her exploits in the entertainment industry, Gaga is a fierce advocate for LGBTQ+ rights and mental health awareness, serving as an inspirational beacon for many.
Lady Gaga's influence on the music world and beyond is legendary. Several generations have grown up under her influence, imbued with her music and desire to push boundaries.
Meaning and History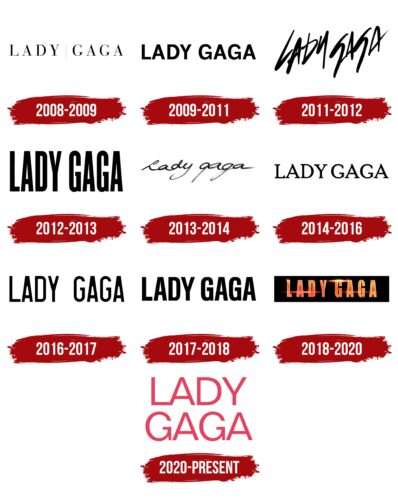 What is Lady Gaga?

Lady Gaga was born Stefani Joanne Angelina Germanotta on March 28, 1986, but the world knows her more as a powerful performer. Originally from New York City, she began her musical journey at a young age, playing piano and honing her singing skills. After a brief acting career, she found her true calling in music, and in 2008, her debut album "The Fame" brought her worldwide fame.

Her second album, Born This Way, released in 2011, further cemented her place in the music industry, with the title track becoming an anthem of self-acceptance and empowerment. In addition to music, she has also made her mark in acting, and her outstanding performance in A Star Is Born earned her an Academy Award nomination.
2008 – 2009

2009 – 2011

2011 – 2012

2012 – 2013

2013 – 2014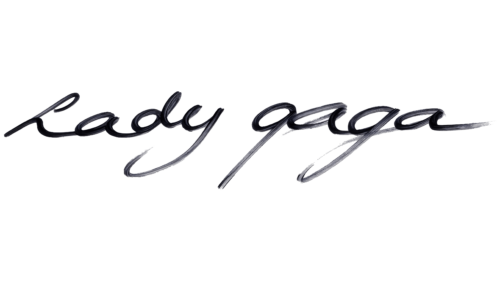 2014 – 2016

2016 – 2017

2017 – 2018

2018 – 2020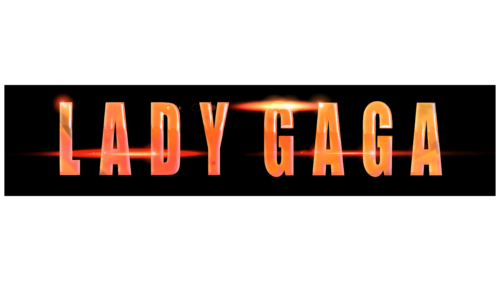 2020 – today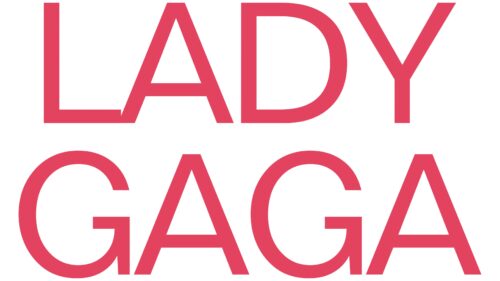 Lady Gaga's logo is as colorful as she is. This flamboyance is conveyed by a short pink lettering. There is nothing provocative in it – just the stage name of the American singer. But its typography is a real challenge for perfectionists. The distance between the letters is uneven: the first "L" and "A" are merged, and "D" and "Y" are strongly separated. The same is observed in the second word: the gaps between "G" and "A" are small, and the space between "GA" and "GA" is enlarged. This emblem was introduced in 2020 with the album Chromatica.
The crazy letter spacing makes it feel like a rushed autograph as if Gaga wrote it down quickly but wanted it to stand out. The pink color makes it more vibrant, just like her music. The unbalanced look of the logo says, "Forget the rules; this is Lady Gaga's world."
Lady Gaga color codes
Amaranth

Hex color:
#e44360
RGB:
228 67 96
CMYK:
0 71 58 11
Pantone:
PMS 1785 C