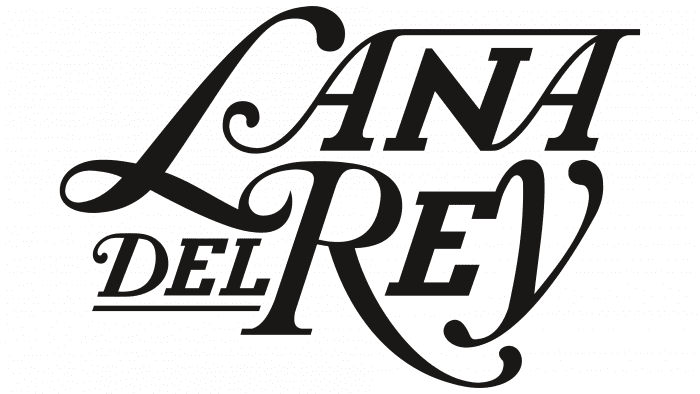 Lana Del Rey is the pseudonym of an American singer who began her musical career in 2005 but became famous in 2011 after releasing the single "Video Games." The pop singer is named Elizabeth Woolridge Grant.
Meaning and History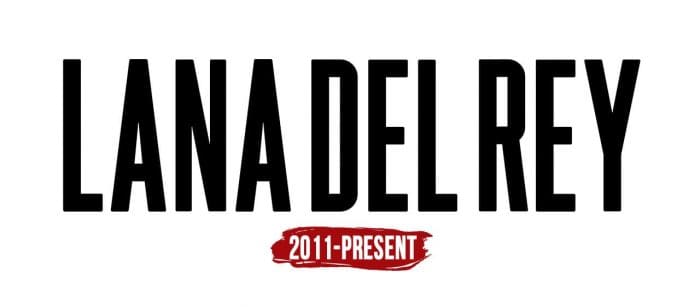 The celebrity does not have a special graphic logo – only her pseudonym is used to release albums and compositions. In particular, the covers of the studio collections "Lana Del Ray" (2010), "Born to Die" (2012), "Honeymoon" (2015) are adorned with the strict inscription "Lana Del Rey."
The typeface resembles the old-fashioned Rospi Retro, inspired by the Polish magazine Tygodnik Ilustrowany from 1933. There are similarities with the typefaces Rainbow (from Hawaiian Tropic) and Steelfish (from Ray Larabie). They are united by narrow and vertically elongated sans serif letters.
On the cover of the album "Lust for Life" (2017), the singer's pseudonym is originally stylized. "L", "A", "D", "R", "Y" have elegant curls with teardrop-shaped elements. This makes them appear to be handwritten. Another "L" (in the word "Del"), "N," and "E" are decorated with square serifs.
The play on contrasts creates an unusual effect: the typography reflects the mood of most songs' romantic melancholy characteristic from the music collection. It is the epitome of American mass culture in the 1950s and 1960s.
Two horizontal lines complement the original italic font. One underlines the word "Del," and the other on top connects the letters "A" in "Lana." The logo is presented in different colors. On the covers, there was often a variant with a red inscription. Despite this, black and white versions have become very popular.
The sixth studio album (2019's Norman Fucking Rockwell) uses the acronym "LDR" instead of the pop star's pseudonym. The symbols are arranged vertically, one below the other. The font is similar to a comic and echoes the cartoon explosion in the upper left corner of the cover. The letters are white with a thin red outline.
Font and Colors of the Emblem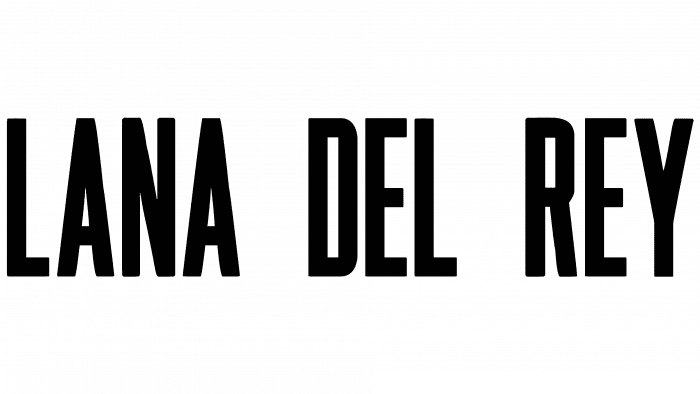 Austerity and sophistication are what characterizes this personal logo in the first place. Although there are no drawing elements in it, the graphics can still be traced in geometric letters. The main place is occupied by the performer's pseudonym – "Lana Del Rey." The signs are elongated and perfectly aligned vertically. Intra-letter gaps are narrow, as is the intersymbol spacing, so it seems as if the letters are close to each other. The close arrangement of words also prompts this.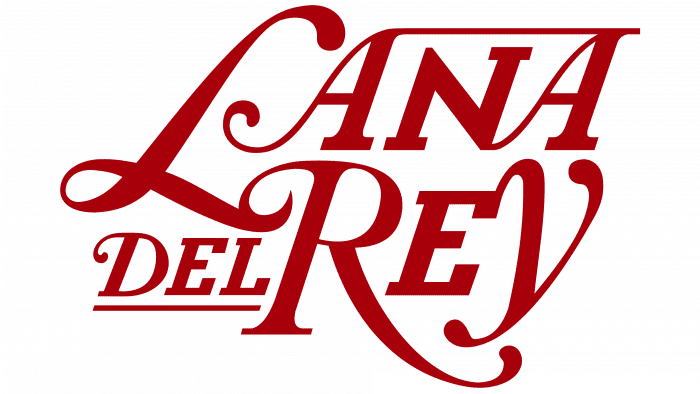 For the custom logo, the author opted for a sleek and versatile typeface with chopped letters. It resembles two fonts at the same time: Steelfish, designed by Ray Larabie, and Rainbow, designed by HawaiianTropic. The color scheme of the logo is also simple and at the same time universal – it is the classic balance of black and white. The narrow, dark letters look very stylish against a wide white background.