Malibu is a brand of coconut-flavored 21-degree rum liqueur. He is a true legend of the alcohol industry.
Meaning and History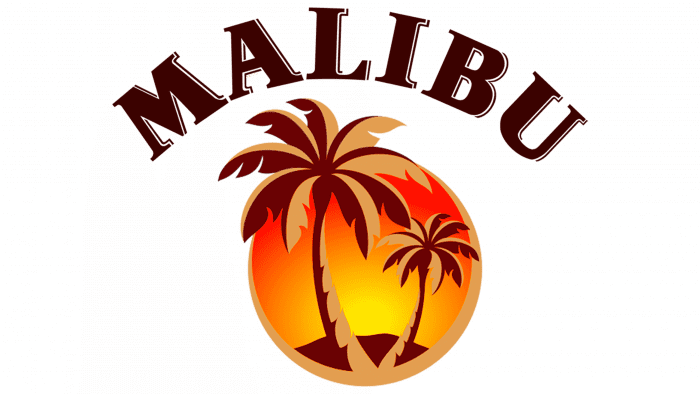 For the first time, this drink appeared in 1893 on the island of Curacao in the Caribbean. Since 1980 it has been produced in Barbados. The brand that issued it was resold several times until it became part of the Pernod Ricard Group. This event is dated 2005th year.
Today Malibu is produced in the town of Black Rock (West Indies) – at the West Indian Rum Distillery. Like many years ago, it is still blended with coconut extract according to legendary recipes. Moreover, it remains exotic and sophisticated. All this is reflected in detail in the corporate logo, imbued with the Caribbean coast's spirit.
The brand wants to stay in line with modern events, keep up with life, and use trendy techniques to delight consumers with exquisite taste. Therefore, the latest redesign has improved the logo, adapting it to electronic sales. As a result, the label, label, and logo accurately reflect the low-alcohol drink's mood: relaxation, calmness, and freshness.
The branding of the brand gravitates towards identity. Its authentic character is enhanced by the vibrant landscape of the Caribbean surroundings. Simultaneously, its design is evolving from simple to complex, acquiring more and more attractive details. They convey legendary product value and relevance, regardless of season or year, outside of the individual paradise.
The emblem of the famous brand depicts two palm trees against a sunset background. At first, the logo was in black and white, but then it got colorful. Palms are located in the center: one is high, the other is low. A slight glare of the setting sun is highlighted on the leaves. The opening variation also shows a piece of land. And in the later version, it is not: the plants seem to look into the porthole, inviting them to enjoy life in the carefree nature.
The original emblem depicted the sun's disk in half; now, it is complete. It obscures the sky, promising a bright mood and excellent weather. Simultaneously, through the designers' efforts, the red color eventually turned into an attractive yellow with a slight darkening along the edge.
Font and Colors of the Emblem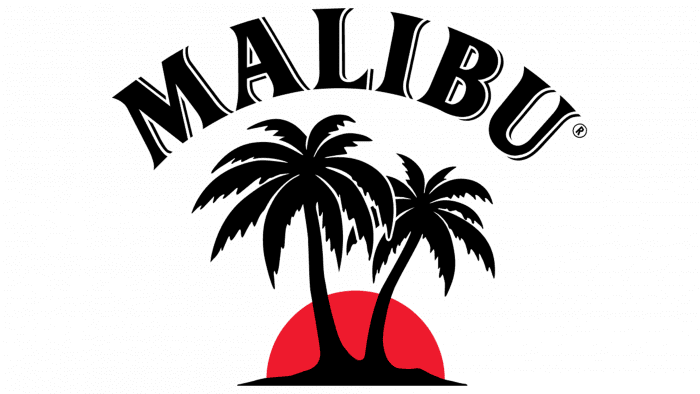 The text part contains only the brand name. The word "Malibu" is placed at the top of the logo. It hangs in a semicircle over the palm trees, resembling an arch in shape. They are written in a custom font based on the classic Bengali Serre, which echoes Fire Ladder (shadow lines) and Dragon Serial Heavy (strict serif style).
The color scheme is traditionally the Caribbean, which includes white (coconut pulp and white sandy beaches), orange, golden, yellow (sunny shades), and brown (coconut skin).