Medium Logo PNG
The Medium logo shows the website's connection with writers and readers. It was inspired by typography – what underlies text publications. The emblem symbolizes the search for new ideas that will be discussed within the global platform for exchanging opinions.
| | |
| --- | --- |
| Founded: | August 15, 2012 |
| Founder: | Evan Williams |
| Headquarters: | United States |
| Website: | medium.com |
The Medium website was launched in 2012 to publish content from several publishers. This original project was conceived by Evan Williams, who was involved in creating Twitter and Blogger. He wanted to encourage people to write texts longer than social media posts, as Twitter messages were only 140 characters then. A few years later, it was decided to monetize the platform to profit both authors and its owners. In March 2017, a monthly subscription model emerged: readers could only view a few articles for free, with the rest available for 5 dollars. This business model has taken hold and is still in use.
Meaning and History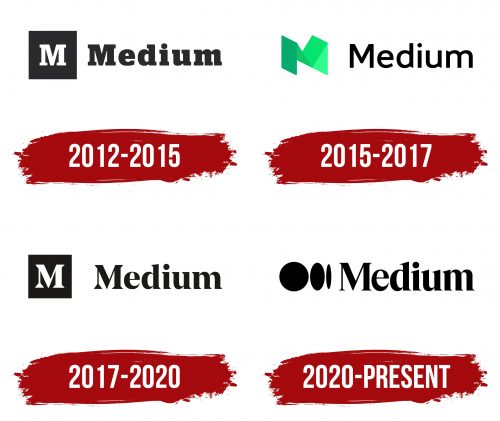 The Medium platform is not standing still: it is constantly evolving and thus needs to update its visual identity. Initially, its concept was based on a blank page, encouraging users to record thoughts and ideas. Therefore, a logo in the form of a single letter – the "building material" of language – was quite appropriate. Since then, the site's mission has remained unchanged but has become more sophisticated.
In 2015, the emblem took on a friendly appearance: a green "M," reminiscent of quirky origami, embodied the flexibility of ideas. However, two years later, the decision was made to return to the restrained black-and-white design associated with prestige and traditional print publications. In 2020, austerity was diluted with a new visual element – a stylized ellipsis. Designers presented it as a circle and two ellipses of different widths as if receding into the distance. This is a symbol of self-expression and creative pursuits.
What is Medium?

Medium is an online platform designed for both the publication of articles by professional journalists and for maintaining personal blogs by ordinary users. It was established in 2012 and quickly became a place where readers can find quality content on any topic – from literature and art to technology and science. Authors, in turn, can earn through a paid subscription.
2012 – 2015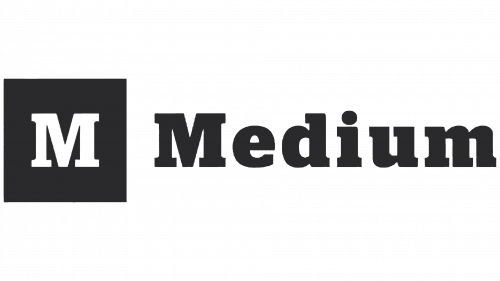 In 2012, a beta version of the site was launched. Even then, a logo with a large white letter "M" in a black square was used. Next to it was the inscription "Medium," executed in the Stag font, distinguished by large rectangular serifs. This bold and recognizable sign emphasized the online platform's connection with journalism and typography. Moreover, it fits perfectly into its minimalist design, where nothing is superfluous: no ads, no top panel, and no colored background.
2015 – 2017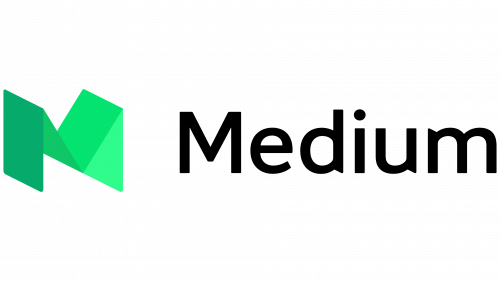 The Medium became disillusioned with its emblem, considering it needed to be more flexible. As the site evolved, it became clear that nothing could be done with a simple black "M," as it did not reflect the brand's new possibilities. Designer Rod Cavazos from PSY/OPS helped fix this problem, proposing a replacement – a stylized "M" made of green color blocks. Segments of different shades represented a series of interconnected ideas. The figure they formed was an innovative thought. This part of the logo looked like a puzzle and hinted at the paper – the text carrier. Next to it was the name of the platform, typed in a black sans-serif font, roughly similar to Pria Ravichandran's Palanquin SemiBold.
2017 – 2020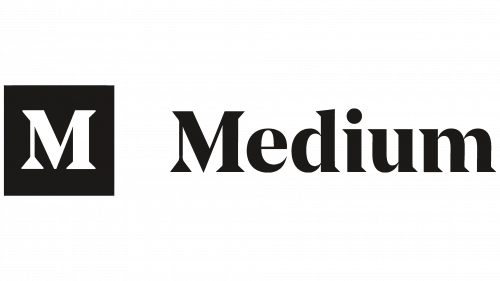 2017 the site changed its business model, offering users a paid subscription to exclusive content. As a result, a rebranding was carried out, which allowed for a return to the strict black-and-white design. Like the 2012 emblem, the new logo contained a white "M" in a black square. Only now, the letter had triangular serifs and lines of different thicknesses – from very thin to excessively wide. This symbol was created by the Manual studio in New York.
The word "Medium," written in a contrasting font, resonated with the headers of such prestigious newspapers as The Washington Post and The New York Times. These associations subconsciously elicited trust from the readers. The only thing that seemed inharmonious was the distance between the glyphs. A certain imbalance was created due to the long sharp serifs.
2020 – today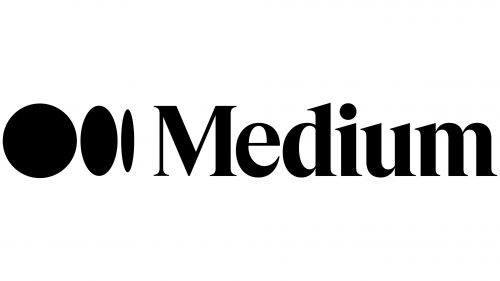 Like all previous ones, the modern Medium logo consists of a graphic symbol and a wordmark. However, instead of the "M," an original combination of a black circle and two ellipses of different widths is now used. It appears neutral and does not interfere with the self-expression of the authors who publish their texts on the platform. It is a stylized ellipsis – a punctuation mark indicating an unfinished thought. It is often used when one wants to hint at an unspoken continuation of the story.
The word "Medium" font is similar to the one used before 2020. But the designers slightly adjusted its form, reducing the serifs, adding slants, and stretching the letters vertically. This improved the readability of the inscription. The logo was created with the participation of the COLLINS company, which also worked with brands such as Twitch and Spotify.
Font and Colors

The contrasting font with sharp serifs looks like a modified version of Toledo Serial Bold from SoftMaker, but it isn't. It is an individual set of glyphs developed for the wordmark.
The black-and-white color scheme of the emblem symbolizes that Medium is a blank canvas for expressing ideas. In addition, it is associated with newspapers and books, which have white pages with black text.