Miele Logo PNG
Miele was founded in 1899 by Carl Miele and Reinhard Zinkann in Herzebrock, Germany. The company originally manufactured cream separators, butter churns, and washing machines, which were sold under the Meteor brand name. Over the years, Miele developed new product categories: in 1926, it introduced milking machines, and a year later, it launched its first vacuum cleaner, the Melior.
Over time, Miele expanded its catalog to include a variety of household and commercial appliances, from washing machines and dishwashers to refrigerators and ovens. Since its founding, the company has remained a family-owned business, largely divided between the Miele and Zinkann clans, who own 51% and 49% of the shares, respectively.
Known for its commitment to quality and innovation, Miele has built a reputation for durable and technologically advanced products, often centered on industrial-grade specifications. Miele has become a globally recognized brand, distributing its products in many countries around the world. The company is headquartered in Gütersloh, Germany, and had revenues of €5.4 billion in 2022.
Meaning and History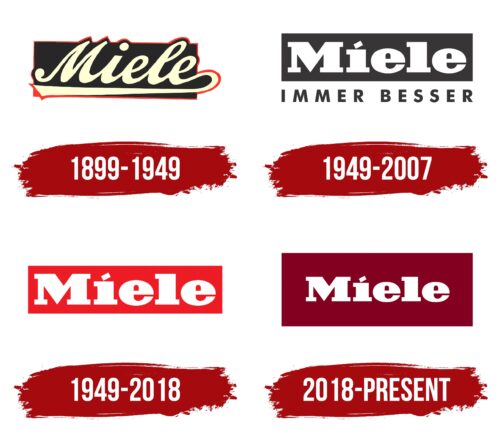 1899 – 1949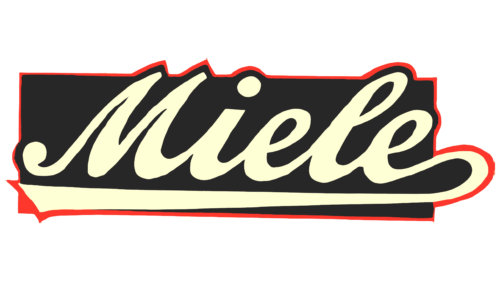 1949 – 2007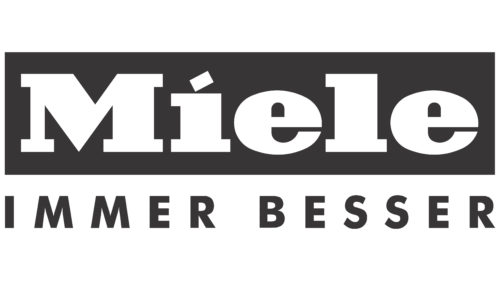 1949 – 2018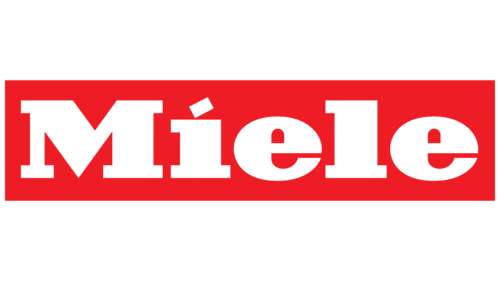 2018 – today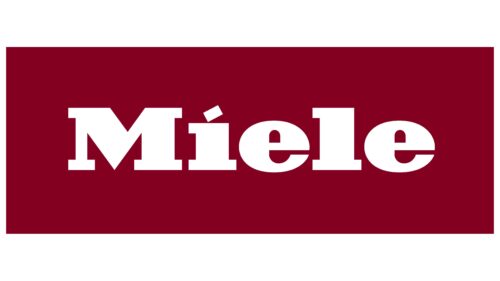 This German company epitomizes durability, so the letters in its name look very strong. They are wide, low-set, very bold, and large. They have short but very consistent serifs, with the exception of the letter "e." The most unique is the letter "i," which uses a small rectangle pointing sideways instead of the standard dot. The diagonal placement of the emblem makes it stand out and gives it internal mobility. The background for the inscription is a large burgundy rectangle. The white letters on it are bright and clear.
The side rectangle above the letter "i" is slightly curved, as if winking. The diagonal arrangement gives the impression that the logo is in motion as if it is sliding down a slope but in a calm, controlled manner. The burgundy background and white letters make it easy to read and hard to ignore.
Miele color codes
Burgundy

Hex color:
#840020
RGB:
132 0 32
CMYK:
0 100 76 48
Pantone:
PMS 7621 C