Motul Logo PNG
Founded by Swann Jappain in New York City in 1853, the French Motul Corporation has carved a niche for itself in the automotive and industrial lubricants and functional fluids industry. The company opened its first plant near Paris in 1929 and has since grown into a global player known for its high-quality synthetic motor oils, transmission fluids, greases, and brake fluids.
Motul's significant contribution to the motorsport industry cannot be overemphasized. The company supplies fluids to racing teams competing in prestigious championships such as Formula 1, World Rally Championship (WRC), and MotoGP. However, the company's services are not limited to motorsports: it also offers a range of lubricants and chemicals for industries such as marine, aviation, food processing, and mining.
In 1971, the company introduced the world's first synthetic motor oil, a significant step forward in the development of the industry. The pioneering spirit is still reflected today in the company's own research and development center and plants in France.
Motul is a privately owned company with around 1,100 employees worldwide and operations in more than 60 countries. It has also established partnerships with original equipment manufacturers (OEMs) such as Nissan, Honda, Yamaha, and BMW, supplying them with factory-fill lubricants.
Despite its success, Motul operates in a highly competitive market where it competes with established brands such as Castrol, Mobil, Shell, and Total/Quartz in the engine lubricants sector.
Meaning and History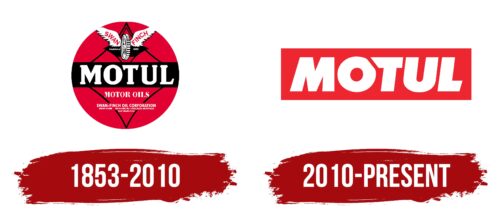 What is Motul?

Motul S.A. has been a leading company in the lubricants sector for over a century and a half. Founded in 1853 in Aubervilliers (France), Motul, thanks to its international presence, develops, manufactures, and distributes high-quality lubricants for various engines and industrial applications. The company offers services and products for various industries, including motorsport, marine, and aviation.
1853 – 2010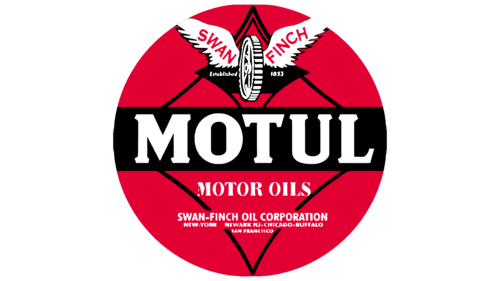 2010 – today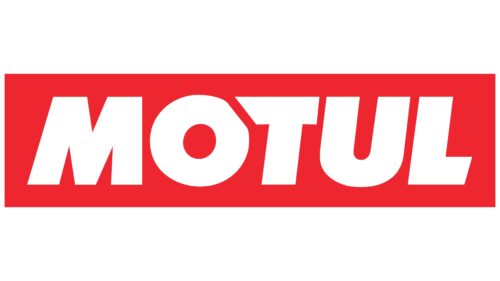 The company's name is highlighted in white to emphasize its simplicity and clarity, reflecting its focus on producing high-quality products. The bright red background symbolizes the reliability of the lubricants needed for vigorous mechanical movement. The sliced part of the letter "O" combined with the elongated part of the horizontal line in the letter "T" demonstrates Motul's innovative approach.
The white letters are reminiscent of a clean slate, making you think, "These guys keep it simple and do it right." The red background is reminiscent of the energy that makes a car run, strong and unstoppable. The special twist with the letters "O" and "T" is reminiscent of a cool secret handshake, showing that they like to mix it up and try new things.
Motul color codes
Pigment Red

Hex color:
#ed252f
RGB:
237 37 47
CMYK:
0 84 80 7
Pantone:
PMS Bright Red C