Nightwish Logo PNG
Nightwish: Brand overview
Born in 1996 in Kiteå, Finland, the band Nightwish emerged on the music scene by combining symphonic metal with a unique twist. Led by Tuomas Holopainen, the band consisted of vocalist Tarja Turunen, guitarist Emppu Vuorinen, bassist Sami Vänskä, and drummer Jukka Nevalainen.
Their first step on the music scene was their 1997 debut album "Angels Fall First," which quickly gained a loyal following in Finland. Since then, Nightwish has become one of Finland's most triumphant bands, continuing to delight global audiences with their inspiring melodies.
In 2000, Nightwish's landmark album "Wishmaster" was released. Thanks to the success of such hit songs as "Wishmaster" and "The Kinslayer," the album became a worldwide sensation, marking Nightwish's rise to the pinnacle of world fame. On the wave of this success, subsequent albums were released, including "Century Child" in 2002 and "Once" in 2004, placing Nightwish firmly among the most famous and successful metal bands in history.
Tarja Turunen's sudden departure in 2005 caused unrest in the devoted Nightwish community. In search of a replacement, Anette Olzon was chosen to lend her voice to the band's music. Nightwish's follow-up album, "Dark Passion Play," released in 2007, was a resounding success and helped to increase the band's international fame further.
The end of 2012 brought another wave of surprises for Nightwish fans: Tarja Turunen left the band, and Flor Jansen was announced as her successor. After a temporary stint as a touring vocalist, Jansen was given the opportunity to make her mark on the band's sound. The first album featuring Jansen, "Endless Forms Most Beautiful," released in 2015, received rave reviews and climbed to number two on the Finnish charts.
Nightwish's unique fusion of symphonic metal and classical elements has made them one of the most successful Finnish music bands to date. With album sales of over 10 million copies worldwide, they have achieved commercial success and widespread critical acclaim. Nightwish's concert performances are known for their theatrical grandiosity and spectacle, mesmerizing audiences with their blend of genres.
Despite the fact that the band's lineup has changed many times over the years, Nightwish remains a constant performer of unique, exciting music that keeps the band's fans enthralled and its popularity constantly growing. The band continues to produce high-quality music that leaves no one indifferent consistently.
Meaning and History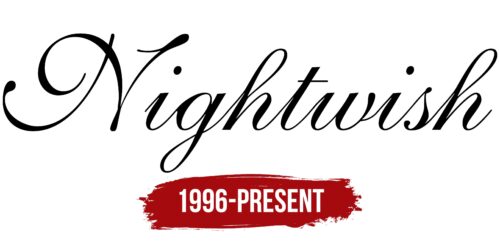 What is Nightwish?

Nightwish, hailing from the city of Kiteå, Finland, has carved a prominent niche in the global music industry as an influential sympho-metal band. Their journey began in 1996, and since then, the band has steadily evolved, gaining recognition for their unique blend of classical, operatic, and heavy metal music. Their music, imbued with a unique fusion of genres, has won them a loyal fan base around the world.

The band has changed its lineup several times over the course of its existence but has consistently released a number of successful albums. Their fusion of powerful orchestral symphonic symphonic elements with heavy metal, combined with evocative lyrics often inspired by fantasy and mythology, has set the band apart in the music scene. Their innovative approach to the genre has led to international recognition, cementing their position as pioneers in the symphonic metal subgenre.
1996 – today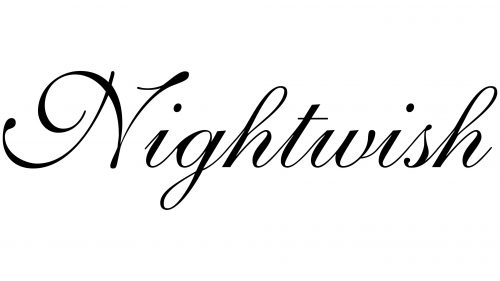 The band Nightwish performs metal with elements of symphonic music, so their logo looks elegant and sophisticated. It includes handwritten lettering in italics, imitating neat calligraphic handwriting with decorative elements. The first letter, "N," is separated from the other connected letters and decorated with swirls. The softness of the lines symbolizes female vocals, and the black color conveys the gloomy mood of the text.
The whimsical swirls on the letter "N" bring to mind something magical, such as the first note of a captivating song. Black color and elegant inscription seem to dance together, reminding a gothic fairy tale embodied in words. It is as if the logo itself whispers some secret song, understandable only to its fans.
Nightwish color codes
Black

Hex color:
#000000
RGB:
0 0 0
CMYK:
0 0 0 100
Pantone:
PMS Process Black C