Nirvana is a legendary rock band from the USA. The group was formed by vocalist Kurt Cobain and bassist Krist Novoselic in 1987 in the city of Aberdeen, Washington. He plays in the genres of alternative rock and grunge. As Lisa Orth, a former art director for Sub Pop notes that it was she who created the musicians' first tracks and the corporate symbol.
Meaning and History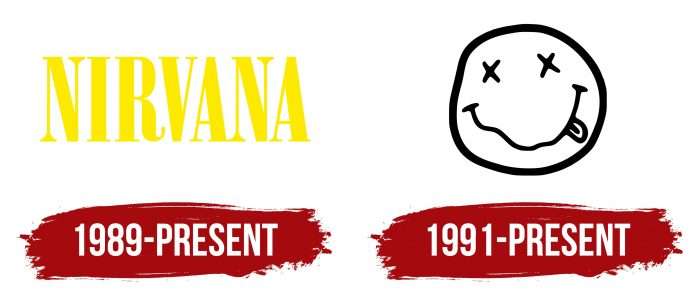 The musical group's logo is a funny, smiling face, so the sign is called "Smiley Face." He appeared in 1991 and was first portrayed on the invitation flyer for the party dedicated to the Nevermind album release. In the same year, the logo became a print on rocker shirts. It was combined with the name of the group and turned into an individual symbol – the only because the musicians never had other logos.
Font and Color of the Emblem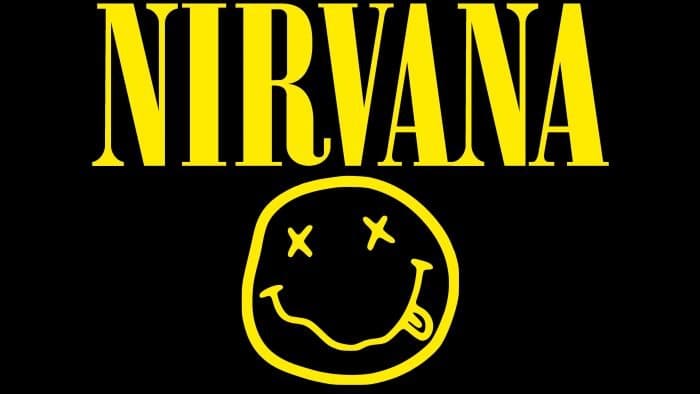 The Nirvana brand label consists of two parts: an emoticon stretched out in an oblique smile and a word. The "muzzle" is easily recognizable by the kindly gaze of the crossed-out eyes, long mouth, and protruding tongue. The lines of the head and lips are a little curved, so it seems that the little man is a little out of himself or tipsy.
Above the face is the name of the rockers. Unlike the graphic part, the text area is characterized by severity, straight lines, and right angles, except "R," written in a rounded font. Moreover, all letters have thickened legs or sides, which in combination with thin lines, form an original contrast.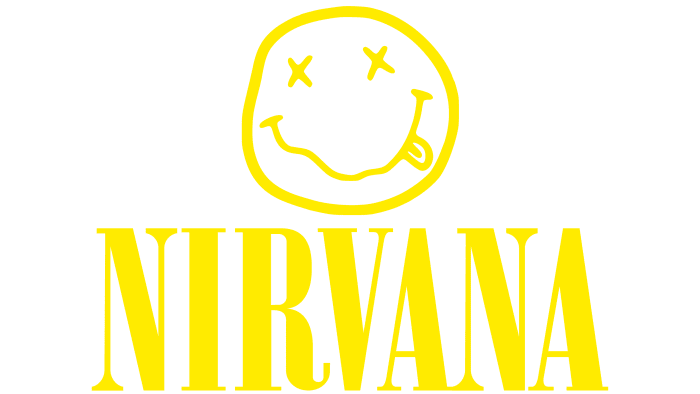 Why the group took such an emblem for themselves is not known for certain, but there are several hypotheses. It is believed that this is a pleasing expression on the faces of fans during grunge rockers. The second explanation is more pragmatic: this is the logo of the strip club Lusty Lady, once very popular. He was only a hundred kilometers from the city of musicians – in Seattle.
Another suggestion is associated with a member of the group Guns N' Roses. It's like a "drunk" smile is a "portrait" of a smiling Axl Rose. Some people are inclined to think that the logo of the Nirvana team was created based on the house The Acid House. The next version is the most practical: it's just the face of a person who drank a lot or is under the influence of drugs. But others believe that a similar picture was painted under the bridge where Kurt Cobain slept.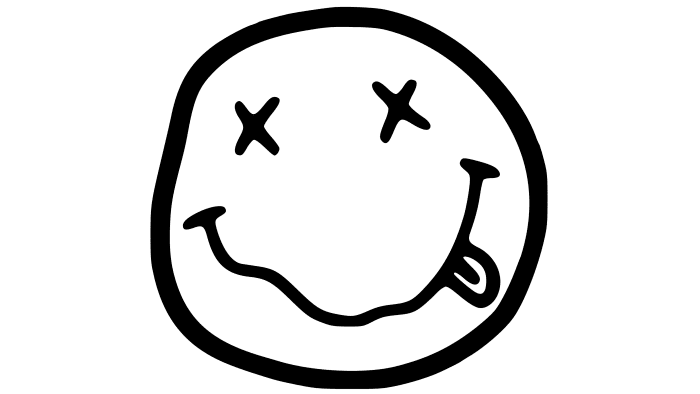 The word Nirvana is written in Onyx font. These are elongated letters with serifs and wide lines. Lisa Orth decided to combine the smile with them. She even bought this font from Grant Alden, who released a debut album. The color of the logo is simple, two-component, but catchy. The palette includes only black and acid yellow. When combined, they create an incredibly vivid contrast.