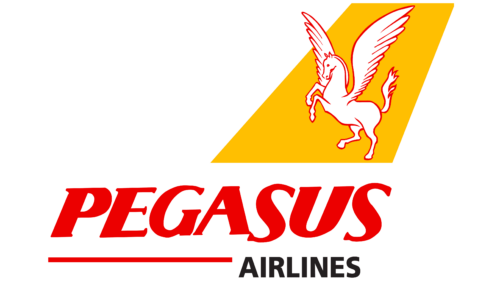 Pegasus Airlines Logo PNG
Pegasus Airlines: Brand overview
Pegasus Airlines, located in the vibrant Kurtköy neighborhood of Pendik, Istanbul, has changed the perception of air travel by offering its customers reliability and affordability.
Pegasus Airlines emerged from a pioneering collaboration between Net, Silkar, and the respected Irish airline Aer Lingus. On December 1, 1989, the three joined together to create a charter airline offering tours of all kinds.
On April 15, 1990, Pegasus Airlines took to the air, driven by a mission to make air travel accessible and affordable for everyone. With pride and eagerness, the airline began flying two Boeing 737 400 aircraft, providing a low-cost alternative to traditional carriers.
As Pegasus Airlines has grown, it has relentlessly improved to better serve its passengers. By expanding its fleet and route network, Pegasus Airlines quickly gained the trust and admiration of the Turkish population.
Throughout its remarkable journey, Pegasus Airlines has achieved many significant successes and has been recognized for its invaluable contribution to the aviation industry. As one of the first low-cost carriers in Turkey, the airline has expanded its horizons to international destinations, inspiring the entire industry.
Meaning and History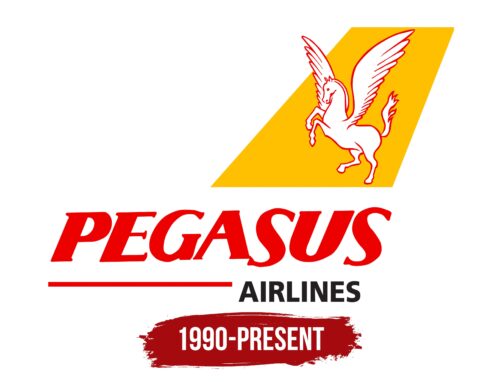 What is Pegasus Airlines?

Pegasus Airlines, sometimes referred to as Flypgs, is a Turkish low-cost carrier. The company is headquartered in the Kurtköy neighborhood of Pendik, Istanbul. The company operates from several bases at Turkish airports. It was founded on December 1, 1989, as a joint venture between two companies, Net and Silkar and Aer Lingus. The company has continuously developed and expanded to meet changing market demands, strengthening its position in the competitive environment of the aviation industry.
1990 – today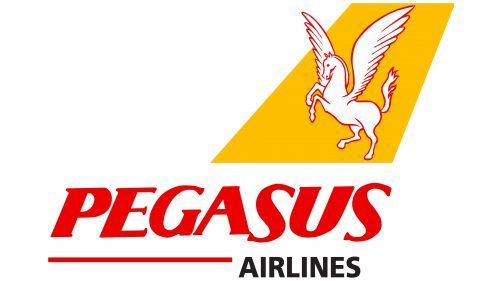 To convey the concept of Pegasus Airlines, the logo creators depicted the mythical creature from the company's name. A white-winged horse bursts out of a yellow trapezoid, which is part of the tail plumage of the airplane. Beneath it is the bright red word "PEGASUS." The word is written in a unique, bold serif font. The letters are slanted to the right, which strengthens the inherent dynamism of the emblem. The very bottom of the horizontal bar gives acceleration to the word "AIRLINES," written in a strict gray font without serifs.
The yellow trapezoid marks the tail plumage and draws attention to the winged horse, creating a focal point. The slanted letters in the word "PEGASUS" add dynamism and indicate forward movement or progress, which is in keeping with the concept of flight. The gray sans-serif font for the word "AIRLINES" gives a modern, straightforward feel, contrasting with the more complex elements of the logo.