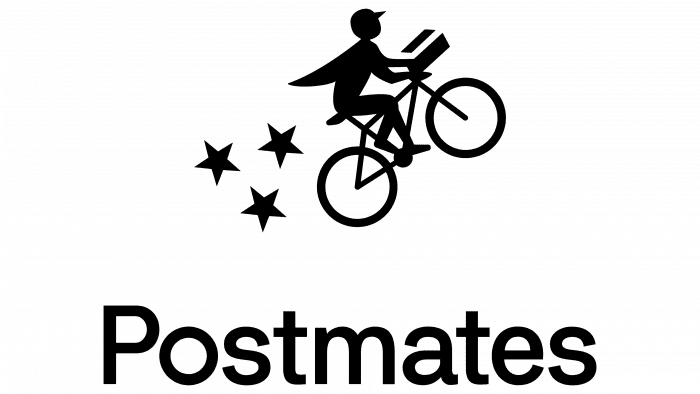 Postmates' delivery service competes with other industry leaders like GrubHub and Uber Eats. But its capabilities have gone much further than just takeout food. With the mobile app, users can get directly to their doorstep any consumer goods, including food, medicine, alcohol, electronics, and household items. It all depends on what offers are valid in the selected area.
Meaning and History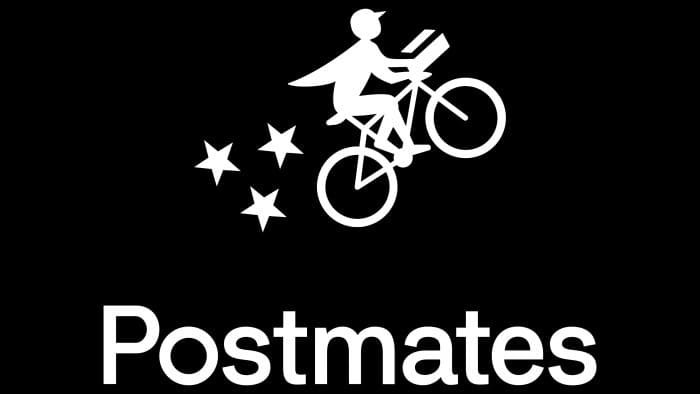 The company was founded in 2011 and initially only served San Francisco. It provides its services in many cities globally, cooperates with thousands of trading partners, and offers its regular customers a profitable Postmates Unlimited program. Another thing that makes it stand out is the extraordinary logo with a simple yet stylish design.
It consists of lettering and a fancy icon. The centerpiece is the cyclist – presumably one of the Postmates couriers because there is a box in the front trunk. The drawing resembles the famous shot from the science fiction film E.T. The Extra-Terrestrial. The character appears in the form of a superhero: a long cloak flutters behind him, and a bicycle rises into the air, having lifted off the ground with the front wheel.
The three stars shown at the back have several meanings:
They add dynamism, creativity, and brand identity to the design.

It is a symbol of flying in the night sky, so there is no doubt about the bicycle's flying ability.

The stars remind users of the Postmates rating system because they evaluate the delivery service employees.
The full version of the logo, next to the picture is the company name in bold black. It can be at the bottom or anywhere else, depending on the visual context.
The flying cyclist is a recognizable symbol of Postmates. He says that there are no obstacles for this service's carriers: they will quickly bring any product, even if they have to do the impossible. This drawing represents everything a brand does and is closely related to other identity elements, such as icons that appear on the map to show where the courier is and how he travels: by car, on foot, or by bike.
The emblem is found not only in the application but also on bags, helmets, and other paraphernalia of Postmates employees. A creative image supports the company's image and clarifies its concept.
Font and Colors of the Emblem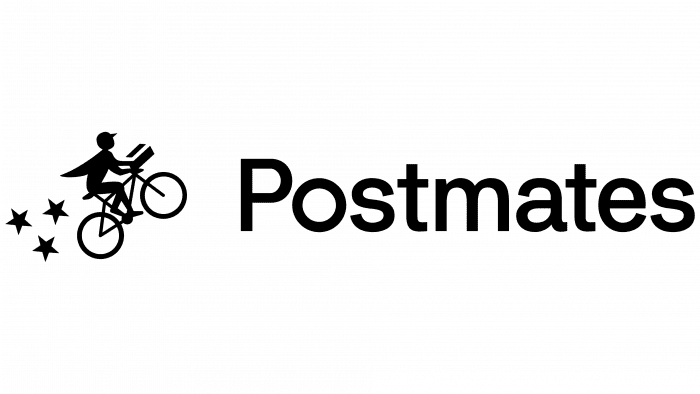 A minimalist sans serif font balances out a complex character. The rounded strokes of the inscription visually "smooth out" the straight lines of the drawing, make them softer and more expressive. The spacing between letters is small, but this does not affect the good readability of the text.
The monochrome color scheme was chosen for the same purpose – to simplify the logo, which has many graphic details. It makes the brand recognizable because other food delivery companies try not to use the classic black and white palette in their logos. In the case of Postmates, monochrome looks great: contrast attracts more attention than bright multi-colored paints.