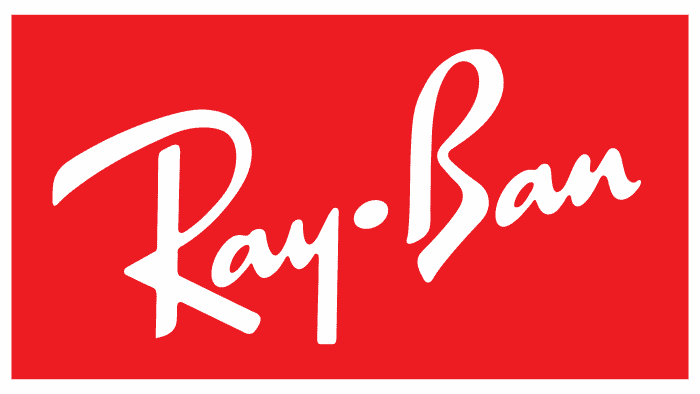 Rayban Logo PNG
Surrounded by a bright, blinding, and burning sun, the frames and glasses of the corporation are an island of pleasant and calm light, safe for the eyes. This message carries the Ray-Ban logo. The emblem also hints at products for successful flights.
| | |
| --- | --- |
| Founded: | 1936 |
| Founder: | Luxottica Group |
| Headquarters: | Milan, Italy |
| Website: | ray-ban.com |
Ray-Ban is a highly specialized corporation that manufactures frames and sunglasses. In the 1920s, an aircraft tester approached Bausch & Lomb to make comfortable goggles for pilots because the available accessories did not solve the sun protection problem. The prototype was created in 1937. A year later, the company presented the famous aviators, designed specifically for pilots.
Meaning and History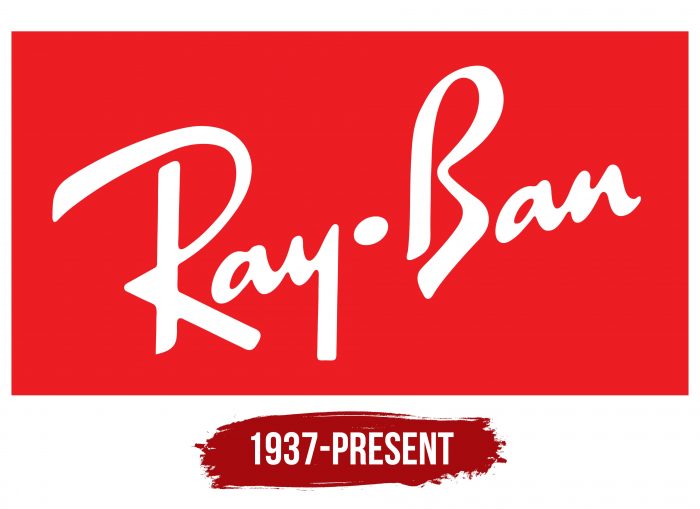 The first and only Ray-Ban trademark appeared in 1937, simultaneously with the debut of the American brand. It consists of an inscription without graphic additions. To make it brighter, the designers combined contrasting colors: red and white. They also used a typeface that mimics calligraphic handwriting. The minimalistic and simple logo makes the brand recognizable.
Ray-Ban products are adorned with emblems that testify to their originality. The left lens is always engraved with the unpainted "RB" in the corner, and the right one with the white "Ray-Ban." The absence of logos or their poor quality indicates a fake. There are also versions labeled "Ray-Ban P." It happens on models with polarized lenses.
Metal-framed sunglasses have the manufacturer's trademark in the center of the nose pads. In this case, it is made embossed. Also, the signature adorns covers, cleaning wipes, and other related accessories.
The design of the Ray-Ban emblem reflects the style of the glasses: it is just as restrained, sophisticated, and minimalistic. The inscription is located diagonally from bottom to top. This symbolizes the development of the brand, the growth of its popularity, the improvement of technology, and the desire for progress. There is a large dot between the words, which divides them into two parts.
Although the logo lacks flashy graphic elements, it has become trendy and timeless. Thanks to him, the name Ray-Ban, registered in 1937 in the United States Patent and Trademark Office, gained wide publicity. Sometimes it is supplemented with the slogan "Genuine since 1937". The phrase is at the bottom to emphasize the brand.
Font and Colors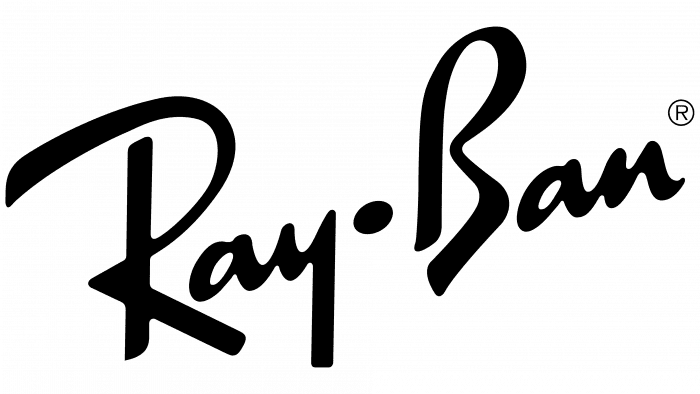 The classic version features a white beveled 'Ray-Ban' lettering with a red rectangle background. This color combination was chosen not only because of the contrast but also because of the deep symbolism. Red represents the emotional sphere, while white represents sophistication and purity.
Following the same principle, the designers chose an individual font. Simple lines and light curves have a deep meaning. The inscription looks "fluid," conveys freedom, dynamism, energy. Perhaps that is why the Ray-Ban corporation has never changed its corporate identity in its entire history.
Ray Ban color codes
Pigment Red

Hex color:
#ea302b
RGB:
234 48 43
CMYK:
0 79 82 8
Pantone:
PMS Bright Red C