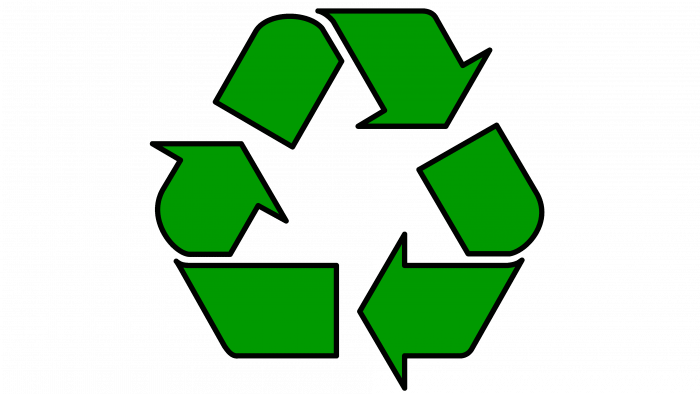 Recycle Logo PNG
The world-famous Recycle logo is found on many products and packaging. It acknowledges the safety of the materials and their recyclability. The label is very much used for environmental purposes and draws attention to environmental issues.
| | |
| --- | --- |
| Founded: | 1970 |
| Founder: | Gary Anderson |
| Headquarters: | United States |
Recycle is a universal symbol of recycling, created for the world's first Earth Day. It is in the public domain and does not have trademark status. Gary Anderson designed the logo for the Container Corporation of America (CCA), which founded the global celebration of the environmental protection of the planet. The icon denotes materials suitable for recycling: it is used to mark products made of cardboard, glass, and other things that are recyclable and do not pollute the environment.
Meaning and History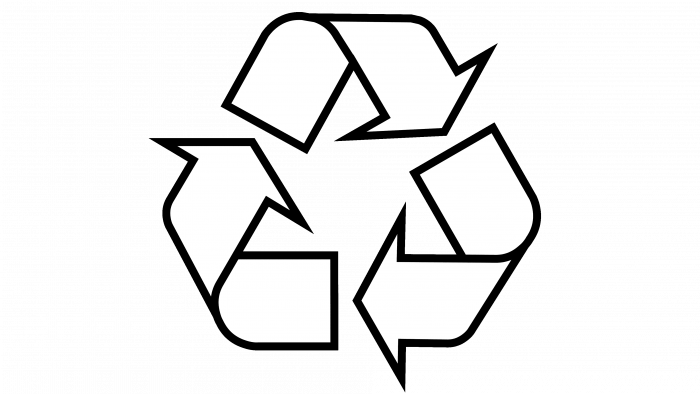 Chicago-based Container Corporation of America (CCA), a major recycled paperboard manufacturer, organized and sponsored the best recycling logo contest. It was conducted among US students studying art and design. The key objective of the event was to attract global attention to the problems of nature on the globe. The winner was the project of Gary Anderson, a 23-year-old student from the University of Southern California. Now his work is in the public domain.
At the same time, Anderson studied to be an engineer, not a graphic designer. Later, he clarified that creating the logo took him no more than two days and that he was awarded almost 2 thousand dollars for it. Moreover, the student did not develop the logo from scratch since he already had blanks – arcs and arrows from another presentation.
What is Recycle?

Recycle – Waste recycling process and garbage recycling icon. It appeared in 1970 on the initiative of the Container Corporation of America, when Earth Day was first celebrated. Its author is student Gary Anderson, who won a competition.
However, it is believed that the universal mark had a prototype. An almost similar stamp with two arrows could serve as inspiration. Volkswagen used it back in the 1960s: they applied it to parts of their cars that had to be refurbished. But Anderson's simple and thoughtful design has become an iconic symbol of sustainability. Its graphics are understandable in any language and do not require additional text – there was never a single word in the logo.
At first, the globality of the sign was questioned: would they want to use it everywhere? But now, there are recycling markings and labels on many items of everyday use. They allow you to determine how the various packaging materials are processed.
The Recycle symbol consists of three reverse arrows – the so-called twisted Möbius ribbons. They form a cyclical triangle that has no beginning or end. It denotes the continuity of the processing process – an endless cycle of transition of raw materials from one form to another without loss of quality and without causing harm to the environment.
Usually, the icon has a black outline and a green fill inside. But since it does not have standardized features, it is not uncommon for companies, enterprises, and organizations to change its design, leaving only a recognizable form. The American Paper Institute has developed four versions for different purposes, and Unicode offers no less than six logo variations. As a rule, arrows are bright green and dark green, with or without edging along the edge, two-color, where the upper side is lighter, and the lower side is darker. Black and white modification is also considered equal.
Font and Colors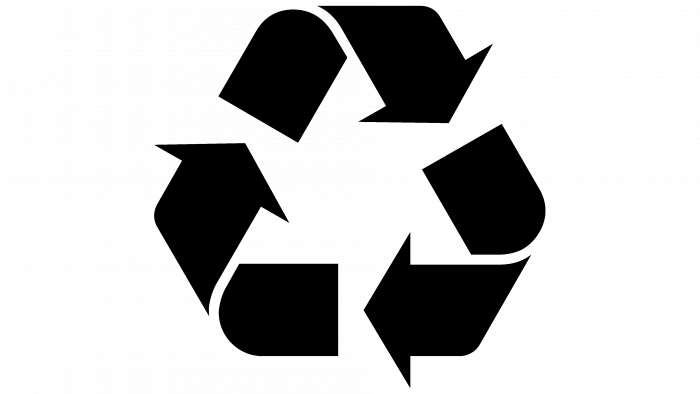 The Recycle logo does not have rigid frames and is generally accepted standardization so that it can be accompanied by any text and any font. After all, the most important thing for her is the shape of a triangle with reverse arrows.
The color also does not matter much, but traditionally green of several shades predominates since it is closest to an eco-friendly palette dictated by nature itself. A combination of black arrows on a white background is also used.
Recycle color codes
Islamic Green

Hex color:
#009a00
RGB:
0 154 0
CMYK:
100 0 100 40
Pantone:
PMS 354 C
Black

Hex color:
#000000
RGB:
0 0 0
CMYK:
0 0 0 100
Pantone:
PMS Process Black C
What do the three arrows mean in recycling?
They designate a closed recycling process – the use of products after re-release. These are three Rs: Reducing, Reusing, Recycling. That is, they transfer a 3-stage process: waste collection, recycling, and further use.
What symbols mean recycle?
There are seven recyclable symbols: PETE or PET (polyethylene terephthalate), PVC or V (polyvinyl chloride), PP (polypropylene), Other (other plastics), HDPE (high-density polyethylene), LDPE (low-density polyethylene), PS (polystyrene).
What logo is used for recycling?
The logo for the recycling process is the Mobius ribbon. It was invented by a mathematician-astronomer in 1858 and served as a symbol of continuity. The sign consists of three curved arrows placed one behind the other.
How do you type the recycling symbol?
There are codes for a set of different recycling symbols. Classic black is obtained by the keyboard shortcut U + 267B or & # x267B, white – U + 2672 (& # x2672), with narrow lines – U + 267A (& # x267A), in a black circle – U + 267C (& # x267C), at the white point – U + 267D (& # x267D).