Rode Logo PNG
Rode Microphones, originally established as Freedman Electronics in 1967, was the brainchild of Henry and Astrid Freedman in Sydney, Australia. The company initially focused on supplying hands-free systems and other audio equipment to the Australian market. It wasn't until the 1990s that the Friedmans began building their own microphones, starting this endeavor with models such as the RODENT-1 and then the Rode NT-1.
The microphone got its name from the founders' Scandinavian roots: "Rode" means "red" in Swedish, and the "ø" symbol was added to give it a European flavor. Under the leadership of Henry's son, Peter Friedman, Rode embarked on an innovative journey, redefining microphone design and cementing its reputation as a key player in the global microphone industry. The company's notable accomplishments include the 2004 launch of the VideoMic, a microphone designed for on-camera capture, and the introduction of the Wireless GO system in 2019.
With more than 120 employees, Rode conducts all manufacturing processes at its facilities in Sydney, and its products reach consumers in more than 110 countries. Today, the company offers a wide range of microphones designed for a variety of applications, such as recording, broadcasting, live performance, and content creation. These products cater to a wide variety of audiences, from general consumers to professional sound engineers.
Maintaining its status as a family-owned, privately held company, Rode is currently led by Peter Friedman and celebrated its 50th anniversary in 2017. In essence, Rode's journey is one of transformation: from a small importer of audio equipment in Australia to a world leader in microphones, thanks in part to a relentless pursuit of research, quality, and in-house manufacturing.
Meaning and History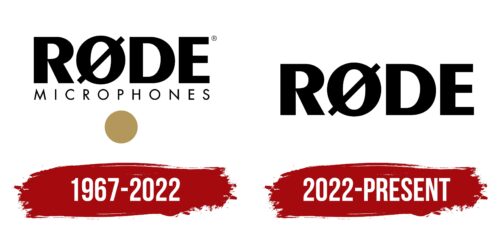 1967 – 2022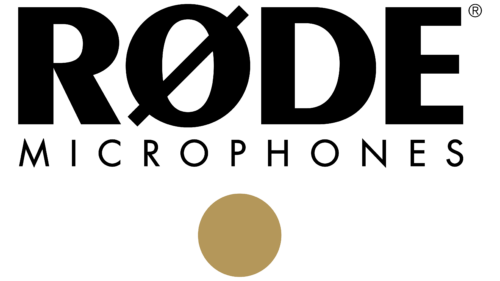 2022 – today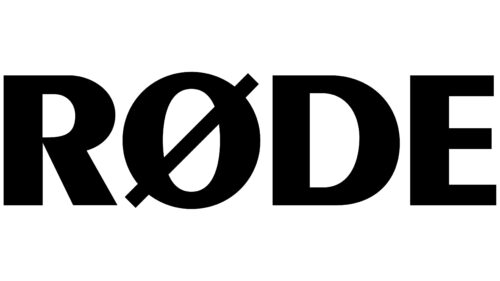 The diagonally intersecting "O" makes this Australian brand's logo cool and modern. The diagonal line even resembles the tilted microphone stand that the company manufactures. In addition, such a letter is a symbol in the expanded Latin alphabets used in Faroese, Norwegian, and Danish. The rest of the letters are less creative: they are large, bold, and blocky to show that the manufacturing company is reliable and has a strong position in its market. The font is fully uppercase and has no serifs. The main color of the emblem is black.
The black color of the emblem gives it a professional character. The crossed-out letter "O" gives a stylish look and seems to be winking at those who recognize the shape of the microphone stand or foreign alphabets. It's a small detail, but it's very important.
Rode color codes
Black

Hex color:
#000000
RGB:
0 0 0
CMYK:
0 0 0 100
Pantone:
PMS Process Black C