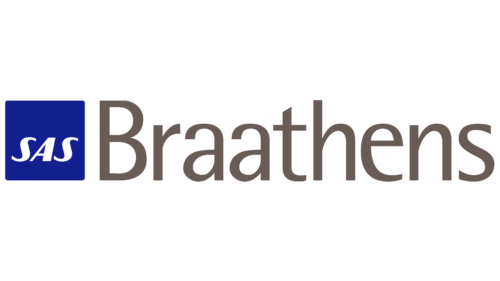 SAS Braathens Logo PNG
The SAS Braathens logo, utilized by the airline before renaming to SAS Scandinavian Airlines Norge, is a notable visual design that distinctly divides the emblem into two contrasting parts. On one side, white letters spelling "SAS" are set against a blue rectangle, while on the other side, a grey-brown inscription "BRAATHENS" is crafted with vertically elongated glyphs. This combination infuses diversity into the emblem, giving it a unique appearance.
Dual Sections of the Logo:
Design Features: The logo is divided into two parts: the blue "SAS" section and the grey-brown "BRAATHENS" section.
Meaning and Implication: The division symbolizes the collaborative identity of the two entities within the airline's name. It represents unity while maintaining individual characteristics.
Color Choices:
Blue Rectangle: Represents trustworthiness, reliability, and professionalism.
Grey-Brown Inscription: Provides a contrast that might be associated with earthiness, stability, and approachability.
White Letters: Conveys purity, simplicity, and clarity.
Typography:
"SAS" Lettering: Bold and simple, emphasizing the company's core initials.
"BRAATHENS" Inscription: Features vertically stretched glyphs, adding an artistic flair.
Meaning and Implication: The combination of different fonts underscores the dual nature of the brand, presenting a versatile and dynamic image.
Harmony and Contrast:
Design Features: The contrasting colors and typography are balanced harmoniously with the logo's structure.
Meaning and Implication: Reflects the airline's ability to combine different elements in its services, creating a cohesive experience for passengers.
Historical Context:
Design Features: The logo's specific design features before renaming the company.
Meaning and Implication: This logo serves as a historical marker, reflecting a specific period in the company's evolution. It carries the legacy and identity of that time.
Global and Local Appeal:
Design Features: The use of international-standard lettering ("SAS") with a unique and localized design ("BRAATHENS").
Meaning and Implication: Suggests a balance between global standards and localized character, showing an understanding of international and regional markets.
Symbolism of Unity:
Design Features: Merging two different text styles and color schemes.
Meaning and Implication: A potent symbol of unity and collaboration, highlighting the synergy within the brand.
SAS Braathens: Brand overview
| | |
| --- | --- |
| Founded: | 2004 – 2007 |
| Founder: | SAS AB |
| Headquarters: | Diamanten, Fornebu Airport, Fornebu, Bærum, Norway |
Incepted in 2004, SAS Braathens was a Norwegian airline operating as a branch of the renowned Scandinavian Airlines (SAS). The creation of SAS Braathens followed SAS's acquisition of the Norwegian carrier, Braathens, subsequently combining it with SAS's existing operations in Norway. This consolidation birthed an airline that commanded Norway's most substantial domestic market share.
Operating with a significant fleet comprising Boeing and Bombardier jets, SAS Braathens serviced an expansive network of routes within Norway and to various European destinations, with its primary operations based at Oslo Airport.
However, in 2007, the parent company, SAS, underwent a substantial structural reorganization, leading to SAS Braathens reintegration into the Scandinavian Airlines group. This marked the retirement of the SAS Braathens brand, which had been operational for three years.
Despite its brief existence, SAS Braathens was quite influential during its time. Employing over 2000 people and transporting nearly 7 million passengers within Norway annually, the airline significantly contributed to SAS's expansion in the Norwegian market during the mid-2000s, preceding the subsequent consolidation under a unified brand.
The journey of SAS Braathens provides a glimpse into the evolution of Scandinavian Airlines, particularly how it expanded through acquisitions and mergers with regional carriers like Braathens over the years.
Meaning and History