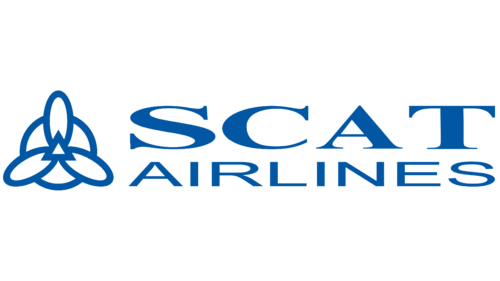 SCAT Airlines Logo PNG
SCAT Airlines: Brand overview
Since its founding in 1997, SKAT Airlines has become a prominent figure in the aviation industry, providing domestic and international transportation.
Founded in 1997, SCAT Airlines initially specialized in specialty air cargo services, meeting unique cargo transportation needs. Over time, the airline has expanded its scope of operations to include passenger transportation while maintaining its leading position in cargo transportation.
SCAT Airlines is constantly expanding its network, offering passengers a wide range of destinations. From bustling Kazakhstani cities such as Almaty, Nur-Sultan, Aktau, and Shymkent to exciting international destinations such as Moscow, Dushanbe, Bishkek, Tashkent, Tbilisi, and Istanbul, SKAT Airlines covers a wide range of destinations.
In November 2017, the airline signed a contract with the renowned American Boeing Corporation to purchase six modern Boeing 737 MAX 8 airplanes.
On March 29, 2018, SKAT Airlines reached a historic milestone, becoming the first airline in the former Soviet Union to introduce advanced Boeing 737 MAX 8 aircraft into its fleet.
Meaning and History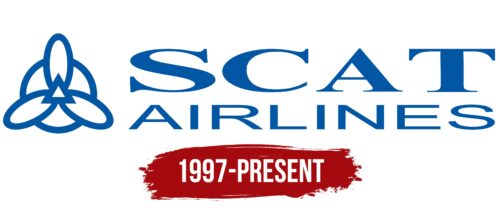 What is SCAT Airlines?

Founded in 1997, SCAT Airlines, legally known as PLL SCAT Airlines, began operations with a clear vision to connect Kazakhstan to the world. Located in the heart of Shymkent, this Kazakhstani airline has evolved from a small local carrier. Starting with domestic flights within Kazakhstan, the company expanded its network to important regional destinations.
1997 – today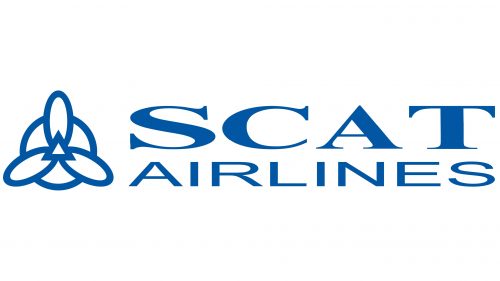 The Kazakh airline uses a monochrome logo dominated by blue – the color of the sky, flight, dreams, and high aspirations. The lettering is two-tiered and aligned on both sides. The upper text is large, and the lower text is smaller so that the numerous symbols do not extend beyond the line boundaries. In front of the text is a unique emblem that resembles either a three-petal flower or an airplane propeller. Each of the three elements is connected by a curved band. The letters in the name are wide and seem flattened. The first word contains serifs; the second does not.
The choice of a monochromatic blue theme echoes the airline's focus on celestial travel. The emblem with three petals symbolizes unity or a triad: sky, dream, and aspiration, which goes well with the color scheme. The different sizes and text styles in the two-tiered lettering utilize the space effectively, adding visual interest.