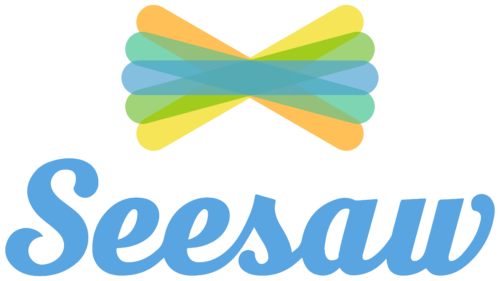 Seesaw Logo PNG
The designers created Seesaw's metaphorical logo to serve as a clear illustration of the brand's name. Bright and varied colors, semi-playful style, and soft lines attract the attention of those for whom the e-learning platform is intended: schoolchildren and preschoolers. A balanced emblem also symbolizes a balanced approach to gaining new knowledge.
| | |
| --- | --- |
| Founded: | 2015 |
| Founder: | Adrian Graham and Carl Sjogreen |
| Headquarters: | San Francisco, California, U.S. |
| Website: | web.seesaw.me |
Since 2015, Seesaw, an American company, has been helping schoolchildren and preschoolers to get an education, turning a routine educational process into a creative activity. This is a well-known software developer that is widely used in the United States and other English-speaking countries. Its headquarters is located in San Francisco, California. The main product is an e-learning platform where children can complete their portfolios by reporting on assignments.
The Seesaw platform keeps children engaged in the learning process by offering creative tools to express their creativity and showcase their knowledge. Students have the opportunity to draw, make text and voice notes, record videos, create collages, and even change the background so that learning does not turn into a boring routine.
Seesaw is a closed social network where all user data is securely protected. This private environment allows teachers, students, and parents to interact. Teachers draw up an educational program and check students' level of knowledge. Children complete tasks and add the results to their personal journals. And parents can contact teachers at any time, find out their child's progress, like him, and comment on his work. It is a kind of "swing-balancer," balanced between all participants in the educational process. That is why the platform is called Seesaw.
Meaning and History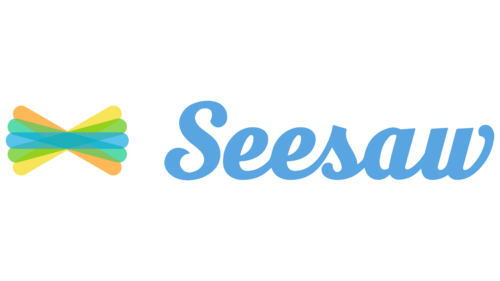 The Seesaw app has a logo that matches its name: the designers depicted a swing and achieved a visually dynamic effect with the help of intersecting stripes.
The logo of an American company contains two parts: an inscription and a drawing. The image consists of five wide multi-colored lines that join in the center. They look like elongated rectangles with rounded edges and are shaped like popsicle sticks. Two geometric figures – pale yellow and orange – form a cross. Three more stripes are superimposed on top of them: green, blue, and turquoise. They are translucent, so at the intersections, the colors mix, forming new shades.
What is Seesaw?

Seesaw is an online platform developer that makes it easy to get preschool and school education. This application contains creative tools so students can record what they have learned in drawings, photos, notes, or videos. This approach saves teachers time and allows parents to follow the learning process.
The name Seesaw is written at the bottom. The blue letters look like they are handwritten, but they are just an imitation of calligraphy. All glyphs are connected except for the first "S": it is slightly distant from the "e" following it.
The Seesaw logo reflects the name of this platform – not once, but twice. First of all, it is presented in the form of a large bright inscription. But the designers decided not to limit themselves to this and depicted an abstract swing-balancer that swings in a vertical plane. To show the trajectory, they drew a beam in different positions. By making the intermediate lines translucent, they managed to achieve visual dynamics.
Font and Colors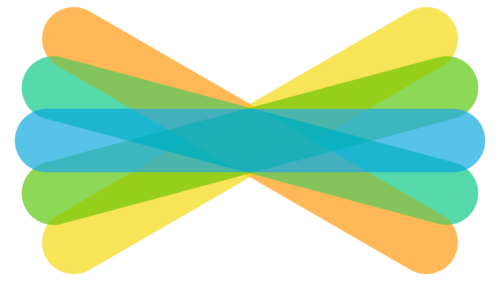 Seesaw's wordmark design shares some similarities with Fenotype's Lager Black, but it's not a 100% match. This is likely not an independent font but a set of unique glyphs designed specifically for the online platform. They are bold, with a slight slope to the right, and with smooth curves. There are no serifs, but graceful curls compensate for this at the ends of some letters.
The logo's color scheme is very diverse because it contains five geometric shapes in addition to the blue word. One of them is blue, the second is green, the third is turquoise, the fourth is pale yellow, and the fifth is orange. Because the three stripes are translucent, new shades appear where they intersect, where several colors are mixed.
Seesaw color codes
Corn

Hex color:
#f5e658
RGB:
245 230 88
CMYK:
0 6 64 4
Pantone:
PMS 106 C
Maximum Yellow Red

Hex color:
#ffc057
RGB:
255 192 87
CMYK:
0 25 66 0
Pantone:
PMS 1365 C
Pistachio

Hex color:
#a1d579
RGB:
161 213 121
CMYK:
24 0 43 16
Pantone:
PMS 7487 C
Medium Aquamarine

Hex color:
#7fd5b3
RGB:
127 213 179
CMYK:
40 0 16 16
Pantone:
PMS 3385 C
Light Cornflower Blue

Hex color:
#84c0e1
RGB:
132 192 225
CMYK:
41 15 0 12
Pantone:
PMS 297 C
Ruddy Blue

Hex color:
#59a5e2
RGB:
89 165 226
CMYK:
61 27 0 11
Pantone:
PMS 299 C