Selena Gomez Logo PNG
Selena Gomez: Brand overview
Since her emergence in the late 2000s, Selena Marie Gomez has become a dominant figure in the entertainment world. Born on July 22, 1992, in Grand Prairie, Texas, Gomez's star began her ascent with a starring role in the beloved Disney Channel series Wizards of Waverly Place. This springboard launched her multi-faceted career that spans singing, acting, producing, and entrepreneurship, highlighting her formidable presence in the industry.
Coming from a humble family with no roots in the entertainment industry, Selena Gomez began her journey into the world of acting and singing thanks to her mother, who was once a stage actress. She began her journey into the industry at the tender age of seven, starting with small roles in movies and television series. By then, Gomez had already starred in the acclaimed television series Walker, Texas Ranger: Trial by Fire, a significant achievement for a young talent.
The real breakthrough came in 2007 when she got the role of the main character Alex Russo in the Disney Channel series "Wizards of Waverly Place." Her charming portrayal of the cherished heroine instantly propelled the series to fame and kept viewers hooked for four impressive seasons until the climax came in January 2012. Selena's newfound celebrity status helped her gain a loyal fan base that supported her throughout her burgeoning career.
In 2008, Selena Gomez embarked on a musical journey with her band, Selena Gomez & The Scene. Their debut album "Kiss & Tell" was a commercial success and received critical acclaim, debuting at number nine on the US Billboard 200 chart. The album was highlighted by popular singles such as "Naturally" and "Who Says," which have been regularly played on the airwaves ever since.
A significant year was in 2013 when Gomez signed a deal with the music label Interscope Records. She soon released her long-awaited solo debut studio album, Stars Dance, which reached number one on the U.S. Billboard 200 chart. This achievement made Gomez the first solo female artist to achieve such success.
Over time, Selena Gomez has entered the annals of pop music as one of the most influential performers of her time. Her hit singles, including "Good for You," "Same Old Love," and "Lose You to Love Me," resonated with fans around the world and solidified her position as a pop music powerhouse.
Gomez is not limited to acting and music; she has also ventured into the business world. She entered the fashion industry in 2011, launching a clothing line called "Dream Out Loud," which was sold exclusively at K-Mart stores. Subsequently, she became a spokesperson for several well-known brands, including Coca-Cola, Pantene, and PUMA. Her latest business endeavor is a cosmetics line called "Rare Beauty," which promotes individuality and mental health care. Gomez is a constant beacon of inspiration for aspiring entrepreneurs and philanthropists.
From her earliest days as a child, Selena Gomez has been marked by unwavering dedication, determination, and immense talent. Today, she is a symbol of hope and motivation for millions of young people around the world, inspiring them to pursue their dreams and leave an indelible mark on the world.
Meaning and History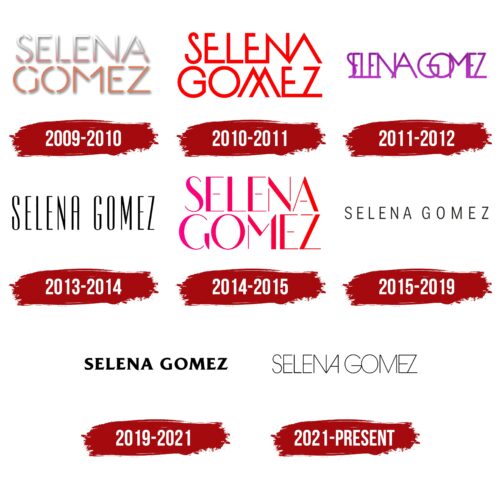 What is Selena Gomez?

Selena Gomez, born on July 22, 1992, is an established American singer, actress, producer, and businesswoman. Her path to stardom began with her acting career on Barney and Friends, but it was her role on the Disney Channel series Wizards of Waverly Place that made her famous.

As her acting career progressed, she became involved in music, forming her own band, Selena Gomez & the Scene. Her transition to solo work was successful, and she became a prominent figure in the pop music industry. Along with music and acting, she went into business, creating the cosmetics brand Rare Beauty and the production company July Moon Productions.
2009 – 2010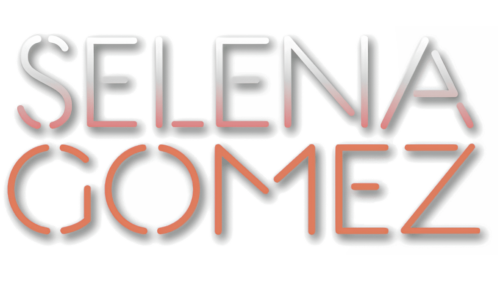 2010 – 2011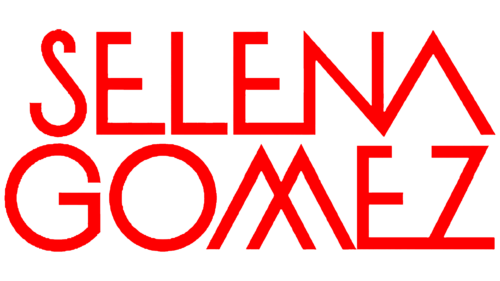 2011 – 2012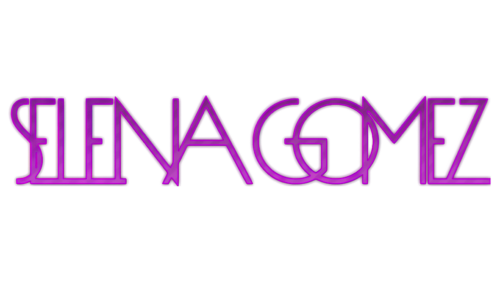 2013 – 2014

2014 – 2015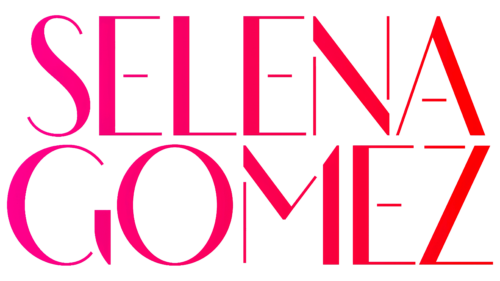 2015 – 2019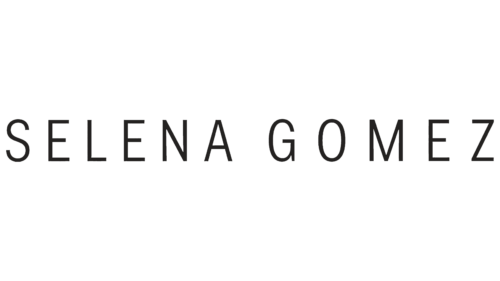 2019 – 2021

2021 – today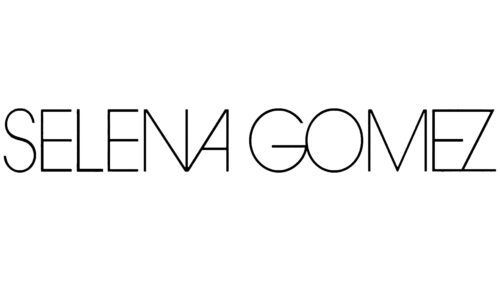 The thin letters of Selena Gomez's emblem embody an elegant style characteristic of both the singer herself and her work. The spaces between the glyphs are so narrow that some of them join into continuous figures resembling runes. This is the case with "NA," "GO," and "EZ." In 2021, the logo was featured on the covers of two singles, De Una Vez and Baila Comingo.
The letters connected together, almost like puzzle pieces, give the logo a sense of unity and fluidity, much like Selena's smooth vocals in her songs. The rune-like shapes are also very interesting. They make you think about what they mean. It's not just a title on the cover; it's like a little piece of art that gives you an idea of the atmosphere of her music.
Selena Gomez color codes
Black

Hex color:
#000000
RGB:
0 0 0
CMYK:
0 0 0 100
Pantone:
PMS Process Black C