Selena Quintanilla Logo PNG
Selena Quintanilla: Brand overview
Born on April 16, 1971, in Lake Jackson, Texas, Selena Quintanilla was the youngest of three children raised in a family with musical talent. Even at an early age, Selena was already showcasing her talent with the Quintanilla family band "Selena y Los Dinos" at their family dinner. Little did they realize they were on the verge of reaching beyond Texas and capturing the hearts of people around the world.
In the 1980s, Selena and her family made a bold choice to embrace their Mexican-American roots by recording songs in Spanish, a bold move given the male-dominated nature of the Tejano music scene. But Selena's exceptional skill and magnetic charisma quickly won over listeners, and by 1987, their album "Un Solo Corazón" was a phenomenal hit. This success led to Selena being honored as "Best Female Vocalist of the Year" at the Tejano Music Awards, a significant milestone for the budding star.
In the 1990s, Selena's status as a celebrity increased with the release of popular albums such as "Entre A Mi Mundo" and "Live!". Her innovative fusion of Tejano, pop, R&B, and Latin American melodies resulted in a fresh sound that resonated with fans around the world. In recognition of her growing success, Selena won a Grammy Award for Best Mexican-American Album in 1993 for her album "Live!", solidifying her position as a pioneer in the music world.
On March 31, 1995, the world was stunned by the news of Selena's murder. Her death was a severe blow to the Tejano music scene and the entire Latin music industry, where her influence continues to reverberate. Her sudden passing caused shock and grief among her fans, especially in the Latino community, who deeply mourned the loss of such a bright star. Despite her untimely death, Selena's musical legacy lives on. At the 2020 Grammy Awards, she was posthumously honored with a Lifetime Achievement Award, a fitting tribute to her extraordinary talent.
Selena Quintanilla was a dynamic whirlwind who used her music as a vehicle to celebrate her heritage, culture, and existence. Her tireless determination and talent paved the way for many Latin American performers, and her enduring legacy continues to inspire future generations.
Meaning and History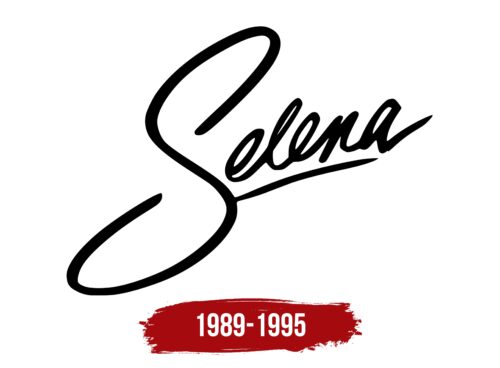 What is Selena Quintanilla?

Selena Quintanilla Perez, known as Selena, was an American Tejano singer whose life and career continued to inspire many even years after her untimely death. Born on April 16, 1971, she began her musical journey as the lead singer of Selena y Los Dinos, a band formed by her father.

Her talent, colorful stage presence, and warm personality quickly propelled her to stardom and earned her the title of "queen of Tejano music." Through her albums and concerts, she became an icon of the genre, breaking barriers for Latino performers in the American music industry. The launch of her fashion clothing line "Selena Etc." has further expanded her influence beyond music.
1989 – 1995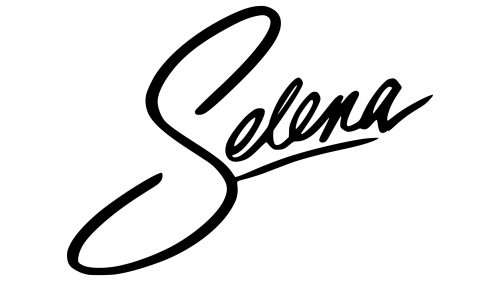 Selena Quintanilla's emblem is like a personal signature where her name is written in her own hand. In this one, the letter "S" resembles an open figure eight, while the rest of the letters look casual and are emphasized in one long stroke. The lettering is slightly raised diagonally, which gives it a dynamic feel. This logo style was used throughout the singer's short musical career.
The diagonal rise of the letters gives the logo a sense of movement, much like Selena's own energetic stage performances. The open eight in the shape of the letter "S" makes the logo unique and memorable, as if it were dancing on the page. There is a personal feel to the logo as if Selena herself has just signed a memento for a fan.
Selena Quintanilla color codes
Black

Hex color:
#000000
RGB:
0 0 0
CMYK:
0 0 0 100
Pantone:
PMS Process Black C