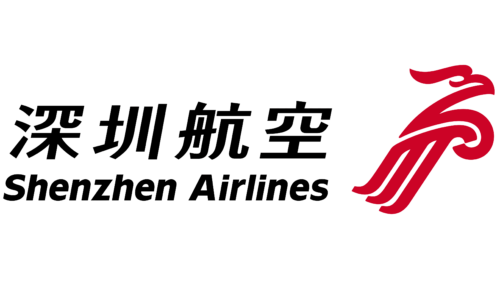 Shenzhen Airlines Logo PNG
Shenzhen Airlines: Brand overview
Since its founding in 1992, Shenzhen Airlines has been a driving force connecting China's fast-growing cities and driving economic development. Headquartered at Shenzhen Bao'an International Airport, this prominent Chinese airline is renowned for its exceptional service and unwavering commitment to passenger satisfaction.
Shenzhen Airlines got off to a modest start with just two Boeing 737-300 airplanes.
In its early years, Shenzhen Airlines strived to achieve outstanding results: bridging the gap between China's major cities and capitalizing on the country's booming economy and growing demand for travel services.
In 2012, Shenzhen Airlines achieved an important milestone by becoming a proud member of the esteemed Star Alliance, an international airline alliance of travelers from around the world.
Shenzhen Airlines prides itself on its modern and diverse fleet of aircraft, including Airbus A320, A319, A330, and Boeing 737 models equipped with state-of-the-art technology.
With an extensive network of 137 domestic airport pairs and 58 airports, the airline provides comprehensive coverage throughout the country, ensuring convenient connections to busy metropolitan areas and remote destinations.
Meaning and History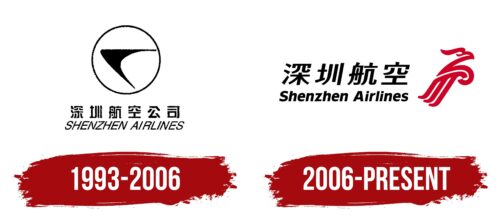 What is Shenzhen Airlines?

Shenzhen Airlines, headquartered at Shenzhen Bao'an International Airport in the Bao'an District of Shenzhen, Guangdong Province, became an important player in the aviation industry in 1992. Its emergence was the result of China's economic reforms and open-door policy, which was an important part of the impressive growth of Shenzhen, one of the fastest-growing cities in the world. The airline expanded its operations, establishing itself as a leading domestic carrier with a significant presence in the Asia-Pacific region. Operating in an ever-evolving aviation industry, the airline continues to provide first-class services, ensuring passenger safety and satisfaction.
1993 – 2006

2006 – today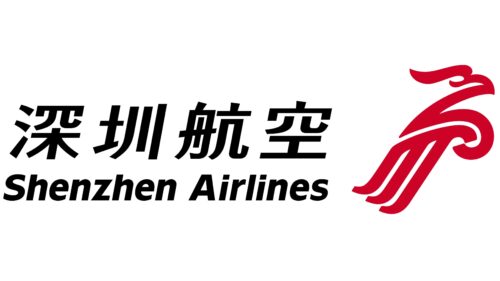 The wavy lines in the Shenzhen Airlines logo don't just add dynamism; they convey the concept of high speeds and fast-paced air travel. Hidden in these curving stripes is the silhouette of an eagle with a powerful beak and downward-pointing wing. Behind this image is the name of the airline in black lowercase letters, except for the capital "S" and "A." The letters are typed in a sans-serif font but are italicized. The text in the first line consists of Chinese characters, which are also slightly italicized. Both above and below, the rounded features on the glyphs harmoniously alternate with straight edges.
The eagle silhouette symbolizes freedom and high aspirations, which echoes the airline's mission to offer limitless possibilities through air travel. The combination of the Chinese and Latin alphabets emphasizes the company's commitment to serving a diverse clientele on both domestic and international routes. The use of italics in both Chinese and English letters gives the logo a sense of movement, in keeping with the overall theme of speed and dynamism.