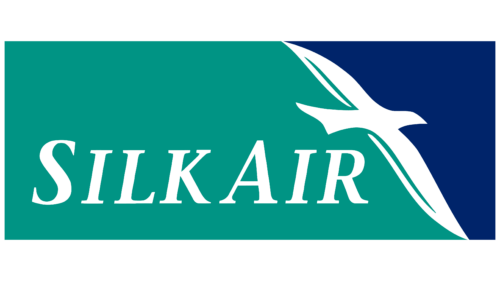 SilkAir Logo PNG
In 1975, Tradewinds Charters started as a regional charter company under the wing of Singapore Airlines, leasing aircraft for leisure activities.
Influenced by the visionary development strategies of Singapore Airlines, a subsidiary, SilkAir, emerged, ready to capitalize on the growing airline market.
In 1992, Tradewinds Charters was rebranded as SilkAir, a name that pays homage to the famous Silk Road, a historic trade route known for its cultural exchange between Asia and Europe.
The rebranding ushered in a new era of growth for SilkAir as the company expanded its network and launched scheduled passenger flights to exciting destinations in Southeast Asia, the Indian subcontinent, East Asia, and Northern Australia.
As the aviation industry evolved, Singapore Airlines realized the need to adapt and consolidate its operations. Consequently, the decision was made to integrate SilkAir services into Singapore Airlines and its subsidiary low-cost airline, Scoot, by the end of 2021. This strategic move ensured a seamless transition for passengers. It enabled the Singapore Airlines Group to improve operational efficiency while maintaining the quality and service levels that SilkAir was known for.
Meaning and History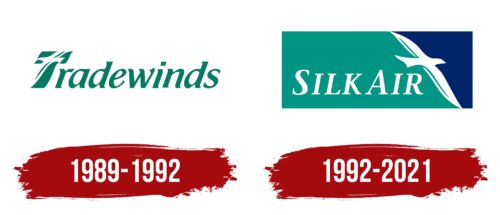 What is SilkAir?

SilkAir, a well-known airline headquartered in Changi, Singapore, was known for its important role in the aviation industry as a subsidiary of Singapore Airlines. The company operated flights to 54 cities in Southeast Asia, the Indian subcontinent, East Asia, and Northern Australia. Acting as the regional wing of Singapore Airlines, the carrier focused on short and medium-haul destinations within the Singapore Airlines Group network.
1989 – 1992
1992 – 2021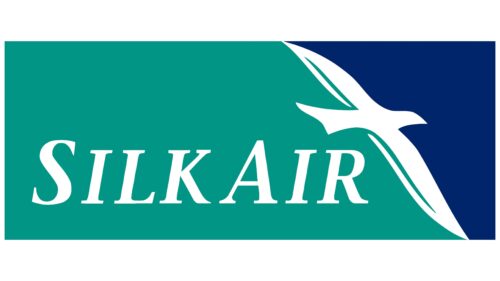 Tradewinds Charters was renamed SilkAir in 1992 and given a new logo featuring a white bird. It symbolizes flight, freedom, and the ability to travel great distances. The bird spreads its wings wide, dividing the rectangular base into two parts: dark turquoise and blue. The name of the airline is written behind the bird. The designers used all capital letters but enlarged the "S" and "A" to emphasize the two words. Despite the serifs, which usually add weight, the italicized font feels light. This emblem was used until 2021 when SilkAir was absorbed by Singapore Airlines.
The emblem's color choice of dark turquoise and blue symbolizes the reliability and peace of mind that is valued in the aviation industry. The enlarged "S" and "A" draw attention to the individual words and give the design a sense of balance and symmetry. The takeover of SilkAir by Singapore Airlines in 2021 marks the end of an era, as the distinctive branding and logo are no longer used.