Spyker Logo PNG
| | |
| --- | --- |
| Founded: | 1999 |
| Founder: | Maarten de Bruijn, Victor Muller |
| Headquarters: | Zeewolde, Netherlands |
| Website: | spykercars.com |
In the late 19th century, the Netherlands saw the birth of the original Spyker company, initially crafting carriages. With time, their expertise evolved, leading them into automobile and aircraft production. Fast forward to 1999, when Victor Muller and Maarten de Bruijn breathed new life into the dormant Spyker name, envisioning a fresh direction centered around premium sports vehicles.
By 2000, the Spyker C8 made its debut, signaling the brand's entry into the modern sports car era. The design aesthetics of early Spyker racing marvels deeply influenced this vehicle. The brand introduced the opulent C8 Spyder convertible five years later, followed by its automatic transmission counterpart, the Spyder T.
In 2006, showcasing their expansionary vision, Spyker ventured into Formula 1 racing by acquiring the Midland F1 Racing outfit, rechristening it Spyker F1. A year later, enthusiasts were treated to the unveiling of the Spyker C12 La Turbie coupe, a remarkable machine powered by a V12 engine.
2010 witnessed a bold venture as Spyker took over Saab Automobile from General Motors. Regrettably, this endeavor was fraught with challenges, culminating in Saab's bankruptcy declaration in 2011, marking the end of Spyker's brand management.
To reclaim lost glory, 2013 saw Spyker initiating production on the B6 Venator concept car. The intent was a rejuvenation of the brand. Still, financial obstacles thwarted those plans. Nonetheless, in 2018, Spyker's undying spirit was evident at the Geneva Motor Show, where they showcased the C8 Preliator. This launch was a testament to Spyker's unwavering commitment to crafting groundbreaking sports vehicles.
Meaning and History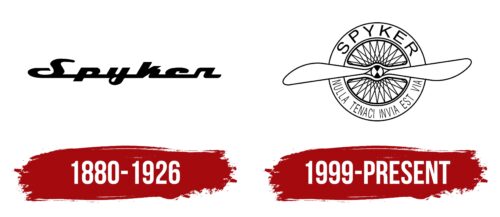 What is Spyker?

Spyker Cars, the Dutch sports car brand, has been making waves in the auto industry since its establishment in 1999. Co-founded by Maarten de Bruijn and Victor Muller, the name Spyker has become a byword for meticulous engineering, distinctive aesthetics, and potent performance. As a branch of Spyker N.V. (previously known as Spyker Cars N.V. and Swedish Automobile N.V.), the firm is celebrated for producing an array of high-performance vehicles designed to fulfill the desires of car enthusiasts globally.

Headquartered in Zeewolde, Netherlands, Spyker Cars is recognized for its creations that represent the pinnacle of Dutch craftsmanship and design. Each vehicle embodies an exquisite blend of style, performance, and luxury, reflecting the apex of Dutch engineering standards.
1880 – 1926

1999 – today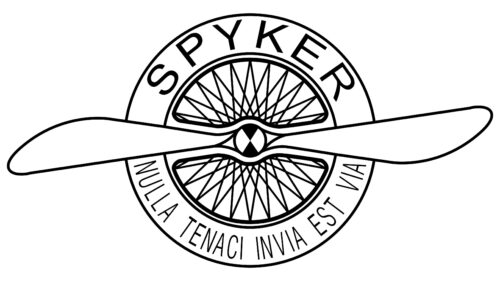 Spyker color codes
Black

Hex color:
#000000
RGB:
0 0 0
CMYK:
0 0 0 100
Pantone:
PMS Process Black C