STORM+SHELTER Logo PNG
STORM+SHELTER logo is a symbolic representation of a creative video studio that prides itself on originality and innovation. Logo It's a fusion of art and technology, creativity and precision, tradition, and modernity. Every detail has been meticulously crafted to convey what the studio represents, making it an exemplary branding that resonates well with its target audience.
Uniqueness and Depth of Meaning: The '+' sign in the logo is not a mere conjunction; it symbolizes a crossroad, a sign in a video editor, and a mark in the center of a camera lens. This multi-dimensional meaning shows the complexity of the studio's work and its dedication to seeing beyond the obvious.
Two-Line Arrangement: The name is split into two lines using the typeface Founders Grotesk – bold, blocky, and uppercase. By retaining the '+' sign in the first part of the name, the designers have aligned the words on both edges. This layout embodies structure and balance, mirroring the studio's expertise in crafting well-constructed narratives.
The Choice of Monochrome Colors: Using black and white in the logo speaks to a classic approach, where simplicity and contrast create impact. Black symbolizes strength and seriousness, while white represents purity and creativity. Together, they forge a strong visual identity that's both timeless and modern.
Font Selection – Founders Grotesk: This typeface is known for its distinctive and somewhat unconventional appearance. The bold and chiseled features of the font highlight the studio's boldness and willingness to experiment, reinforcing the brand's reputation for innovation.
The symbolism of the Plus Sign: As a crossroad, the Plus sign conveys the studio's propensity to explore different paths and create unique solutions. As a sign-in video editor, it relates directly to the technical aspect of their work. As a mark in a camera lens, it symbolizes focus and precision. This multi-layered symbolism enhances the depth of the logo, making it more resonant with the audience.
Alignment and Proportionality: The alignment of words and the proportionate design underscores the studio's commitment to perfection and attention to detail. It exemplifies their ability to find harmony and equilibrium in their creative pursuits.
Overall Impact and Representation: Collectively, the logo elements weave a story of a video studio that is not afraid to take risks, embraces originality, and maintains a professional yet artistic demeanor. The thoughtful design choices reflect their ethos and position them as leaders in their field, capable of producing outstanding content.
STORM+SHELTER: Brand overview
| | |
| --- | --- |
| Founded: | 2013 |
| Headquarters: | Cardiff, South Wales, UK |
| Website: | stormandshelter.com |
Founded in 2013, STORM+SHELTER is a Cardiff-based video production enterprise operating out of South Wales, UK. This creative powerhouse specializes in the ideation and execution of commercials, branded narratives, and animated content through diverse visual media.
Initiated by a collective of video connoisseurs, STORM+SHELTER embarked on its journey in visual storytelling, focusing on branded content and commercials. Over time, they branched out, broadening their portfolio to encompass a range of media content, from case studies and educational videos to documentaries and social content.
They have earned their stripes by catering to a wide array of prominent clientele, including corporate giants like Amazon, Twitter, O2, and Yamaha. In recent years, STORM+SHELTER underwent a facelift, unveiling a refreshed visual identity, a creative brainchild of the local firm Toward.
Even a decade into the business, STORM+SHELTER's core mission remains undeterred – to create compelling narratives through video production endeavors. This commitment to their craft has led to their evolution into a reputable agency in South Wales, continuing to churn out a stellar body of work in commercial and branded video content.
Despite being relatively young in its life cycle, STORM+SHELTER has curated a commendable portfolio showcasing its adeptness at delivering high-quality video content. Rooted in its Cardiff base, the company continues to build on its standing as a reliable partner in video production.
Meaning and History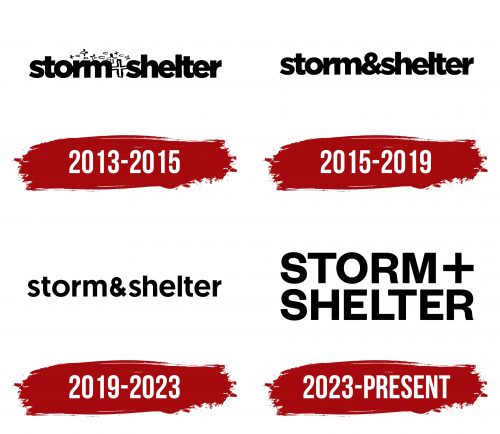 What is STORM+SHELTER?

STORM+SHELTER is a British video studio that creates creative content in various genres – from full-length films to short clips. It was founded by a group of like-minded friends who form the company's core. The studio was established in 2013, and the headquarters are located in Cardiff, South Wales.
2013 – 2015

2015 – 2019

2019 – 2023

2023 – today