Strange Music Logo PNG
The Strange Music logo adorns everything associated with this label. You can find it on CDs, merchandise, cars, the front doors of the company's main office, and Tech N9ne's body, proudly sporting a tattoo of his brand's emblem. It symbolizes love for Music as an inexhaustible source of life force.
Strange Music: Brand overview
| | |
| --- | --- |
| Founded: | 1999 |
| Founder: | Tech N9ne, Travis O'Guin |
| Headquarters: | United States |
| Website: | strangemusicinc.com |
Strange Music label was founded in 1999 in Blue Springs and later moved to Lee's Summit. One of its founders is Tech N9ne, a rapper Aaron Dontez Yates. Once, he met entrepreneur Travis O'Guin at a fashion show and impressed the new acquaintance with his artistry that the latter decided to dive into the music business. During discussions about their future partnership, Tech mentioned he'd like to name the label Strange Music in honor of some songs by the rock band Doors. The company wasn't very successful for several years, but it became profitable in time. It owns a recording studio, deals with merchandising, and organizes tours.
Meaning and History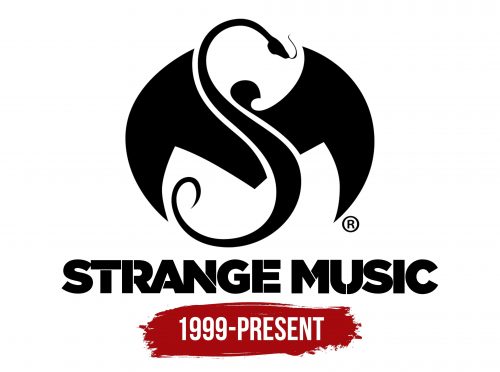 The name Strange Music was inspired by the songs "Strange Days" and "People Are Strange" by the American rock band The Doors, of which Tech N9ne is a fan. Moreover, the rapper conceived the logo for his label: a stylish yet slightly comedic fusion of a snake and a bat. From there, an aggressive advertising campaign began to popularize the brand. In the 2000s, many promotional merchandise with the Strange Music emblem was released – from office supplies and car decals to underwear and winter coats. Tech even got a tattoo of the corresponding image to show his dedication to the label's creation.
What is Strange Music?

Strange Music is an American record label based out of Lee's Summit. It was founded in 1999 by two hip-hop enthusiasts: the talented rapper Tech N9ne and the natural-born businessman Travis O'Guin. Their joint venture quickly progressed, acquiring its recording studio and a substantial fleet for artist transport. The label has collaborated with rap stars such as X-Raided, Jehry Robinson, Jay Trilogy, Prozak, and Big Scoob.
1999 – today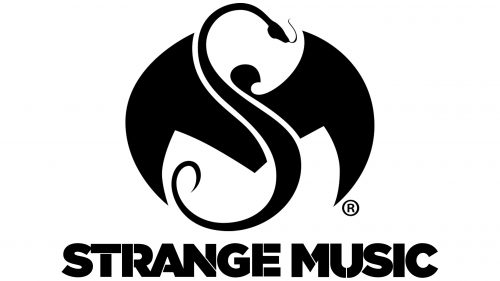 Although Strange Music primarily collaborates with hip-hop artists, its logo style resembles heavy metal. At least, the imagery of snakes and bats is more often associated with rock. In one interview, Tech explained why he chose these particular animals.
The snake was derived from the rod of Asclepius from Greek mythology. This ancient symbol evolved into the caduceus, used in medicine to symbolize healing and recovery.
The bat made its way onto the emblem because of its nocturnal lifestyle. Here, the night shouldn't be taken literally but metaphorically: as the darkness, people often have to navigate throughout life.
According to Tech, the emblem encapsulates that Strange Music is a remedy, helping find one's way through the darkness.
A large coiling snake with a lengthy tongue forms the letter "S" in the center. In the background is the silhouette of a bat (somewhat reminiscent of one of the older Batman logos), its wings forming a stylized "M." Below sits the label's name – a bold inscription with merged glyphs. It appears bold and confident, capturing the brand's essence.
Font and Colors

The Strange Music logo's font is stencil-like because thin, straight lines segment some letters. Otherwise, it's a standard bold sans-serif with very tight spacing between glyphs, making the inscription clear and legible.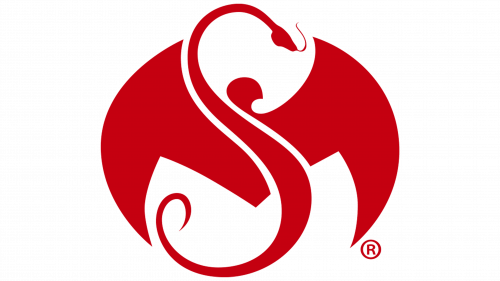 Black was chosen due to its symbolic link with the bat and night and because it resonates with the moody vibe of rap music. Black embodies mystery, intrigue, and a pull towards the forbidden. White is used to bring balance – where there's darkness, light must also exist.