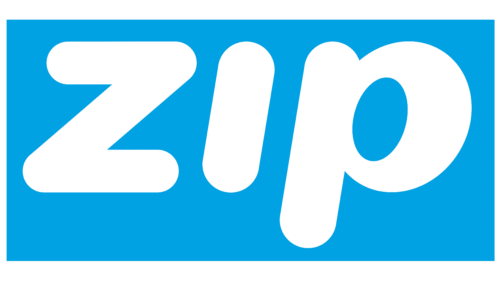 Zip Logo PNG
The Zip logo serves as a compelling snapshot of the brand's identity. For a company that existed for just two years, it still managed to carve out a distinct style, relying heavily on three-letter words in advertising and airplanes.
The emblem directly aligns with this core principle by featuring the three-letter name of the company. White letters are stylized in a bubbly font, giving them a soft, lightweight appearance that fits seamlessly with the overall branding. This font choice conveys a sense of ease and fluidity, which travelers often seek.
The logo's background is a light blue rectangle, unmistakably reminiscent of the sky. This choice of color not only evokes feelings of calm and openness but serves as a visual cue for the brand's industry, aviation. Light blue is also traditionally associated with reliability and peace, reinforcing the image of a trustworthy service.
Despite its short lifespan, Zip successfully executed a branding strategy focused on simplicity and ease. It's remarkable how every design element serves a dual purpose—stylistic and symbolic. For example, the bubbly font and light blue backdrop work in concert to evoke both the sky and the lightweight, hassle-free experience the brand aims to provide.
The logo doesn't just stop at visual elements; it transcends them to become an integrated part of the brand's message. Every feature, from the choice of a three-letter word to the color scheme, was picked with care to represent the brand's values. Each detail adds a layer of meaning, enriching the logo's ability to communicate instantly and effectively. From font to color, the design choices build on each other to create a unified and recognizable image that is more than the sum of its parts.
| | |
| --- | --- |
| Founded: | 2002 – 2004 |
| Founder: | Air Canada |
| Headquarters: | Calgary International Airport, Calgary, Alberta |
Established in 2002, Zip was a Calgary-based budget airline conceived by Air Canada to compete against other growing regional discount carriers. The airline took off with a modest fleet of Boeing 737 aircraft, providing service between major Canadian cities and a few selected destinations in the United States.
Being a low-cost offshoot of Air Canada, Zip positioned itself as a provider of inexpensive tickets and minimalistic service for short to medium-haul routes originating from Calgary. In 2003, Air Canada took steps to widen Zip's operational scale by introducing services from Winnipeg, thereby expanding its reach.
However, by 2004, it became evident that Zip had not achieved the financial traction Air Canada had envisioned. Confronted with increasing losses, Air Canada decided to discontinue Zip's operations. In March 2004, after only two years of service, Zip conducted its last flight. At the height of its operations, Zip had a fleet of five aircraft serving a network of twelve destinations.
In essence, Zip represented Air Canada's unsuccessful foray into creating a distinct low-cost airline brand in the early 2000s, when competition was intensifying from the likes of WestJet and other Canadian budget carriers.
Meaning and History