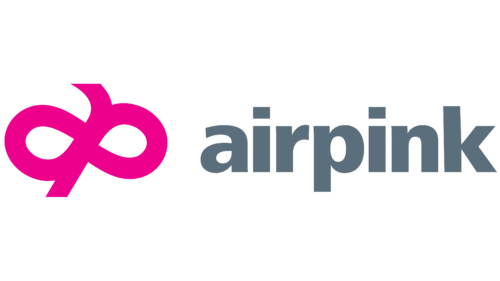 Airpink Logo PNG
The Airpink logo is a testament to the brand's commitment to excellence and reliability in aviation.
Symbol of Infinity: Dominating the design is a stylized infinity sign. This horizontal figure-eight is reminiscent of an aerobatic maneuver, emphasizing the pilots' skill and proficiency. The infinity symbol speaks to endless horizons, limitless potential, and boundless skies that the airline promises its passengers.
Vibrant Color Palette: The logo's bright pink hue resonates with the brand's name, underscoring its unique identity in the aviation market. This choice of color not only makes the logo instantly recognizable but also exudes a sense of passion, warmth, and vibrancy.
Complementary Typography: Accompanying the symbol is the brand's name in a deep shade of gray. The boldness of the font conveys strength and durability. The robust letters appear stable, suggesting the airline is grounded in its values and promises.
Pilot Mastery: The very essence of the logo leans heavily into the prowess of the pilots. The depiction of the aerobatic maneuver hints at their high professional qualities, extensive experience, and unmatched skill. This assures passengers they are in the hands of seasoned professionals when they fly with the brand.
A Sense of Continuity: The infinity symbol denotes continuity and eternal recurrence. This can translate to consistent service, repeated excellence, and an unwavering commitment to safety and satisfaction for an airline.
| | |
| --- | --- |
| Founded: | 2004 |
| Founder: | Pink Media Group |
| Headquarters: | Belgrade, Serbia |
| Website: | airpink.com |
Airpink, a private jet charter company hailing from Serbia, provided services from 2004 until its dissolution in 2012. With its base of operations situated in Belgrade, the company primarily facilitated charter flights departing from Serbia, destined for various popular vacation spots throughout Europe.
Airpink was brought to life by the Pink Media Group as part of its strategy to diversify and expand into the aviation industry. The company maintained a modest fleet of Boeing 737 aircraft designed for maximum economy-class seating.
The airline had a roster of attractive destinations, such as Antalya, Barcelona, Rhodes, Tivat, and Sharm El Sheikh, to name a few. It operated under contract with prominent tour operators within Serbia and across Europe, offering charter flights for holiday-goers.
Unfortunately 2012, after eight years of service, Airpink discontinued its operations, primarily due to the rising competition from other charter airlines. During its heyday, the airline managed to transport more than 250,000 passengers yearly, catering specifically to those heading for holiday destinations.
Airpink's team comprised around 200 employees, including pilots, cabin crew, operations personnel, and maintenance engineers. When it shut down in 2012, it was the only Serbian airline dedicated to charter flights.
Meaning and History