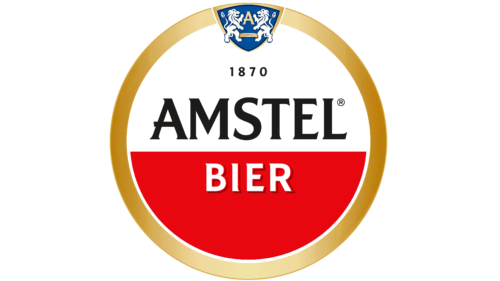 Amstel Logo PNG
The oldest brewery in the Netherlands is famous for its product, whose Amstel logo is symbolic and straightforward. The geometry, color palette, and some graphic elements of the modern emblem symbolize the brand's commitment to its rich history.
| | |
| --- | --- |
| Founded: | 1870 |
| Founder: | Heineken International |
| Headquarters: | Zoeterwoude, Netherlands |
| Website: | amstel.com |
Amstel is a famous brewery company from the Netherlands. The company was founded by two old friends: Johannes van Marwijk Kooij and Charles de Pesters. They turned to the Bavarian method of preparation of alcoholic beverages and, in 1870, started their production. In 1968, the company was bought by the Heineken N.V. concern.
Meaning and History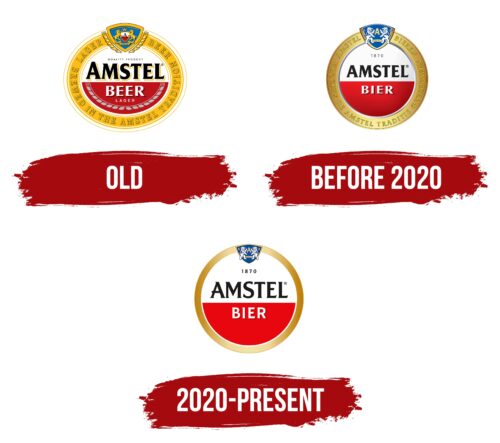 The trademark of the brand is symbolic but straightforward. The inscription "Amstel," placed inside a white semicircle, immediately catches the eye. The inscription is presented in classic bold font with small serifs. The company founders chose this name. Johannes and Charles decided to perpetuate the Amstel River, on the coast of which was the first beer factory.
The famous red and white circle is located in the center. It is also found on old brewery logos. The two-tone geometric figure represents a billiard ball. This association did not arise by chance: but because the founders of the company liked to play billiards together. Since then, many years have passed, but the circle, as before, symbolizes their strong friendship and commitment to tradition.
Throughout the century, the emblem has evolved. For example, when the Amstel factories were located in Amsterdam, the owners proudly marked their hometown on the trademark. Then the production was moved, and the inscription disappeared.
The designers updated the logo after each rebranding, as the company changed its name several times. From 1870 to 1947, the company was named Beiersch Bierbrouwerij De Amstel and from 1947 to 1968 Amstel Brouwerij. All this was reflected in the company's visual identity (logo).
Old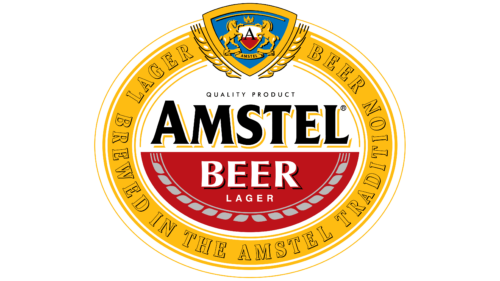 before 2020
2020 – today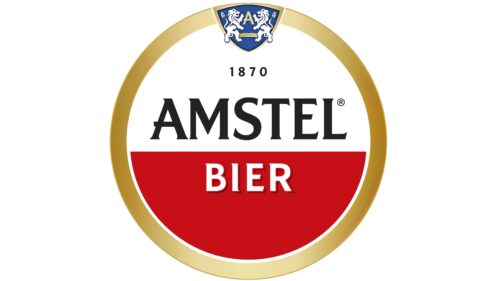 Font and Colors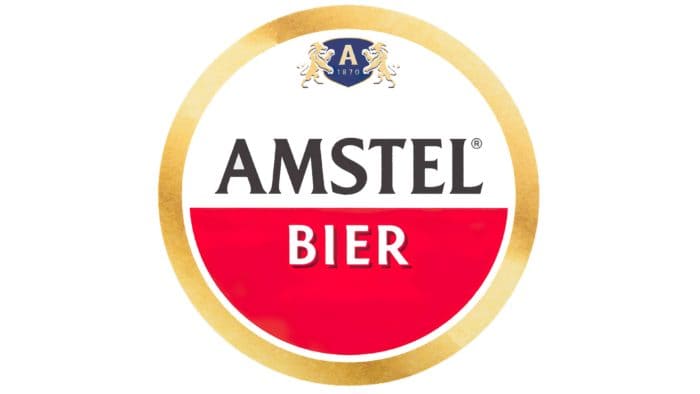 The current logo is original. In the center, there is a red and white circle with inscriptions "1870", "Amstel" and "Bier." The last word has an unusual font: the letters cast a double black and red shadow. The inner circle is taken in a silver ring and a broad golden frame. At the top is a blue heraldic shield with two white lions and the letter "A."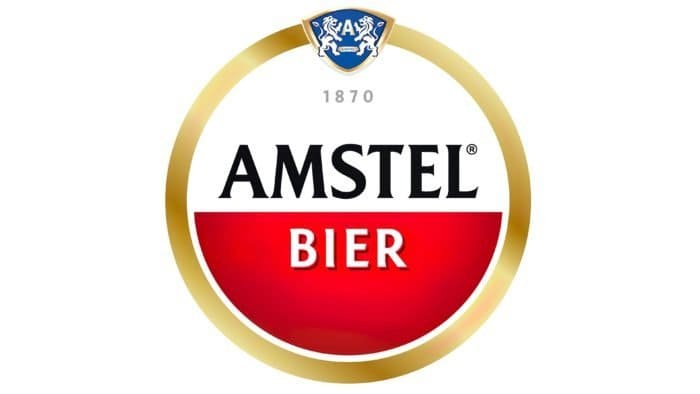 Amstel color codes
Medium Sapphire

Hex color:
#015aad
RGB:
1 90 173
CMYK:
99 48 0 32
Pantone:
PMS 2935 C
Venetian Red

Hex color:
#cf080f
RGB:
207 8 15
CMYK:
0 96 93 19
Pantone:
PMS Bright Red C
Bronze

Hex color:
#cb842a
RGB:
203 132 42
CMYK:
0 35 79 20
Pantone:
PMS 145 C
Vanilla

Hex color:
#ffeba3
RGB:
255 235 163
CMYK:
0 8 36 0
Pantone:
PMS 1205 C
Black

Hex color:
#000000
RGB:
0 0 0
CMYK:
0 0 0 100
Pantone:
PMS Process Black C