Artdeco Logo PNG
| | |
| --- | --- |
| Founded: | 1985 |
| Founder: | Helmut Baurecht |
| Headquarters: | Karlsfeld, Germany |
| Website: | artdeco.com |
Artdeco, a distinguished name in the world of cosmetics, has its roots in Karlsfeld, Germany, where it was established by Helmut Baurecht in 1985. Initially, the company focused on creating ornamental cosmetic items, such as colorful powders, glitter, and various decorative accessories that captured the imagination of makeup enthusiasts.
As the 1990s approached, Artdeco began to explore new horizons, branching into the realm of color cosmetics. The brand introduced a range of products, including eyeshadows, lipsticks, and nail polishes, gaining attention for their rich pigmentation and vivid hues. These products helped to cement Artdeco's reputation as an innovator in the industry.
By the onset of the new millennium, Artdeco's influence had grown substantially. It emerged as a frontrunner among color cosmetics brands in Germany, simultaneously building its reputation across international markets.
The recent chapters in Artdeco's story have been marked by continuous evolution and expansion. The company has broadened its offerings to encompass entire makeup collections, skin care lines, and an array of brushes and tools. This diversification has helped Artdeco maintain its relevance in an ever-changing market.
While its inception was in Germany, Artdeco's reach has transcended borders. The brand's products can now be found in over 78 countries, with a notable presence spanning Europe, the Middle East, and Asia. Despite this global footprint, Artdeco's headquarters remain in Karlsfeld, where Helmut Baurecht continues to guide the company as its Managing Director.
Positioning itself as a brand that resonates with self-expression, creativity, and the uniqueness of individual beauty, Artdeco frequently releases new collections to keep pace with prevailing makeup trends. The company's commitment to staying at the forefront of the industry has paid off, with a catalog that now boasts over 2000 products.
Artdeco's journey from a small German startup to a major European cosmetics player is a testament to its innovation and quality. With its keen eye on fashion-forward, high-quality makeup, the company has earned its place as one of Germany's and Europe's premier cosmetics brands, acclaimed for its trendsetting nature and unwavering dedication to excellence.
Meaning and History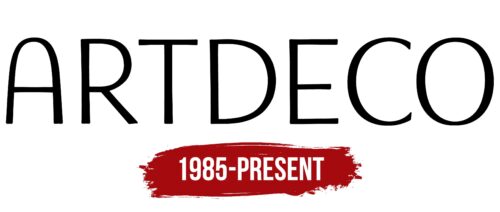 What is Artdeco?

Artdeco, established in 1985 by Helmut Baurecht, has transformed from a small German entity into a globally recognized lifestyle and cosmetics brand cherished by consumers across the globe. Based in Karlsfeld, Germany, Artdeco's reach has spanned more than 78 nations. The brand's ascent to global acclaim clearly reflects its unwavering devotion to quality and superior standards. Initially, just a humble German enterprise, Artdeco has blossomed into a worldwide sensation, adored by beauty enthusiasts far and wide.
Artdeco color codes
Black

Hex color:
#000000
RGB:
0 0 0
CMYK:
0 0 0 100
Pantone:
PMS Process Black C