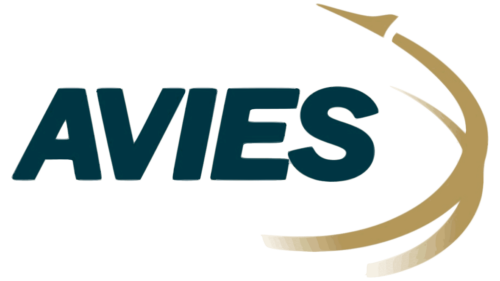 Avies Logo PNG
Avies logo is a poignant reminder of the once-thriving Estonian airline, echoing tales of its historical journey through the skies.
Distinct Typography: The emblem prominently featured the dark-blue word "AVIES," crafted in a bold sans-serif font. This choice of font in itself suggests modernity and clarity. The uneven spacing between the letters, particularly the closeness of "E" and "S," adds a unique touch, drawing the viewer's eye and making the logo memorable.
Leaning Glyphs: An interesting design element is the letters' rightward lean. This slanting style adds dynamism to the logo and subtly directs attention to the next element of the design, ensuring a cohesive visual flow.
Symbolic Representation: To the right, a small, deformed triangular representation of an airplane takes flight. Though minimalist, this aircraft depiction captures the essence of the airline's primary business. Behind the airplane, two diagonal trails stretch out, symbolizing the plane's path and, more broadly, the airline's trajectory from its inception to its culmination.
Golden Hue and Gradient: Every part of the emblem is adorned in a golden color. Gold often symbolizes excellence, prestige, and a rich legacy. The gradient effect applied at the bottom, transitioning through various shades, gives depth to the design and suggests a layered history, hinting at the various phases and challenges the airline have encountered during its operational years.
The logo encapsulates the spirit of flight, ambition, and the continuous journey of an entity that, while no longer operational, remains alive in memories and histories. The emblem is a testament to Avies' enduring influence in the aviation sector and its place in the annals of Estonian history.
| | |
| --- | --- |
| Founded: | 1991 – 2016 |
| Headquarters: | Tallinn, Estonia |
From 1991 to 2016, Avies was an Estonian aviation company headquartered in Tallinn's capital city. The company's primary services included scheduled flights, charter, and aircraft maintenance.
Using Fokker 50 turboprop planes, Avies operated domestic and international flights within Europe. Major destinations served by Avies included cities like Helsinki, Saint Petersburg, Kyiv, Moscow, and Riga.
The company's origins date back to the Estonian independence in 1991 when it was initially named Aero Airlines. A rebranding in 2006 led to the company being renamed Avies, coinciding with its expanded operations into maintenance and charter services.
The airline division of the company was known as Avies Airlines, which was responsible for both scheduled routes and corporate charters. With over 300 employees, Avie's staff ranged from pilots and technicians to corporate personnel.
However, by 2016, after 25 years of operation, Avies had to cease its operations due to mounting losses and debt. The stiff competition and high costs associated with operating as a regional carrier proved too difficult for Avies to maintain profitability, leading to its ultimate downfall.
Meaning and History