Corona Extra is a brand of Mexican beer. The beer was first brewed in 1925 by Cervecería Modelo (the largest brewery in Mexico). The Corona brand is one of the best-selling beers in the world and the number one importer of beer in the United States. It is part of Anheuser-Busch InBev.
Meaning and History
Corona's brand strategy revolves around the idea of ​​a "beach state of mind." No other brand of beer better reflects the idea of ​​relaxing in an exotic paradise and the philosophy of a carefree life.
The Corona brand logo is very clean, simple, and iconic. It has a centered design, clear lines, and a contrast of vibrant colors.
The Corona Extra logo is modern and premium but still retains the Corona heritage. It consists of bold Gothic font, a yellow inscription "The best beer," a crown on top and two griffins (legendary creatures with the body, tail and hind legs of a lion, the head and wings of an eagle, and the claws of eagle-like front legs).
Font and Color of the Emblem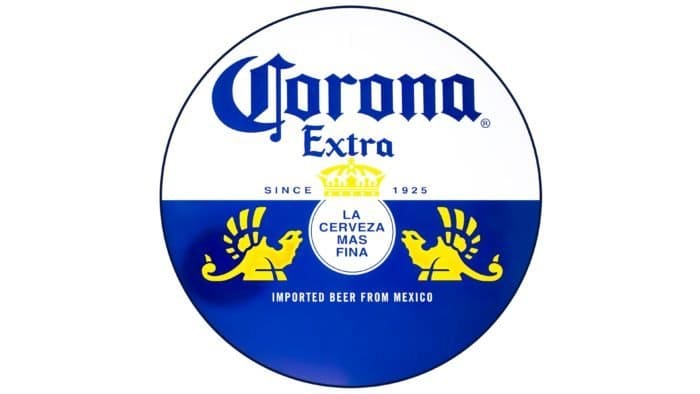 The name of the beer named after the solar crown and the distinctive logo of the crown is based on the crown that adorns the Cathedral of Our Lady of Guadalupe in the city of Puerto Vallarta, Mexico.
The griffin is a protective symbol representing strength and vigilance; it was sacred to the sun and watched for hidden treasures. Two griffins, as if watching the Corona Extra symbol. This symbolizes the value of the fluid and the fact that it is worth protecting.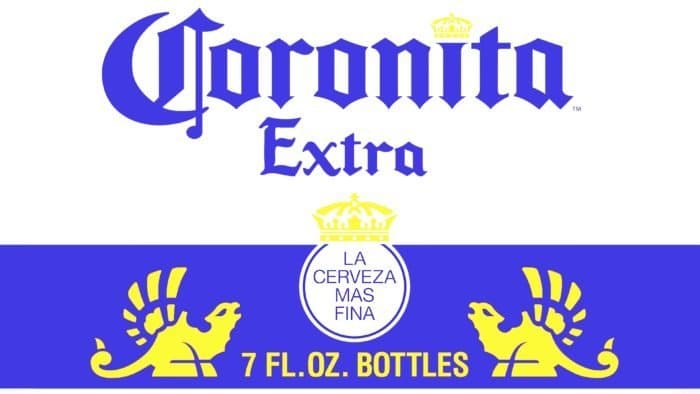 Corona has a unique and distinctive font that gives it instant recognition. The custom font has a Gothic style and is close to several classic serif fonts such as Ancient, Old London.
The Corona Extra logo palette is based on three colors: yellow, white, and blue. The dominant color of the brand is blue, but yellow comes from the color of beer. White is used for the top of the skyline and logo background.
The combination of white and yellow is an easy and refreshing solution, and blue gives a sense of quality and royal power.